British Prime Minister Theresa May and European Commission President Jeade-Claude Juncker said on Monday that deadlocked talks over Britain's exit from the European Union (EU) "should accelerate over the months to come."
The 90-minute dinner meeting between the two leaders in Brussels — which the British press had called "emergency talks" — took place at a crucial moment, just days before Britain and the EU meet for the sixth round of Brexit talks to try to break through the political standstill that has stalled negotiations and increased fears that Britain will crash out of the union without an agreement come March 2019.
May's visit to the EU capital also included calls with German Chancellor Angela Merkel, French President Emmanuel Macron and Irish premier, Leo Varadkar.
A planned visit?
The prime minister's office insisted that Monday's meeting between May and Juncker had been scheduled for weeks. However, it was not in Juncker's calendar of events on the Commission website as of Monday morning.
Britain's chief Brexit negotiator David Davis was also be present at the dinner, as was his EU counterpart Michel Barnier. The meeting had also not been in Barnier's schedule, according to EU officials.
After the last dinner meeting between May and Juncker in April, leaked statements indicated that the EU commissioner was "shocked" and highly skeptical about May's position on Brexit.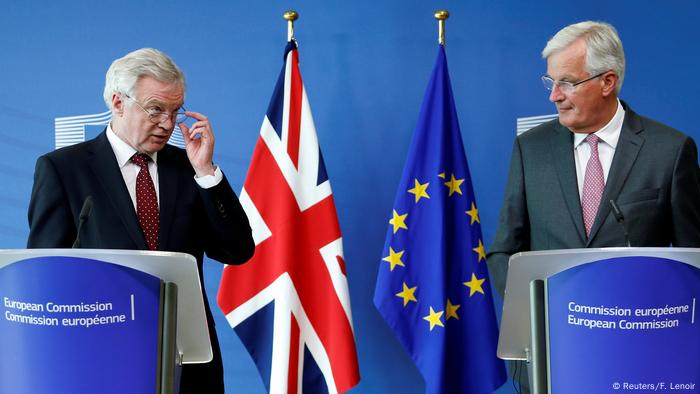 The chief Brexit negotiatiors for Britain and the EU, Davis (L) and Barner (R) respectively, have not been seeing eye to eye on the divorce.
Dinner to end deadlock?
More recently, as the last round of Brexit talks ended last Thursday, Barnier warned that negotiations had reached a "state of deadlock."
Particularly contentious points include the the rights of EU and British citizens living outside their respective homelands post-Brexit, the border with Ireland, and the money Britain is said to owe to the EU upon exiting.
Though May has said London will honor its financial commitments, she has failed to offer a hard number, while others in her government have scoffed at the EU suggestion that Britain could owe as much as €100 billion ($120 billion).
British negotiators have also pushed for discussions on the country's future trade relationship with the EU, something which the bloc has said it is not willing to discuss until the other key priorities have been settled.
Progress before December crucial
EU member states are expected to publish a statement after a summit in Brussels on Friday that outlines hard conditions for such trade talks to get underway.
According to a draft statement obtained by news agency Reuters, the bloc will only consider whether talks have made "sufficient progress" to start negotiations on a free trade deal in December. EU leaders had set October as the initial deadline for evaluating whether enough progress had been made.
Yet both Britain and the EU have indicated they will offer gestures of goodwill to one another at this week's summit. A spokesperson for May said that there would be "more to say" on the exit bill this time around, while Barnier has recommended the EU begin discussing the future trade relationship, albeit internally within the remaining 27 members.
Looking for results
May is also facing domestic political pressure in her quest to achieve a favorable Brexit outcome for the country in terms of trade, without sacrificing control in other areas.
Hard-Brexit supporters in her party have called for Britain to prepare to crash out of the bloc with no deal rather than with a bad deal, while her Finance Minister Philip Hammond has indicated his reluctance to set aside government money for such an eventual outcome.
After calling snap elections in June, May's Conservative Party lost its parliamentary majority. The disappointing result, along with internal party criticism of her handling of Brexit negotiations, led some Tories to call for her ouster earlier this month, according to British media.
amp, cmb/rc (AFP, Reuters)