When I enrolled my oldest child in school in Berlin, it just so happened to be at a place named after an Irish artist and children's book author. The head teacher at the time asked if I was familiar with her, and though I was brought up on a rich diet of stories, I had to confess, I did not. Elizabeth Shaw and her work were entirely unknown to me. Surely, you must have read Der kleine Angsthase? the principal had nudged. Or Zilli, Billi und Willi? I had not.
And it's not that surprising. Because although Elizabeth Shaw was born and raised in Northern Ireland and southern England, it was in East Germany that she became a household name.
In 1946, she and her German-born, Swiss-raised artist husband moved to Berlin and settled, on the basis of their socialist convictions in the Soviet-occupied area of the city. In the East.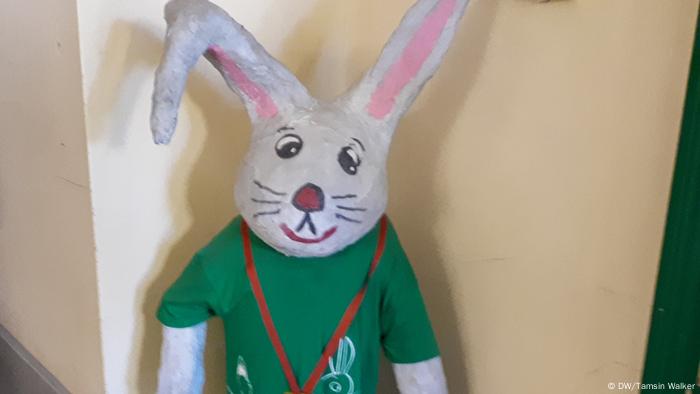 The timid rabbit, so famed in one of Elizabeth Shaw's stories, takes pride of place at the school of her name
Her story has long fascinated me because though neither the Berlin Wall nor the German Democratic Republic had risen into existence when the newlyweds first arrived from England to live in harmony with their ideals, at surface level, it reads like a tale of consciously opting out of freedoms considered human rights. And I'm clearly not alone in wondering why.
Read more: Berlin and Beyond: Writing on the wall
In her autobiography "How I came to Berlin - An Irish woman in the divided city," Elizabeth Shaw opens with what she describes as the second most frequent question she was asked during her many years in living in the city: "Why had she come?"
Therein lies a long tale bound up in family history, politics and personality, which though unique in terms of nuance, led to a conclusion more common than popular conception would have it.
A long wait on the fringes
During the years between the end of World War II and German reunification, an estimated half a million people opted to change their fate by moving eastwards. Most did it before the Berlin Wall went up and when it was still relatively easy. But even as the border between the two Germanys became ever broader, higher and more impassable, tens of thousands of people are believed to have turned their backs on the West. Many ended up in the central reception facility just outside the capital.
There, in a long, drawn-out effort to establish their motives, officials subjected them to weeks and even months of interrogation and detention. Weeks and months during which they were not allowed to leave the penned-in woodland grounds.
Though there are no exact numbers, estimates suggest half were ultimately denied access to the East German promise, with some hopefuls being told to go back and spread the good socialist word in the West.
Read more: Berlin and Beyond: GDR gold of old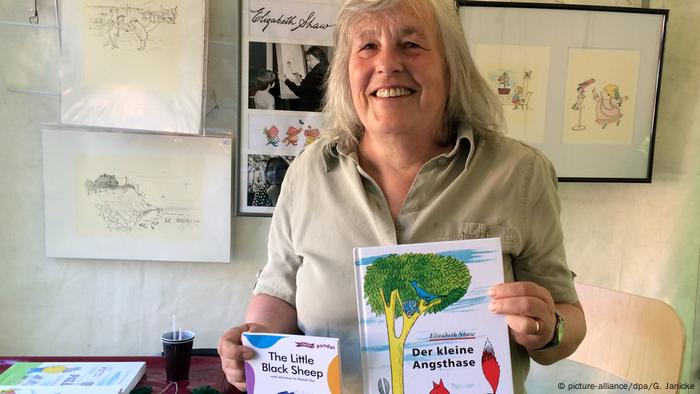 Elizabeth Shaw's daugher, Anne Schneider, surrounded by her mother's work
Elizabeth Shaw, meanwhile moved to a house not far from the school to which she posthumously lent her name, and spread words and images of her own from within her adopted home. Depicting such things as the day-to-day of her existence in the GDR, she became a well-known caricaturist and, later, a dearly beloved children's author.
In concluding her memoir, she says the question is perhaps not so much why she came to Berlin, but why she stayed. There's some ambiguity in her answer, but the essence is that she had created a home for herself among a group of people devoted to a cause. In so doing, she bore witness to the birth and collapse of a nation and almost, she said, became a real Berliner. On the grounds that she had an allotment. Now, she even has a school.
In Berlin and Beyond, British-born Tamsin Walker takes a closer look at some of the quirks and perks of life in Germany, which has been her home for almost 20 years. She tweets as @TamsinkateW