Belarus' President Alexander Lukashenko on Monday accused the country's pro-democracy opposition of plotting a coup in the run up to last year's presidential election.
The 66-year-old made the accusation during an annual press conference, which this year marks the one-year anniversary of the August 9 election he claims secured him a sixth term in office but which opponents say was rigged, sparking huge rallies in the streets.
"Back then we carried out preparation for the election — and the election itself — in the conditions of total transparency and democratization of political life," Lukashenko said.
"The difference was only that some were preparing for fair elections, and others called for bashing the authorities — for a coup."
Lukashenko has repeatedly denounced his main rival, Sviatlana Tsikhanouskaya, and other political opponents as foreign stooges.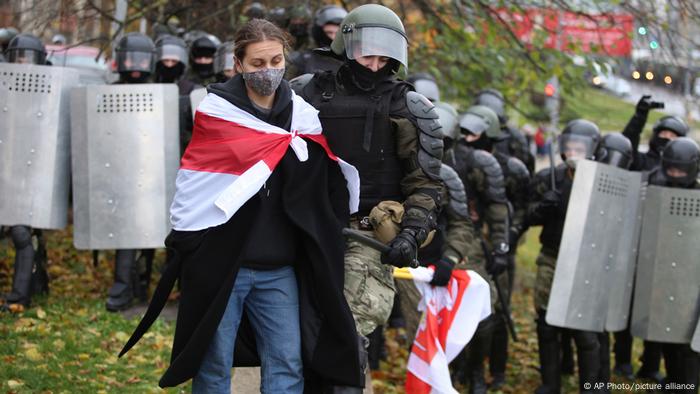 Thousands have been arrested by Belarus security forces, first in protest crackdowns, then in raids on homes and businesses
Opposition leader Tsikhanouskaya discourages new protests
The 38-year-old Tsikhanouskaya, whose aides dismiss those claims, told Germany's DPA news agency that she opposes any further protests to mark the anniversary of the controversial election.
"Anyone can go to prison, not for 15 days, but for years," she warned, adding that Belarusian society can be further mobilized without masses taking to the streets.
"People's safety must come first," said Tsikhanouskaya, who now lives in exile in neighboring Lithuania. "There have already been enough victims, too many lives destroyed."
What else did Lukashenko say?
During his speech President Lukashenko also denied his country's security services were involved in the death of Belarusian activist Vitaly Shishov in Ukraine.
"He was a nobody for us," he told the press conference in Minsk, adding that the exiled Shishov's death in Kiev last week had strained relations with Ukraine.
"This was not an easy year for us," the strongman said, insisting nevertheless that Belarus had "passed a serious test of national unity."
In a thinly-veiled threat to the West over further sanctions, Lukashenko refused to rule out ending cooperation on the prevention of the smuggling of radioactive materials.
"This is the issue of issues for the Americans ... but I have warned them — if they step too far over the red line, we'll stop talking to them," he said.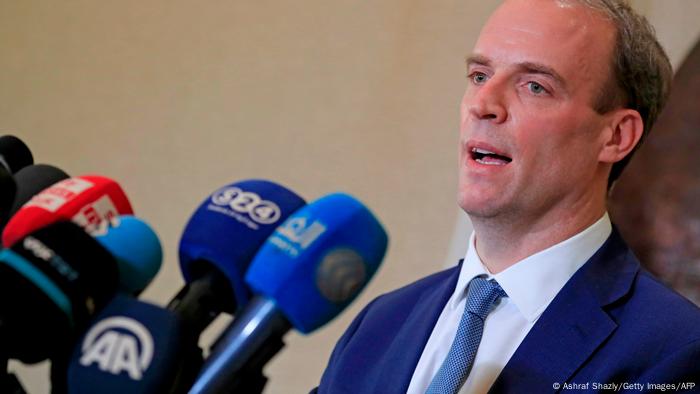 British Foreign Secretary Dominic Raab warned Lukashenko about his continued human rights violations
Did Lakashenko's threats stop new UK and US sanctions?
Lukashenko's comments came just hours before the UK and the US announced fresh measures targeting the Belarus state and state-owned banks.
The UK move will limit Belarus's ability to borrow abroad and slapped a ban on its companies selling into the British market.
"These sanctions demonstrate that the UK will not accept Lukashenko's actions since the fraudulent election," British Foreign Secretary Dominic Raab said. "The Lukashenko regime continues to crush democracy and violate human rights in Belarus."
"The products of Lukashenko's state-owned industries will not be sold in the UK, and our aerospace companies will not touch his fleet of luxury aircraft."
The Belarusian leader later branded the British government as "America's lapdogs."
Sanctions have failed to deter Lukashenko in the past.
Asked about the prospect of British sanctions at his press conference in Minsk, Lukashenko said, "Britain can choke on these sanctions."
In Washington DC., President Joe Biden announced new US Treasury Department sanctions against Belarus, specifically against Belaruskali OAO, one of Belarus's largest state-owned enterprises and an important source of wealth for the regime; the Belarusian National Olympic Committee; and 15 private companies with ties to the Lukashenko regime, including the Belarusian financial institution, Absolut Bank.
"It is the responsibility of all those who care about human rights, free and fair elections, and freedom of expression to stand against this oppression," Biden said. "The United States will continue to stand up for human rights and free expression, while holding the Lukashenko regime accountable, in concert with our allies and partners."
The Belarus National Olympic Committee, for instance, which is led by Lukashenko's son Viktor, has been accused of enabling money laundering, sanctions evasion and the circumvention of visa bans as well as facing public criticism for its failure to protect athletes against political repression.

What is behind the Belarus protests?
Belarus has been gripped by political upheaval and a crackdown on dissent for the past year.
Lukashenko, in power since 1994 and once dubbed Europe's last dictator, claimed victory in last August's elections.
The move sparked huge protests in the former Soviet nation, with thousands of people taking to the streets.
Demonstrators said the vote had been been rigged. They see the president's main rival Sviatlana Tsikhanouskaya as the rightful winner.
The 38-year-old, who describes herself as "the leader of democratic Belarus," tweeted earlier on Monday that last summer's vote had been "stolen."
What does Tsikanhouskaya want from the West?
The opposition figure has spent the past months pressing Western leaders to toughen their stance against Lukashenko's crackdown on the country's pro-democracy movement.
He has jailed thousands of political opponents and he sparked anger in May when his security forces ordered a Ryanair plane to land in Minsk to arrest Raman Pratasevich, a journalist and blogger.
The US, the UK and the 27 EU governments have already slapped a series of sanctions on state-owned companies in Belarus and the strongman leader's inner circle.
The EU has refused to recognize Lukashenko's claim to have won a sixth term in office. But the bloc has stopped short of formally calling on him to step down.
In March, Belarus prosecutors charged Tsikanhouskaya with what they described as terrorism offenses.
They alleged, without providing evidence, that she had plotted to carry out explosive and arson attacks in Minsk.
Aides to Tsikanhouskaya dismissed the charges as "absurd" at the time. Lithuania refuted suggestions by Belarusian officials that its government should hand her over to face trial.
js,jf/wmr (AFP, AP)