In the German Sunday paper "Welt am Sonntag," Seehofer defended his stance, insisting that it has "nothing to do with racism and xenophobia."
The Christian Social Union (CSU), the Bavarian sister party to Chancellor Angela Merkel's Christian Democratic Union (CDU), threatened to take the federal government to the Constitutional Court over its refugee policy last week.
Speaking to German tabloid "Bild" on Friday, Seehofer also outlined Bavaria's proposed asylum reforms which include measures to promote "integration, education, and training."
"There will be measures of self-defense to limit immigration, such as turning back people at the Austrian border," Deehofer said.
'Overwhelming' influx
The Bavarian premier went on thereiterate his criticism for the German Chancellor's handling of the refugee crisis on Sunday.
"The current influx is overwhelming us. There are too many. It lacks limits," he said.
Seehofer described the different approaches from Munich and Berlin not only as dissent, but as an expression of two "schools of thought, which face each other."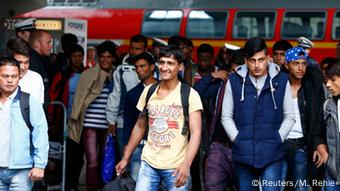 CSU chief Horst Seehofer has called for a limit on the number of refugees arriving in Germany
"One view is that this is a great migration of modern times that you need to accept and manage. The other - my school of thought - is that immigration must be controlled. I want to control and limit them," he explained.
"This is the only way for integration to succeed and to guarantee security in our country."
CDU lays out requirements
Seehofer also warned of a political crisis between the CDU and CSU, adding that for him, an ending of the Union was "not an option ...... But I can not give up my stance to keep the peace," Seehofer insisted.
The CSU leader's comments on Sunday came as Germany's new refugee coordinator, Peter Altmaier (CDU), forecast an early decision regarding the facilities required from Bavaria and the CSU for refugee transit areas.
Altmaier told German newspaper "Bild am Sonntag" that such centers, from which unsuccessful asylum seekers could be sent back "may be a reasonable element," but would not solve the problem alone.
The refugee coordinator also rejected talk of an "upper limit" to the number of refugees, saying he feared such a control would prompt many asylum seekers to immediately begin their journey, and consequently strengthen the influx.
"We have to understand that you can't turn the flow of refugees on and off like a tap," he said. "If we successfully master the refugee crisis, Germany will be stronger than ever before."
ksb/jm (dpa, Reuters)