Breathing is causing Ajoy Roy difficulties. His ailing health ties him more and more to his own four walls. "I'm angry and hurt, but I'm also a very patient person who can handle a shock with dignity," says Ajoy Roy in a firm voice during a meeting with DW. "Sometimes I cannot hold back tears," he adds a little later. "After all, I am his father. And when I look at my son's pictures, I always ask myself: Why Avijit, why did you come back? "
Civil liberty at risk
Ajoy Roy is a retired physics professor, who has been showered with awards for his work. Roy belongs to the generation of freedom fighters. Like many other intellectuals in 1971, he fought for the independence of Bangladesh.
Back then, majority Muslim Bangladesh split from Pakistan with the help of India. Since then, secular and Islamist forces have been vying for power in Bangladesh. Ajoy Roy stands for a secular state, in which religion is a private matter. In his academic career he always supported a humanist education that seeks answers with the help of science.
"I am proud of what I have achieved scientifically," says Professor Roy. "But things have changed. Civil liberty is shrinking in Bangladesh, and the space for liberal thinking is being squeezed."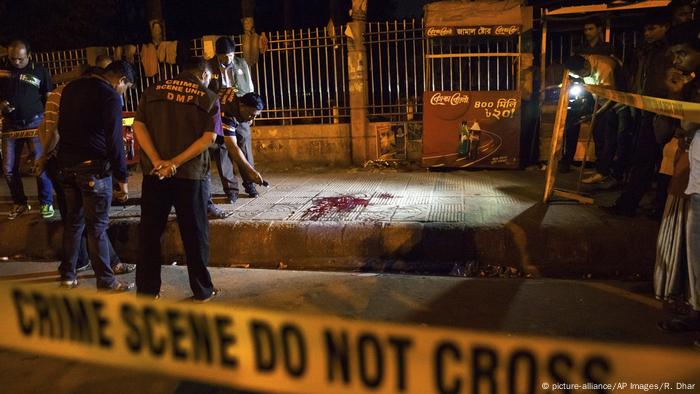 The site of the attack where Avijit Roy was hacked to death on February 26, 2015
His son Avijit, who was murdered by islamists in Dhaka in 2015, also chose a scientific career. He studied engineering in Dhaka, did his PhD in Singapore and emigrated to the US in 2007. There, he established himself as a software developer and and started to run the atheist blog 'Mukto Mona' (Free Spirit).
Read more: Opinion: A brave man who will not be forgotten
Like his father Ajoy, Avijit, too, was a humanist and freethinker. But unlike his father, Avijit was a child of the internet generation. One, who skilfully used social media to initiate debates about the role of Islam in the age of terror. Avijit also published several books, including "The Virus of Faith."
Unsolved murder case
When Avijit Roy traveled back from the US in February 2015 to perform at the national book fair in Dhaka, his father warned him. By that time, several religious critics, atheists, bloggers and believers of a different faiths had been murdered.
He remembers that Avijit had asked him: "Why should fundamentalists kill me, dad, I'm just a writer." There is a long pause. "What innocent thinking, and he paid the price for it."
According to eyewitnesses, police were nearby when the Islamist assassins attacked the blogger with cleavers and machetes. But nobody has been convicted yet. That goes for most of the at least 10 blogger murders between 2013 and 2016.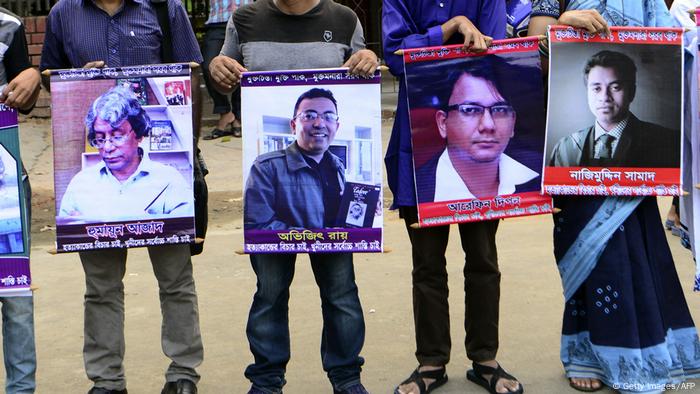 Roy's (on poster second from left) and other bloggers' murders sparked fierce protests
There have also been Islamist attacks on foreigners and people of different faiths. Is the state not interested in investigating these acts of terror? Ajoy Roy laughs sarcastically. "I cannot answer that directly. Either those responsible are incapable or unfit. Or they have no intention. What else can I say?"
Danger of an 'anarchic state'
However, the physicist does not see his country on the way to a theocracy. "The murders are the work of fundamentalists. But these are small groups. The majority of the population prefers a secular, tolerant state, "affirms Ajoy Roy.
He urges the government to remember "that our constitution has codified a secular and socialist nation state." The veteran of the liberation war leafs through an old photo album. Avijit and his younger brother had devoured books and asked critical questions from an early age, says the proud father, before his thoughts return to politics. "Bangladesh is politically mismanaged. We have failed to do justice to the murdered bloggers. If this continues, Bangladesh will become an anarchic state."
Hossain Toufique Imam is only four years younger than Ajoy Roy. He, too, belongs to the generation of freedom fighters. But the 79-year-old imam has opted for a political career. The political adviser to Prime Minister Sheikh Hasina rejects the allegations. In all open cases, there are ongoing investigations, and most blogger murders would soon be closed. "You will soon hear of the verdicts", he promises. But in the case of Avijit Roy, there is not even a charge sheet.
Read more: US blogger's killing 'exposes level of political volatility in Bangladesh'
'Bloggers brought it upon themselves'
Imam emphasizes that his government does not tolerate militancy, pursuing a zero-tolerance policy towards violent radicals. At the same time, like other ministers before him, he gives the bloggers a share in the guilt for their murder.
"Bangladesh is a predominantly Muslim country. And some people are extremely religious," he argues. "So when you distort the Quran which is a holy book and comment on the life of the prophet, some people are incensed. They lose their balance. That's how the bloggers brought it upon themselves."
In his opinion freedom of expression is not a free ticket to violate the religious feelings of others. Imam emphasizes the secular nature of Bangladesh, which should be protected. "The enemies of secularism are the bloggers and those who kill them. Both are extremists. We have to get these extremists into the mainstream. That's the main task of politics. "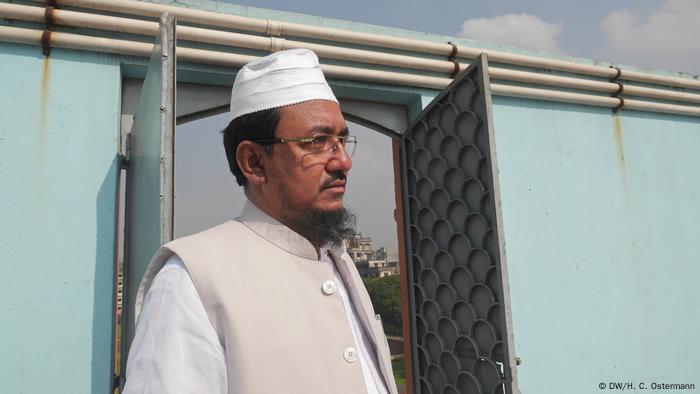 Mufti Fayezullah: 'We demand that the state punishes the enemies of Islam'
On the roof of the madrassa of Lal Bagh Mosque in the heart of the old city of Dhaka Mufti Fayezullah rejects any responsibility for the murders of liberal bloggers and writers critical of religion. In a "true Islamic state," he adds, there would be no such murders. Fayezullah believes in a conspiracy intended to harm Islam. He is one of the most influential Islamists in the country and likes to be in the public eye.
"For Muslims, Allah and the Holy Prophet are the most important. If you abuse them, we feel attacked." He adds that he does not support vigilantism. "But we demand that the state acts and punishes the enemies of Islam." For him, the punishment of atheists includes the death sentence.
Read more: Is Bangladesh becoming an autocracy?
In 2014 the Mufti publicly called for the execution of a minister who had voiced criticism of pilgrimages to the holy city of Mecca. After massive street protests from Islamist circles, Prime Minister Sheikh Hasina parted ways with the affected Minister Latif Siddiqui.
Is the government increasingly giving in to Islamist demands so as not to lose them to global jihadism? In addition, parliamentary elections are soon to take place. The political elite is also looking for support to stay in power. In conservative Bangladesh, nobody dares to publicly favor atheists over believers.
'Embracing' intolerance
Sara Hossain observes the development with great concern. She is one of the best lawyers in the country and regularly fights before the Supreme Court. Her father was chairman of the commission, which after the liberation war of 1971 worked out the secular constitution. "Today, we are experiencing a willingness not only to tolerate intolerance, but to actually embrace it," says Sara Hossain.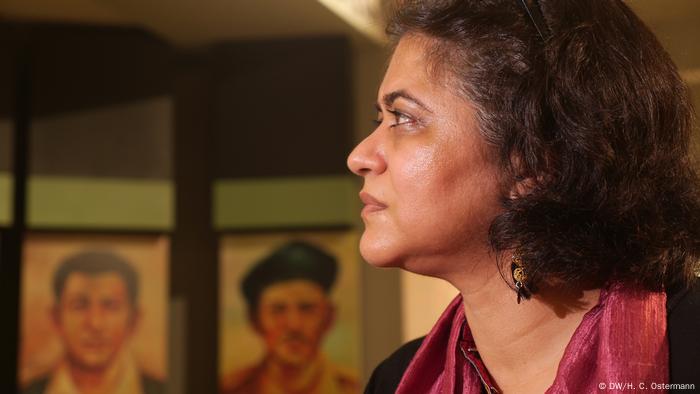 Lawyer Sara Hossain: The gentle slide to Islamism 'changes the space in which you live'
She feels that politics is no longer committed to secularism, although it is anchored as a principle in the preamble of the Constitution. "But we no longer believe that everyone has a right to life, to freedom and freedom of expression, regardless of their religion."
Like many other countries, Bangladesh has witnessed a major terrorist attack in the heart of its capital in 2016. During the attack, 20 civilians were killed in a popular café in the diplomatic enclave, including many foreigners. "What the world takes less notice of," emphasizes Sara Hossain, "is the gentle slide" through many small concessions to the demands of Islamists circles.
Sara points to the removal of the "Lady Justice" sculpture in front of the Supreme Court. The new statue of the ancient Goddess of Justice, Justitia, was removed from the main entrance last summer after Islamists like Mufti Fayezullah had complained about "cultural degeneration" and mobilized people against the "worshipping of idols." It was later re-installed in a different location.
The human rights lawyer warns of a game with fire. The creeping change in Bangladesh may not always be so tangible, says Sara Hossain, "but it changes the space in which you live. It changes how you live, and it changes what you can say."