It was just a matter of time. Commanding a considerable and consistent lead over second placed VfB Stuttgart and with third placed reigning champions Borussia Dortmund disappearing in the distance, Bayern Munich have looked champions-elect for the last two months.
However, the 2-0 victory at VfL Wolfsburg this weekend was the crowning glory as the Bavarian giants secured the Bundesliga title with four games to play, thanks to goals from Giovane Elber and Claudio Pizarro. The club's 18th championship win led chairman Karl-Heinz Rummenigge to proclaim: "It's the best team we've ever had."
Ballack return inspires victory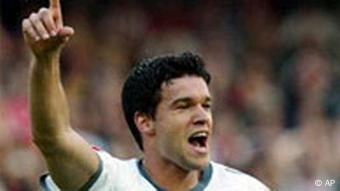 Ballack's contribution has been telling.
An integral part of that team was back in action and as influential as ever at the weekend. Returning from injury after seven weeks out with torn ankle ligaments, Michael Ballack was instrumental in the victory at Wolfsburg, sending a perfect ball through the retreating home defense to set up the crucial first goal for Elber on 59 minutes. In his first season with the club, Michael Ballack has consistently proved that the €43 million fee Bayern paid to bring him from Bayer Leverkusen at the end of last season was money well spent.
Ballack himself said after the win, "We had a good time out there today. Although we have not done well in the Champions League, we have proven we are a good team with good individual players by being so dominant in the league."
Comparing this season of success to the previous campaign when he finished a runner-up in three competitions with Bayer Leverkusen, Ballack added, "I'm just glad to have won something after last season when I got nothing."
In the glow of victory, his coach, Ottmar Hitzfeld, singled Ballack out for praise: "It was superb that Ballack was on the pitch and his class spoke for itself. He was the decisive man and he put us back on course for success."
Ballack's rise to the pinnacle of the German game is as meteoric as any in the history of the Bundesliga. After leaving school in 1995, it took just three years and two clubs to reach the dizzy heights of the first division and his first professional accolade. After working his way through the youth sides of local team F.C. Chemnitzer, Ballack was signed by F.C. Kaiserslautern in 1997 after impressive displays for the German national Under-21 team.
Champion at 22
Ballack was an instrumental part of the Kaiserslautern side won the league in 1998. Even then as a 22-year-old, comparisons were being made between the East German-born prodigy and the great midfield stars of German soccer, namely Bayern director Franz Beckenbauer. He was a regular in the following campaign and caught the attention of then-Germany coach Erick Ribbeck, who gave Ballack his first full cap for Germany in April 1999.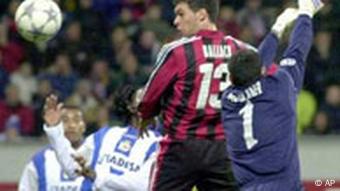 Lucky 13.
That year, Ballack moved to Bayer Leverkusen for €3.6 million where he chose the number 13 shirt, once the property of local hero Rudi Völler, "to provoke a little," he admitted. Then things seemed to turn a little sour for the great young hope. First he got injured and then on his return, he scored an own goal that cost Leverkusen the Bundesliga title - he cried on the pitch afterwards - and at the European Championships in 2000, he played only 63 minutes of Germany's inauspicious campaign.
Technical change brings brilliance
When domestic duties resumed, Leverkusen's coach Klaus Toppmöller converted Ballack from a defensive midfield player into a marauding attacking star and an exceptional footballer. As a result, bigger clubs came sniffing around. He was courted by Real Madrid and Barcelona before finally agreeing to move to Bayern at the end of the 2001/02 season.
During his last year with Leverkusen, Ballack helped the team push Bayern Munich all the way in the championship race until the final day of the season. His efforts also inspired Leverkusen to battle through to the final of the German Cup and the European Champions League final. Disappointingly, Leverkusen dramatically faltered on each occasion and their season ended empty-handed.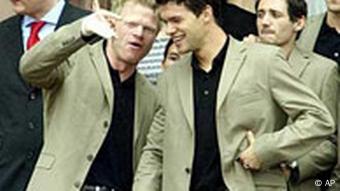 Kahn and Ballack were central to Germany's World Cup campaign.
But his reputation remained intact and was enhanced by match saving performances during Germany's surprisingly successful World Cup campaign in Japan/Korea in 2002. Despite more disappointment at missing the final through suspension, compounded by the 2-0 defeat by Brazil, Ballack was undoubtedly one of the stars of the tournament.
Now, back on a winning streak, Michael Ballack looks set to go on and fulfil the dreams of a nation that has watched him grow up with great expectation.