German Chancellor Angela Merkel and Mexican President Enrique Pena Nieto made a tour of the exhibitor stands on Monday.
They had opened the Hannover Messe, the world's largest industrial technology fair on Sunday, praising an EU-Mexico deal to boost trade agreed at the weekend.
Mexico is this year's partner country at the trade fair, highlighting the importance of Latin America's second-largest economy to the economic powerhouse of Europe.
Merkel praised as "really good news for Europe, for Germany and for Mexico" an agreement reached between the EU and Mexico on Saturday to upgrade a free-trade deal signed in 2000. The modernized agreement is expected to be signed by the end of the year.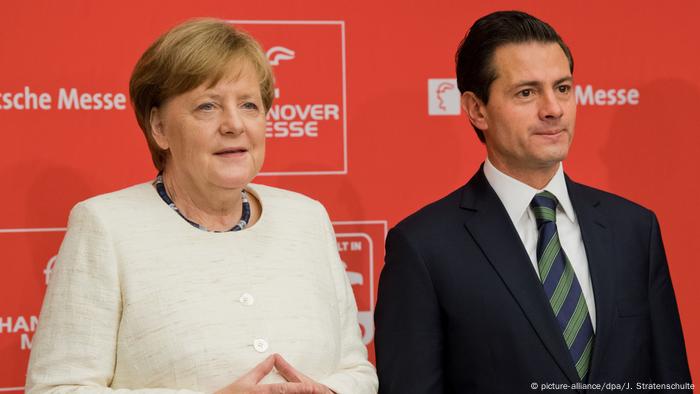 Chancellor Angela Merkel and Mexican President Enrique Pena Nieto open the Hannover Messe
Read more: EU and Mexico reach 'agreement in principle' to modernize free trade deal
"We believe multilateral cooperation can add value for everyone and that's why we're advocating global trade that is as free as possible and which is based on common rules," Merkel said.
Pena Nieto said he was optimistic Mexico would renegotiate the North American Free Trade Agreement (NAFTA) with the United States and Canada.
Read more: Why Germany's cultural ties with Mexico are more important than ever
Read more: Merkel in Mexico - talking trade and digital rules
North American agreement, global impact
US President Donald Trump wants to renegotiate NAFTA, which he argues hurts American workers and the economy. In the absence of a new deal, he has threatened to pull the United States out of the 1994 trade pact.
As Mexico's principal trading partner in the European Union, Germany has an interest in NAFTA negotiations and exports markets to the United States. More than 1,900 companies with German interests, mainly in the automotive and automotive suppliers industries, operate in Mexico.
Read more: Trump links tariffs concessions to NAFTA progress
In Germany, Pena Nieto is scheduled to visit the Wolfsburg headquarters of German auto giant Volkswagen, which has its second-largest plant in Puebla, Mexico. The Mexican delegation includes about 450 people, among them five ministers and the heads of nearly three dozen leading companies.
Jochen Köckler, the head of the German trade fair, told DW that Mexico would like to send the message that it is a supporter of free trade at a time the Trump administration is engaging in protectionism.
"Mexico would like to show it is an important industrial location and exporter to other parts of the world, and not just to the United States, where difficulties are expected," he said.
Merkel will arrive in Washington to meet with Trump on Friday. Trade relations are one of several difficult issues on the agenda. Trump has repeatedly railed against Germany's trade surplus.
Trump imposed US steel and aluminum tariffs earlier this year, but provided a temporary exemption for several countries, including Mexico and EU member states. The exemptions are set to expire on May 1.
cw/se (AFP, Reuters)
Each evening at 1830 UTC, DW's editors send out a selection of the day's hard news and quality feature journalism. You can sign up to receive it directly here.