Footage of Merkel's wide-ranging chat with 29 pupils at a high school in Rostock went viral in social media on Thursday. Some people defended Merkel's explanations of refugee policy, while others described her reaction to the girl's situation as insensitive.
'"Meedia," the online magazine offshoot of the Handelsblatt newspaper group, headlined the encounter as a "PR disaster" for Merkel's team at the Chancellery.
The debate follows foreign criticism of Germany over its handling of Greece and its latest bailout. "Stern" magazine's fronted its latest edition with the title "The Ice Queen."
Deportation suspended pending decision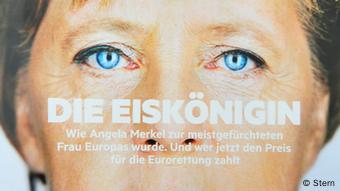 Stern magazine uses the title: "The Ice Queen"
During Wednesday evening's discussion - filmed by public broadcaster NDR - Reem told Merkel - in fluent German learned in only four years - that her family had a temporary stay on deportation back to Lebanon. She said she wanted to study in Germany, but her prospects were uncertain. For the family, it was a very difficult time.
"I am here now and live here, but don't know what my future looks like, because I don't know if I can really stay here," Reem told Merkel.
"We were at the embassy in Berlin and picked up Lebanese passports and we are waiting for the [local German] office for foreigners to send an answer," Reem said, adding that her father, a welder, was not permitted to work in Germany.
'Politics can be hard'
Merkel described Reem as an "incredibly likeable person" and praised the girl's acquisition of German as an essential skill for migrants to integrate in Germany. But the chancellor also added that politics "can be hard."
Addressing Reem directly, she said: "You know too that in Palestinian refugee camps in Lebanon, there are thousands and thousands. And, if we were to say now you can all come; and you can all come from Africa; we could not manage that."
Lebanon was not regarded as a country where civil war was taking place, Merkel said.
Referring to Syria, she said Germany provided refuge to people fleeing from regions suffering from civil war. The federal and regional governments had, however, recently agreed to shorten their decision-making procedures on refugees' applications.
"The only answer we give is that it shouldn't take as long for things to be decided, but there are some who will have to go back," Merkel said.
Chancellor comforts Reem
Nearly a minute passed until Merkel saw that Reem was crying and approached her saying: "You did that very well," while stroking her hair and right shoulder.
The discussion host then intervened, telling Merkel that it was not a case of Reem doing things well, but instead a very stressful situation for the teenager.
"Despite that I want to console her," Merkel replied sharply, saying she understood that the situation for Reem was stressful.
Encounter footage goes viral
NDR published the footage in full length on Thursday while excerpts went viral in various social media, including Twitter, under the hashtag #MerkelStreichelt.
Federal government sources quoted by the German DPA news agency said Merkel had been careful not to favor people she met personally during the discussion nor overrule local authorities responsible for decision-making on asylum applications.
Rostock's mayor, an independent, Roland Methling said his council would examine the case carefully "just like every other one."
"An arbitrary single-case decision is not possible under German law," Methling said.
Union: Chance missed to attract workers
The federal DGB trade union federation's head for northern Germany, Uwe Polkaehn, accused Merkel of propagating a "false signal for tomorrow's expert workers."
"The chancellor bungled a chance to enthuse young people from abroad to work and live in Germany," Polkaehn said.
Germany needed "motivated people like Reem, thirsty for knowledge," he added.
Former German Justice Minister Sabine Leutheusser-Schnarrenberger tweeted: "People who have long lived here and feel as though they belong ultimately need a secure perspective for a life here and not the threat of deportation."
ipj/jil (epd, dpa, AFP)