NATO's next summit meeting is half a year away, but potential guests — aspiring members waiting in the wings — are already asking whether they will be invited to the high-level event at the alliance's headquarters in Brussels in July 2018.
Though any new membership bids are considered unlikely at this point, an official NATO statement issued after the Wednesday conclusion of the alliance's two-day meeting of foreign ministers said that the group will review by April 2018 whether any aspirant country has progressed enough to get the nod to join.
Hoping to top the invite list is the former Yugoslav Republic of Macedonia. The Balkan nation has been in line to join the alliance since 1999. That year, the country began its Membership Action Plan (MAP), a regular review mechanism that precedes accession. Some of Macedonia's neighbors have had speedier progress: Albania, which also began its MAP the same year as Macedonia, joined NATO as a full member in 2009, while Montenegro entered the alliance in 2017.
The new Macedonian government in Skopje, which took power this past June, is aware of time ticking away, but Foreign Minister Nikola Dimitrov says 2018 will be the year things change.
The name dispute
Despite this optimism, Macedonia still faces hurdles to accede, though the most visible challenge may be starting to diminish after many years.
For years, the country and its southern neighbor, Greece, have been locked in dispute over the name "Macedonia." Athens is unwilling to let Skopje use that name without a geographic qualifier and has blocked it for years from joining international organizations as the "Republic of Macedonia." Neither side has thus far accepted internationally-mediated compromises including "the Former Yugoslav Republic of Macedonia" (FYROM).
However, Skopje recently said that it may be willing to compromise for the reward of becoming a NATO member. Resolving the name dispute by no means guarantees that a membership bid will be forthcoming, but until it happens, Macedonia is stuck.
Daniel Serwer, director of the Conflict Management Program at the Johns Hopkins School of Advanced International Studies (SAIS) in Washington, DC, said he thinks outside forces should do more to help put the name dispute to rest immediately. Serwer cited the Interim Agreement of 1995, validated by the International Court of Justice, which says Macedonia should be able to join NATO under the provisional name FYROM. "That's what the Europeans and Americans should tell Greece it has to accept," Serwer told DW.
Questionable state of reforms
But James Mackey, head of the Euro-Atlantic & Global Partnership office at NATO, thinks it would be an oversimplification to portray the name dispute as the only hitch in Skopje's NATO bid. "We have seen some backsliding on democracy, rule of law, [and] accountability of the security services and the intelligence services" in recent years, he told DW at NATO headquarters.
But Mackey also noted that the new government has committed itself to making the necessary changes. "We're going to be watching carefully for reforms in those areas," he said.
The European Union more closely monitors that kind of work, but Mackey said one of the lesser-known aspects of NATO-EU cooperation is that staff from both organizations coordinate "almost on a daily basis" about progress in the Western Balkans. He credited Skopje with "working closely with the European Union to try and systematically address these [issues] across the board."
Bosnian divisions
Mackey contrasted Macedonia's energetic approach with that of Bosnia and Herzegovina. Although NATO's military chief told Bosnian leaders last month that the country meets military conditions, infighting amongst the ethnically-based regions hampers political progress necessary to take the next step toward NATO membership.
"We have a NATO headquarters that's based in Sarajevo," Mackey pointed out. "It has more than 30 experts who are there day in, day out, working with the Bosnians to conduct their defense reforms, so we're hoping to strengthen their defense institutions, helping to make them more accountable and stronger to ensure the security of the country. But at the end of the day, the political will is necessary, as it is on the EU reform side, to be able to agree and and take forward the reforms that are necessary."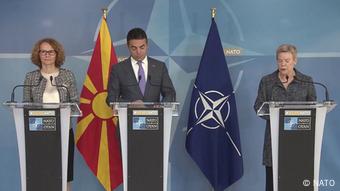 One of NATO's top officials working on partnerships calls Macedonian Defense Minister Radmila Sekerinska (left) a 'rock star' in tackling the reforms that may help get her country a long-awaited offer of NATO membership
In fact, as NATO foreign ministers were gathered in Brussels on Tuesday and Wednesday to solidify their approach to aspirant countries, Macedonia's leaders were across town in meetings at EU headquarters with chief interlocutors including EU High Representative for Foreign Affairs Federica Mogherini, European Commission President Jean-Claude Juncker and Enlargement Commissioner Johannes Hahn.
German Marshall Fund Senior Fellow Rosa Balfour urged Balkan watchers to join Macedonia's swell of confidence that the coming year will be pivotal. "Macedonia has seen public support for EU membership grow since last year," she told DW. Balfour cited figures from the Regional Cooperation Council that show 54 percent of Macedonians in 2017 favored joining the bloc, up from 47 percent in 2016. Few Macedonians oppose membership.
"Unlike Serbia, where many see Russia as the country's best friend," Balfour explained, "Macedonians seem more committed to joining the EU. So I wouldn't focus on the problems but rather on the positive trend that seems to be gaining ground."
Russian influence in the Balkans is not something that escapes NATO's notice. "I would like to say that we're doing this [integration work] because we're good people," quipped NATO's Mackey. "But quite honestly, we're doing it because it's a hard security interest of NATO that we not have instability on our borders."