For the last two years, the diplomatic relationship between Tokyo and Seoul has been only a notch or two above icy. Comments and actions by Japanese politicians, particularly on the question of the two nations' shared history, have been met with broadsides of criticism from their Korean counterparts.
Tokyo has waged a high-profile campaign to convince third parties that South Korea is illegally occupying the Dok-Do islands, which appear on Japanese maps as Takeshima.
On both sides of the Japan Sea - which Seoul insists should be known as the East Sea - the media have weighed in with spirited defenses of their respective nations' positions. In the last half-century, rarely have the differences between the two nations appeared so deep and unbridgeable.
Patching differences
But there are finally signs that Park Guen-hye and Shinzo Abe might at last be willing to patch up their differences. Reports from both Seoul and Tokyo suggest that the two leaders are preparing to meet on the fringes of the Nuclear Security Summit, which is to be held in The Hague (main picture) over two days from March 24.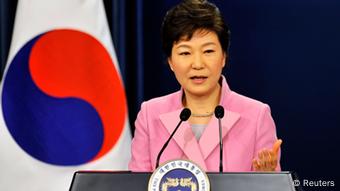 South Korean President Park has shown a greater willingness to open a dialogue with Tokyo
Also present will be US President Barack Obama, who has a vested interest in making sure these two allies of the United States get along more amicably. "Abe wants it, Obama wants it and I'm sure that Park wants this meeting, but there is an element of risk," Robert Dujarric, director of the Tokyo-based Institute of Contemporary Asian Studies at the Japan campus of Temple University, told DW.
South Korea has shown a greater willingness to open a dialogue since Abe stated on March 14 that his administration would adhere to an admission made by the government in 1993 that said the Japanese military was complicit in forcing women in occupied countries into army brothels in the early decades of the last century.
The Kono Statement
Known as the Kono Statement, after then Chief Cabinet Secretary Yohei Kono, the declaration was an apology for the women forced to serve as "comfort women." However, it is also hugely controversial in Japan as nationalists insist there is no evidence to suggest the brothels were organized by the military.
Abe has himself, in the past, indicated that he does not believe the evidence put forward by South Korea, China, the Philippines, Taiwan and other nations concerning the comfort women, but he now appears to be biting his tongue on the issue in order to build bridges with Seoul. But it might not last, Professor Dujarric fears.
"With Abe, there is always the risk of a sex slave eruption that would deeply offend South Korea and make Park look like an idiot," he said. "She really needs Abe to abide by the pledges that he has made."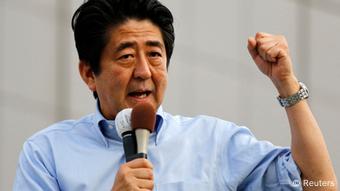 Abe recently stated that his administration would adhere to the 1993 Kono Statement
And the same goes for senior members of his administration, he added, as Japanese politicians do not have the same reputation for staying on-message as in other nations. A visit by a cabinet member to the Yasukuni Shrine would inevitably trigger renewed criticisms from Japan's immediate neighbors.
Visits to the shrine by Japanese leaders draw criticism from countries that were occupied by Japan in the early decades of the last century as it is considered a place to honor the souls of Japanese who died in war, including a number of Class-A war criminals.
But Jun Okumura, a visiting scholar at the Meiji Institute for Global Affairs, believes the ball is in Park's court. "Abe has taken the first step by scaling back his intentions with regard to revising the Kono Statement and expressing his strong sympathy for the sufferings of the so-called comfort women. I believe he is genuine on that point," he said.
Meeting half way
"I think that Abe, in his mind, believes he has gone more than half way to meeting the Koreans' demands and would very much like the South Korean president to table some of her demands," he said.
The presence of US President Obama in The Hague might encourage all the participants to moderate their previous intransigence, Okumura believes, given that both countries rely heavily on the US for defense.
It will also not have escaped Seoul's attention that North Korea has been "making nice" towards Japan in recent weeks, holding talks about the fate of Japanese nationals abducted by the regime that which likely to evolve into broader discussions on bilateral ties.
But Japan equally has fears that failing to engage with South Korea could encourage Seoul to look elsewhere for friends - and China could potentially fill that void. "South Korea has been getting closer to China but I don't agree with that assessment," said Professor Dujarric. "