Apple introduced three updated versions of its iPhone X handset and a watch that detects an irregular heartbeat on Wednesday.
Apple's new iPhone XS Max, the largest iPhone to date and one of the biggest in the market, has a 6.5-inch (16.5-cm) display. The iPhone XS has a 5.8-inch (14.7-cm) screen.
The company also introduced a lower-cost 6.1-inch (15.5 cm) iPhone XR made of aluminum and with lower screen quality.
Higher prices for Europeans
Apple appears set to continue its practice of higher pricing outside of the United States. The XS Max, which looks to be about the size of the iPhone 8 Plus but with a much bigger display, will become the most expensive iPhone ever, starting at $1,099 in the US and €1,249 ($1,452) in Germany. The XS will start from $999 in the US and €1,149 ($1,226) in Germany. The price of the XR will start at $749 in the US and €849 ($987)in Germany.
"They have finally added a larger-screen phone so that they can directly compete with the Galaxy Note9 products," Gartner analyst Annette Zimmermann said at the event at Apple's Silicon Valley headquarters, referring to rival Samsung Electronics, which has led the trend toward big-screen phones."The larger screen will be very important in China to turn around the trend there, because they have lost some share in the last few years, partly because of screen size."
Read more: Artificial intelligence a natural fit for smartphones?
Pricier phones amid slowdown
As expected, none of the new iPhones boasts of any major upgrades over last year's overhauled iPhone X. The handset, despite its high price tag, proved to be more popular than the lower-priced iPhones introduced last year.
Apple's strategy of selling pricier phones amid waning demand for smartphones has propelled the Cupertino-based company to become the first publicly traded US company to hit a market value of more than $1 trillion (€860 billion).
"Apple, once again, has shown their mastery of pricing tiers, which will extract more revenue per customer," analyst Gene Munster of Loup Ventures wrote in a note.
Read more: Apple, the stock market and a trillion dollars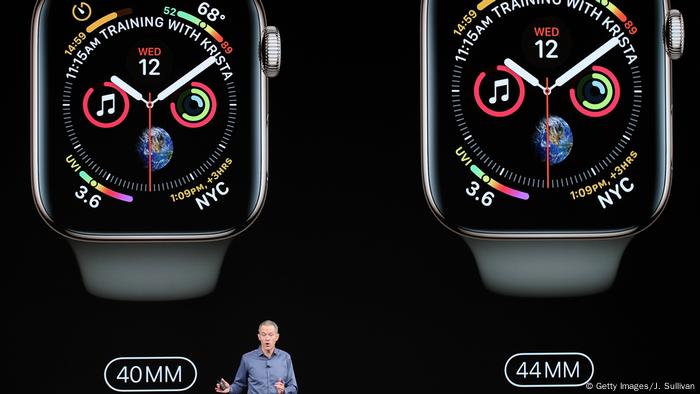 The new Apple Watch has a 30 percent bigger display than its predecessor.
Health-conscious Watch
Apple opened its event by announcing the new Apple Watch Series 4 with a 30 percent bigger display compared to its predecessor.
The new watch, with a price tag that starts at $399 in the US and €499 ($580) in Germany, is a more comprehensive health device. It can take an electrocardiogram to detect an irregular heartbeat. Its fall-detecting feature prompts the watch to make emergency calls if it detects that the wearer has had a fall.
The US Food and Drug Administration said it worked with Apple to develop apps for the Apple Watch.
"This is a pretty big deal," said health care tech analyst Ross Muken at Evercore. "This update really establishes the company's increasing efforts to push the watch as a serious medical device. Apple seems to be diving into heart disease first, the most common cause of death around the world, making serious moves as a health company."
ap/sms (AP, Reuters)
Each evening at 1830 UTC, DW's editors send out a selection of the day's hard news and quality feature journalism. You can sign up to receive it directly here.