Google on Tuesday launched its credit card replacement app in Germany, hoping that users in a still cash-dominant society will start to make contactless payments by smartphone.
To use the Google Pay service, users will need to be a client of one of four banks or service providers — Commerzbank and its online subsidiary Comdirect, the smartphone bank N26 and Wirecard.
Users will also require an Android phone with the ability to sync to the store checkout using Near Field Communication (NFC), and the Google Pay app loaded.
Read more: Consumer groups threaten legal action over cashless payment systems in the Bundesliga
The service can be used to make online payments, as well as store purchases, where a majority of checkout terminals have been converted for contactless payments, Google said.
Google has all the advantages
Android dominates the smartphone market in Germany with a 76-percent share, versus 23 percent for the iPhone, which gives Google a massive advantage.
Apple — which has developed its own iPhone payment system — has yet to launch in Germany.
Even so, some analysts think the tech giant will struggle to ween Germans off of their love affair with cash, as 80 percent of purchases are still made with coins and banknotes.
Read more: German banker takes 6 months to count 1.2 million inheritance pennies by hand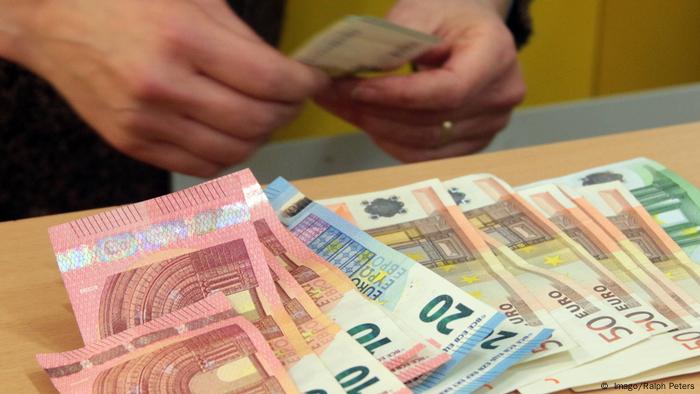 Despite the inconvenience, Germans still prefer paying with cash, and many retailers charge a premium for using credit cards
The reasons for Germans' insistence on paying cash are well-documented. They include memories of hyperinflation in the 1920s, along with a distrust of surveillance, pessimissm about the future, and a sense that they can better control their finances.
Although he sees some users paying by smartphone, Fintech consultant Maik Klotz doubts whether the majority of Germans will adopt the new technology.
"Mobile payments solve a problem that basically doesn't exist," he told DW.
"The customer can already pay at the checkout with card or cash."
Read more: Germany: Man finds €8 million fake bills in trash, turns it in to police
Users need incentives
Klotz thinks customers in Germany will need "positive inducements" to pay by smartphone or even with credit cards, as many retailers insist on a minimum charge before they'll accept a non-cash payment.
Despite the skepticism, Philipp Justus, Google's vice president for central Europe, insists the new payment system will be "as simple and intuitive as Google search."
One of Google Pay's partners, N26 noted "a steadily increasing demand from customers for mobile payment services," according to Chief Product Officer Lorenz Jüngling.