Lorenz Caffier, Merkel's leading candidate in Mecklenburg-West Pomerania state and currently its regional interior minister warned Tuesday that if the AfD overtook established parties next Sunday it would be a "terrible signal" for Germany.
Caffier (pictured above) told ZDF public television's morning program that the anti-mass-migration AfD (Alternative for Germany), which already has opposition footholds in 8 of 16 German regional states, was a "populist" party that made only demands without offering solutions.
In a "Politbarometer" survey published last Friday by German ZDF public television, Merkel's Christian Democratic (CDU) party was at 22 percent in the mostly rural state bordering the Baltic Sea, closely trailed by the AfD at 21 percent.
Out front at 28 percent were the regional Social Democrats (SPD) led by current Premier Erwin Sellering, who together with Caffier, has governed the northern state as an SPD-CDU coalition since 2011.
On Monday, regional AfD's lead candidate Leif-Erik Holm had said his party was offering a 100-euro ($112) reward to each voter who spotted electoral irregularities next Sunday akin to faults that prompted a presidential re-run in Austria.
Law and order agenda
In recent weeks, Caffier alongside Frank Henkel, his CDU counterpart in Berlin, where a city-state election also takes place on September 18, had railed against Muslim female attire and Germany's limited form of dual nationality.
Merkel, campaigning on Monday evening in Schwerin, the regional capital of Mecklenburg-West Pomerania, vowed touse demonstrative "problem solving" to "win back" voters tempted to stray from Germany's "established" center. On Tuesday, she was due to visit the Baltic Sea port city of Greifswald.
Bavaria's Seehofer aided AfD?
Another prominent local, Manuela Schwesig of the SPD, who is family minister in Merkel's Berlin cabinet, accused Merkel conservatives comprising the CDU and Bavarian CSU of partly "doing business" for the AfD.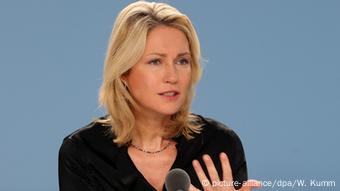 SPD's Schwesig blames AfD rise on Merkel's CDU/CSU
Referring to Germany's intake of more than one million asylum seekers since last year, Schwesig said the conservatives had remained "totally divided" on how to respond and thereby left voters uncertain.
Merkel had maintained "we can do this" while Bavarian Premier and CSU leader Horst Seehofer had being saying, "no, we can't'," Schwesig said while electioneering Monday in Heinrichswalde, near Germany's border with Poland.
"The divisiveness of the Union [CDU and CSU alliance] is what initially made the AfD strong," Schwesig said.
Clear alternative, say Greens
Germany's liberal ecologist opposition Greens, meeting Tuesday in Neustrelitz in Mecklenburg-West Pomerania's lake district - north of Berlin - vowed to offer voters a "very clear political alternative" in contrast to the right-wing AfD.
Greens co-leader Simone Peter described next Sunday's vote as a "decisive" election for Germany, and went on to highlight Mecklenburg-West Pomerania's potential for wind energy, associated job creation, and humane farming.
Deciding moment next May
Manfred Güllner, who heads the polling institute Forsa, said Germany's deciding moment would come next May, assuming the AfD entered the race for North Rhine-Westphalia's regional assembly in Düsseldorf.
"If they enter the Düsseldorf Landtag assembly, then they will also be able to enter the Bundestag," said Güllner, referring to next year's general parliamentary election.
So far the AfD has mobilized potential among right-wing radicals by giving it the appearance of common civility, beyond the "dumb skinheads," who were not electable among Germany's middle class milieu, Güllner said.
ipj/kms (Reuters, AFD, dpa)