The story of the new chairwoman of the Christian Democrats (CDU), Annegret Kramp-Karrenbauer, reads like an object lesson in how important it is in politics to be in the right place at the right time.
Two years ago, AKK — as she's known for short — was the well-respected state premier of the tiny southwestern state of Saarland who was looking at a tough battle for re-election. Fast-forward 24 months and she's replacing her mentor Angela Merkel at the head of Germany's biggest, traditionally male-dominated, party.
At the party conference in Hamburg on Friday, Kramp-Karrenbauer portrayed herself as the candidate of unity and continuity.
"There is no conservative or liberal union," she said. "There is only one CDU."
Kramp-Karrenbauer's star began to ascend in March 2017, when she led the CDU to a surprisingly easy victory in the state election with 40.7 percent of the vote. At the time, Social Democratic chancellor candidate Martin Schulz was riding high in public opinion polls. It was AKK who first diverted what was then known as the "Schulz train" firmly off the rails.
Almost overnight, Kramp-Karrenbauer became a national political player. It was an unlikely rise for a politician who had long seemed destined to remain a regional leader.
Backstory in Saarland
Kramp-Karrenbauer, 56, was born in the small hamlet of Völklingen and grew up in the equally diminutive Püttlingen — place names that epitomize provincial southwestern Germany. Her father was a schoolteacher, her mother a housewife. Like most people in the region, AKK is Roman Catholic. She's a mother of three.
She joined the CDU in 1981, working her way up from the youth organization and through the local ranks of the party. By May 2011, she had become the leader of the CDU's Saarland division, the first woman ever to hold that post. She was elected with a whopping 97 percent of the vote.
From 2001 to 2004, Kramp-Karrenbauer was also Germany's first female regional interior minister — perhaps a sign of greater emphasis on law and order than is the case with Merkel.
In 2011, Kramp-Karrenbauer became Saarland's state premier after she forged a coalition with the Greens and the center-right Free Democrats. But just a year later, she engineered the dissolution of the Saarland regional parliament and fresh elections. That led to a new governing "grand" coalition with the CDU's nominal rivals, the Social Democrats.
After being re-elected in 2017, Kramp-Karrenbauer denied any ambitions to move up to the national level, saying she was content to serve in Saarland. But she was already being touted as a potential successor to Merkel, and the national CDU was tanking in opinion polls and in desperate need of fresh blood.
Less than a year after winning another term as state premier, Kramp-Karrenbauer got the call from Merkel with the offer of becoming the CDU's general secretary. She accepted and was duly confirmed in that post last February, although she would soon move up the next rung of the ladder.
A moderate conservative
Of the trio that sought to lead the CDU, the centrist Kramp-Karrenbauer is rightly regarded as the most Merkel-like. The two women have worked closely together, and AKK's low-key style is reminiscent of her patron's. Like Merkel, she has also headed up grand coalitions.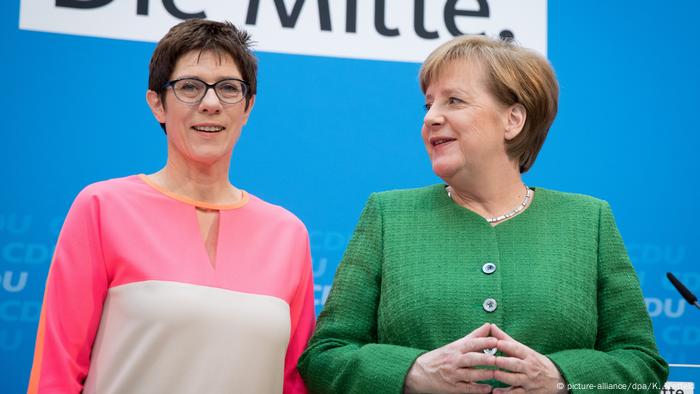 Angela Merkel has made no secret of her support for Annegret Kramp-Karrenbauer
Nonetheless, Kramp-Karrenbauer has staked out positions further to the right of Merkel's, most notably on migration.
"It's not issue No. 1, but it's there as an issue, and there's no point not talking about it," Kramp-Karrenbauer told reporters in the weeks leading up to the CDU's party conference this weekend in Hamburg. "But, if you think you can have the discussion with the idea that you can reverse what happened in 2015, we have to be honest ... and say: What happened in 2015 is reality, it's a fact. The second point is, and we have to make this very clear, is that very early after 2015, we worked to make sure that what happened in 2015 would not happen again, something I saw and helped work towards as state premier."
Whether that will be enough to satisfy those in the party who wanted a more conservative leader remains to be seen. Currently languishing in opinion polls at about 30 percent, the CDU can only dream at the moment of the sort of election results that Kramp-Karrenbauer pulled off in Saarland in March 2017.
In any case, Kramp-Karrenbauer seems to recognize that, despite her connections to Merkel, she will need to establish herself as CDU chairwoman to unite the party behind her.
"This is the end of an era with which I associate many personal relations and personal experiences," she said in one of her many speeches to drum up support for her campaign to lead the CDU. "But that era is over, and such an era can neither simply be continued nor be reversed. The decisive question is what you do with what you have inherited that is new and better."
At 1830 UTC, DW's editors send out a selection of news and features. You can sign up to receive it here.