Golf is known around the world as an icebreaker. At their first meeting at Trump Tower shortly after Trump's election victory in November, Japanese Prime Minister Shinzo Abe brought a golf club as a gift. In return he received a golf polo shirt from Trump.
On Friday, Abe will meet Trump again at the White House and on Saturday the two will play a round of golf together at Trump's luxury golf course and "Winter White House"- Mar-a-lago in Palm Beach Florida.
White House spokesman Sean Spicer said the invitation to Trump's private club is "a testament to the importance the United States places on the bilateral relationship and the strength of our alliance and the deep economic ties between the United States and Japan."
'Strength of the alliance'
During his visit with Trump, Abe wants to ensure that Washington continues to support its close security partnership with Japan. US Secretary of Defense James Mattis said last week during a visit to Japan that the that US stood "100 percent shoulder to shoulder" with Japan, adding that Japan was an ideal example of sharing the costs of stationing US troops.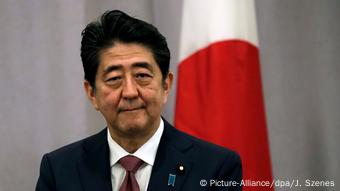 Abe wants to ensure that Washington continues to support its close security partnership with Japan
But Abe wants to hear for himself from Trump how US engagement in Asia is going to look in the future. For example, Japan has concerns that in the case of an economic agreement between China and the US, the security issues may not be sufficiently taken into account.
Growth and employment initiative
Abe's other goal is to mitigate Trump's criticism of "unfair" trade between the US and Japan along with alleged "devaluation" of Japanese currency.
"I want to make clear that both sides have advantages with trade," said Abe to the Japanese parliament before his departure.
Abe is also brining along a "US-Japan Growth and Employment Initiative." The paper outlines a plan that would potentially create 700,000 new jobs in the US and invest $450 billion in new markets like infrastructure, robotics, artificial intelligence, developing the Internet and even space exploration. Other items on an unofficial wish list include high-speed trains along with super-efficient gas and compact nuclear power plants.
Japanese companies are concerned
According to a report in the "Financial Times," the government in Tokyo has been requesting figures for development plans in the US. The number should be so high that Trump will want to post it on Twitter after meeting with Abe.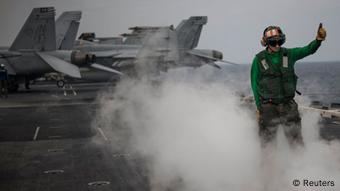 Defense ties with the US are paramount for Japan
But many companies are hesitant. For example, Toyota promised an investment of $10 billion (9.36 billion euros) over five years, which had already been planned. However, Toyota does not want to give up on exporting 1 million vehicles every year to the US.
The Japanese auto parts supplier, Nisshinbo, also recently scrapped plans for a new production center in Mexico, even though, according to a spokesperson, the country is a preferred location for a North American factory.
Trump's statements on trade policy are said to be the reasoning behind the change of opinion. According to reports, Nisshinbo wants to invest 83.5 million for a new brake parts factory.
Rescuing the TPP
Japan's government is still not giving up on trying to rescuing the Trans-Pacific Partnership (TPP) in the medium term. A first step in this direction for Japan is proposing a new framework for discussing economic and monetary affairs.
The framework would put US Vice President Mike Pence and Japanese Finance Minister Taro Aso in charge of setting rules for both sides regulating fair trade and investments while also discussing job creation in the US.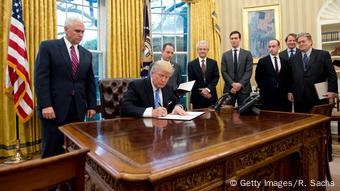 Japan's government is still not giving up on the TPP
Japanese media is reporting that Abe will try and convince Trump about the benefits of this new framework. Additionally, Japan has promised that the rules would be nearly identical to the TPP and could be applied to the rest of Asia.
However, Abe wants to avoid implying that a bilateral trade agreement with the US is just a TPP replacement. Abe invested a lot of political capital in the TPP, and in bilateral negotiations, Trump would demand changes that favor the US. "Japan would have significant disadvantages in these negotiations," a Japanese government official told the Japanese newspaper "Tokyo Shimbun."
"A bilateral agreement would be suicide for Abe or any other Japanese prime minister," Deborah Elms, executive director at the Asian Trade Center in Singapore, told DW. A possible solution for Abe would be to make proposals to Trump about how to reduce a trade deficit, for example by buying shale gas or military aircraft and weapons systems.