Flight schedules returned to normal across most of Europe on Saturday, as travelers in Paris and Brussels finally boarded planes after being stranded by one of Europe's snowiest winters in recent memory.
Hundreds of travelers spent the night before Christmas on camp beds at terminals in the two cities, as supplies of glycol, a de-icing fluid, ran low and forced airports to cancel flights, some 400 in Paris.
"It is not acceptable that Roissy Charles de Gaulle has this supply problem with glycol," said Pierre-Henri Gourgeon, chief executive of Air France, of Paris' main airport, which had to bring in deliveries of de-icer from Germany and United States. France's environment minister said the government would look into what went wrong and how airports could prevent the problem in the future.
Airports were for the most part operating normally on Saturday in Britain, Belgium, France and Germany, though there were some cancellations in Frankfurt and Zurich.
"We are back to normal now. There are some delays still but a lot of airlines have also added extra flights to compensate for yesterday," said Jan Van der Cruysse, spokesman for the Brussels' airport, where 50 passengers spent the night on Friday.
A spokeswoman for London's Heathrow Airport said only a few flights would be canceled on Christmas Day.
The de-icing shortage is just the latest in a series of severe weather-related disruptions in the weeks before Christmas that have left hundreds of thousands of angry travelers questioning the ability of Europe's air and rail industries to deal with winter weather.
Train service snowed under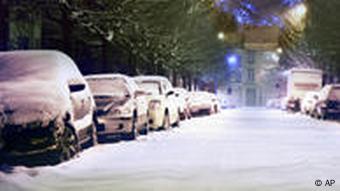 Snowy roads convinced many to stay at home
Persistent ice and snow in northern Europe continued to cause delays to high-speed train service, with Eurostar trains linking London and Paris canceled on Saturday after a week of delays due to snow and ice. The cross-Channel service was expecting to run on a close-to-normal schedule on Sunday.
A white Christmas in Germany, where 30 centimeters of fresh snow fell overnight, caused significant train delays and cancellations across the country, particularly in the north and east. Rail service on the island of Ruegen, off the coast north of Berlin, was shut down completely.
Police nationwide have reported hundreds of accidents due to slippery road conditions, though most were relatively minor. Many people chose to avoid the wintry weather by staying at home.
Temperatures are expected to remain low in the next few days, though less snow is in the forecast, according to the German weather service.
Author: Martin Kuebler (Reuters, dpa)
Editor: Sarah Harman