European aircraft manufacturer Airbus agreed to settle a corruption investigation in Germany by paying an €81.25 million ($99 million) fine to authorities, prosecutors in Munich announced on Friday.
The settlement sum breaks down into a €250,000 administrative fine as well as an €81 million "disgorgement," which is broadly defined as the recovery of ill-gotten gains.
Read more: Airbus may stop A380 production as orders dry up
The German investigation, which first opened in 2012, was looking into whether Airbus issued bribes in order to secure a €2 billion contract to sell Eurofighter combat jets to Austria in 2003.
Airbus said in its own statement that it had accepted the fine and that the German investigation "has been terminated."
No evidence of bribery, but suspect funds
Prosecutors in Munich noted in their statement that the investigation did not find evidence of bribery. However, Airbus was unable to account for over €100 million in payments made to two shell companies in Great Britain.
"The funds, which bypassed internal controls and were largely without provable return, were used for unclear purposes," the statement said. "It cannot be determined based on the cash flows, which purposes the payments ultimately served."
German authorities, therefore, concluded that Airbus failed in its supervisory duty by allowing its former management to make the payments.
Read more: Airbus Helicopters to seek compensation in spat over failed deal with Poland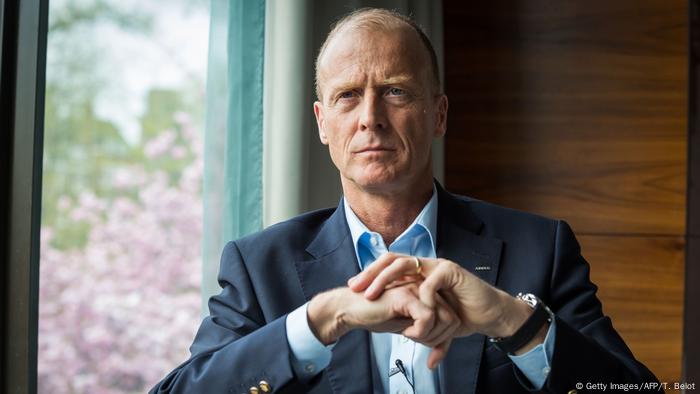 Airbus CEO Tom Enders has been under fire over the Eurofighter deal
Probes ongoing in Austria, UK and France
Airbus is still under investigation in Austria, which is looking into claims that bribers were paid to land the Eurofighter deal. Austrian authorities are seeking up to €1.1 billion in damages.
France and Britain are also investigating the company over its sale of commercial jets. The company also faces separate probes in in France and Britain.
Airbus' current Chief Executive Tom Enders, who headed the company's defense business from 2000 to 2005, has denied any wrongdoing. However, Airbus announced in December that Enders would not seek reappointment when his term ends in April 2019.
rs/bw (AFP, dpa, Reuters)