A massive truck bomb ripped through Kabul's diplomatic quarter on Wednesday, killing at least 80 people, wounding over 300 and sending clouds of black smoke into the sky above the presidential palace and foreign embassies.
The bomb, one of the deadliest in Kabul and coming at the start of the holy month of Ramadan, exploded close to the fortified entrance to the German embassy, killing a security guard and wounding some staff, German Foreign Minister Sigmar Gabriel said on Twitter.
A statement from the NATO-led Resolute Support (RS) mission in Kabul said Afghan security forces had prevented the vehicle from entering the heavily protected Green Zone that houses many foreign embassies as well as RS headquarters, suggesting it may not have reached its intended target.
In a DW interview, Afghanistan expert Nicole Birtsch says even places that are generally considered to be safe areas are increasingly being targeted for attacks.
DW: Tens of people have reportedly been killed in the latest bomb blast in Kabul. And many people continue to lose their lives due to the violence plaguing the war-torn country. How do you view the current security situation in Afghanistan?
Nicole Birtsch: The security situation in Afghanistan has deteriorated further. Afghan security forces control only about 57 percent of the country's territory. Around 2.5 million people live in areas controlled by the Taliban and nine million more live in contested areas.
The number of civilian victims, including many children, remains high. And many people are internally displaced due to the fighting between government forces and the Taliban.
Added to the problems is the high number of refugees and asylum seekers returning from Pakistan and Iran. Food insecurity is on the rise. Public facilities such as schools and health centers have had to be closed because of the fighting.
The airstrikes conducted by US forces, mostly against members of so-called "Islamic State" terror group, also lead to civilian casualties and prompt civilians to flee.
There seem very little prospects for holding peace talks with the Taliban in the near future. As part of their offensive this year, the militants have vowed to continue fighting the Afghan government and its international backers. Both the government and the Taliban have expressed their commitment to keep the number of civilian victims as low as possible, without much success though.
Are there any safe areas in Afghanistan?
The Taliban control parts of rural areas, while the government focuses on the defense and protection of urban centers and transport corridors.
It's generally considered that the capital Kabul along with places like Herat and Mazar-e-Sharif are safe areas. In these areas, there is a lower likelihood for people to become victims than in highly contested provinces like Helmand, Nangarhar and Kunduz. But even Kabul, as we saw this morning, is increasingly becoming the target of attacks.
Germany has been looking to deport Afghans whose asylum applications have been rejected. What realistic prospects do you think these returnees would have in their home country?
Returnees, who have long since ceased to live in Afghanistan or have not grown up there, usually do not have a social network that provides support, connections and protection.
Support offered by the International Organization for Migration (IOM) is also not sufficient to help returnees find work or housing.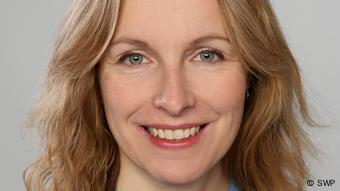 Birtsch: 'It is conceivable that returnees join extremist organizations that provide them with social connections, protection and support'
The unemployment rate is hovering around 40 percent and the jobs available are given out through social relationships.
Do you see a danger that returnees, due to a lack of prospects and frustration over the West for rejecting them, will become radicalized?
It is conceivable that returnees join extremist organizations that provide them with social connections, protection and support. But I do not know of any such cases yet.

Nicole Birtsch is Afghanistan researcher at the Berlin-based think tank German Institute for International and Security Affairs (SWP).
The interview was conducted by Florian Weigand.