It's midmorning, and the Eco Furniture factory in the city of George in South Africa's Southern Cape is a hive of hammering and whirring saws. Two women in yellow overalls and dust masks feed timber into a wood-cutter. Outside, a man is putting the final touches on a finished product.
They're making funeral caskets.
"They are made to look good on the day of the funeral," says Emile Mopp, the plant's manager. This way bereaved families know their loved ones are getting a fitting send-off, he added.
Importantly for some, the coffins are eco-friendly too. Made from solid wood and water-based paint, as well as non-toxic glues, the company says they are better for the environment than chipboard caskets, for instance, which can contain "toxic products."
"The difference between standard commercial products and these coffins is that these don't lie in the ground for decades," he said.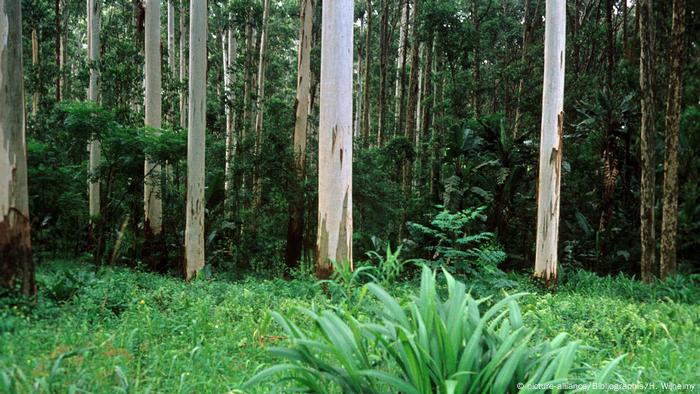 Eucalyptus trees such as these can have a negative impact on biodiversity and water supply
But the caskets have an additional purpose. They're part of a government drive to control invasive plant and tree species guzzling up water in one of the most water-poor regions on Earth — and to provide an inexpensive way for poor communities to bury their dead.
Read more: Can 'assisted colonization' help save species in a warming world?
Read more: Mutant all-female crayfish prompt invasive species fears
Alien invasion
On average, South Africa receives just half the amount of rain that falls on the rest of the world.
Cape Town, one of South Africa's most-populated cities, is now in the throes of a water crisis after a prolonged drought. Its reserves could run out by June, forcing the city to turn off municipal taps for everything but the essential services.
Read more: Cape Town could run out of water by April
Worsening the problem, particularly in water catchment areas, are invasive plants such as pine, eucalyptus, blackwood and black wattle. The species were introduced as early as the 17th century by European colonizers for use as timber and charcoal, among other purposes.
Apart from clogging up rivers and streams, the plants pose a fire hazard, as they increase the duration and intensity of fires. It's estimated they cover around 10 percent of the country — and they are spreading.
Read more: Species on the move
Read more: A library of invasive weeds and survivors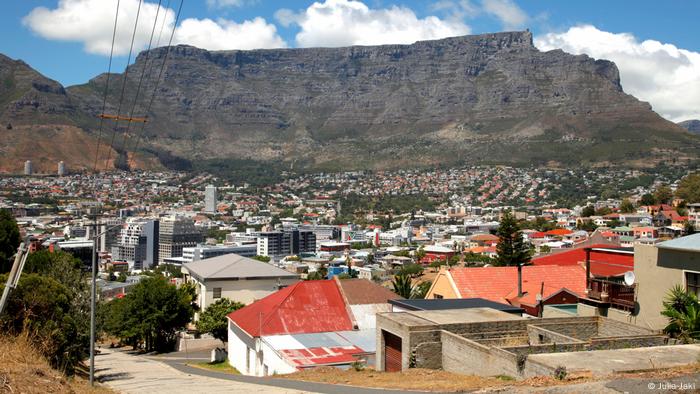 South Africa is facing water scarcity — residents of city of Cape Town (pictured here) may soon be unable to turn on their taps
The Eco Furniture factory program, a state initiative set up in 2012, turns wood harvested from these invasive species into furniture and affordable coffins.
"It became apparent to us that we could use our alien invasive biomass to make products that are useful for the government," said Guy Preston, head of natural resource management at the environment department.
"And more specifically, they could be used to reduce the cost of bereavement for the poor."
'Bling' funerals
Funeral costs in South Africa are high, when seen relative to the fact that 27 percent of the population is unemployed and average monthly household income amounts to about €778 ($954).
Although most funeral directors in the country do not list their casket prices, according to South African newspaper paper The New Age, a "cheap" casket from AVBOB Mutual Assurance Society (one of the country's leading funeral services companies) costs around €443.
A premium version could set a family back as much as €4,000. That's on top of other services, including everything from a burial plot to a funeral feast.
Read more: The green way of death
Employees at Eco Furniture factories produce basic caskets that cost around €20. But they also make more elaborate caskets — which cost around €339 — to meet public demand for higher-end versions.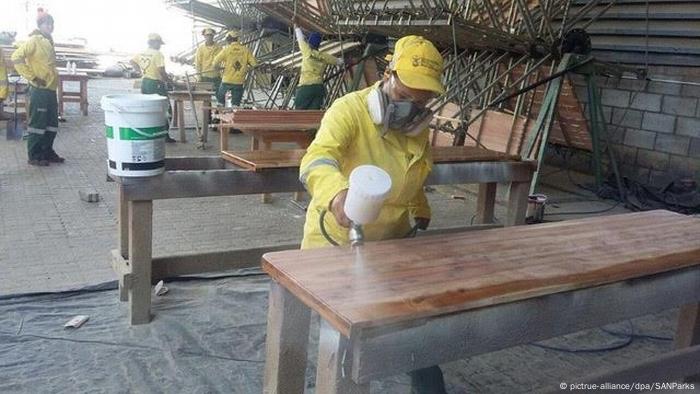 The caskets from South Africa's Eco Furniture factories use water-based paints and non-toxic glues, says the organization
As in many countries, having an ornate, expensive casket is a mark of status and a display of wealth in South Africa. Even if a family cannot afford the more deluxe products, there's pressure on them to show they can.
Demand for fancy caskets is a modern phenomenon — but it's also connected to old beliefs, says Samuel Radebe, founder of the pan-African Revelation Church of God, which infuses African traditional practices with aspects of Christianity.
"In traditional African culture, our people were buried in their backyards, with the deceased wrapped in a cow skin, not a coffin," said Radebe. "That is the reason behind the slaughter of a cow, to use its skin as a coffin — not to force the family to prepare a funeral feast."
Radebe says the need to perform the correct rituals on a deceased person has been misconstrued to mean that they should have an expensive coffin.
He believes this leaves poor South Africans with limited options in the face of bereavement: either go into debt or forgo a proper burial.
Green, inexpensive alternatives
Those were the choices facing the family of 27-year-old Monwabisi Ndlazulwana, who was stabbed to death in an attempted robbery in late 2017.
Monwabisi's parents, who live in the Thembalethu township just outside George, are unemployed, and rely on government grants to get by.
"We had nothing. We couldn't afford to approach an undertaker," said Monwabisi Ndlazulwana's aunt, Busisizwe Ndlazulwana.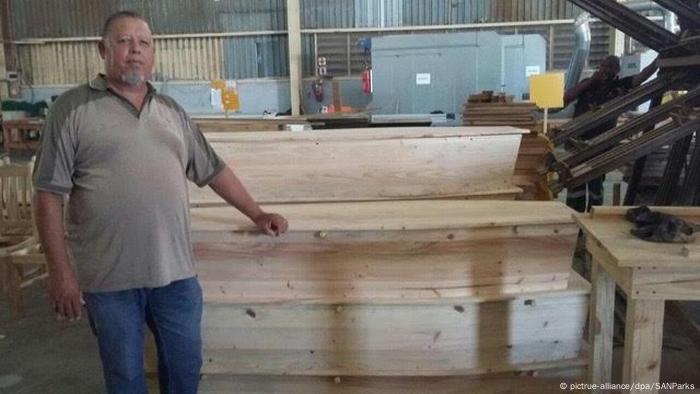 Emile Mopp, manager of the Eco Furniture in George, says the green funeral business could provide jobs in the country
"If it wasn't for the community that assisted us and for the donation of the coffin from the factory," Busisizwe Ndlazulwana continued, "we would not have been able to bury our son."
While anyone can buy an eco-coffin, the program is aimed at people like the Ndlazulwanas.
Still, Eco Furniture manager Mopp says reaching such families has been one of the project's main challenges. They've mainly relied on word-of-mouth thus far.
Mopp hopes that will change if the government's long-term goal of encouraging others to set up their own green funeral businesses is successful.
"We can produce these products at scale, for hospital, for municipalities, anyone really," Mopp says. "It offers real opportunities for people to make their own money."