Maria tightly clutches her teddy bear. The little girl bravely smiles at the cameras and new faces before her. For her new life in Germany, she wants only one thing. Time to play.
"It's about the security and future for my children," says Maria's father when asked by journalists about his hopes for his family in Germany. In Iraq, the Al-Samari family didn't see any future anymore.
"It's because we are Christians and are persecuted," he explains. So he, his wife and two children fled. First to Turkey, then to Germany.
The situation is similar for many of the other refugees who on Tuesday (16.07.2013) arrived at the Hannover airport. Ninety-percent of them are Christians. And almost half of them, children.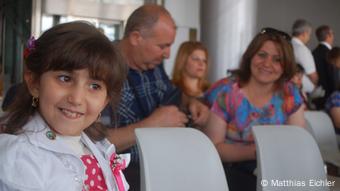 Where the refugees will end up remains unclear
Arrival in Friedland
Where in Germany the refugees will find their new home remains unclear. First, they will arrive at the reception camp in Friedland, near Göttingen, from where they will move on to any one of Germany's states.
What will await them in Friedland is what Martin Schmidt, President of the Migration and Refugee authorities, describes as two weeks of orientation: The refugees need to learn German, get to know the country and "then they will go to their local destinations. That's when the actual arrival takes place, when they arrive in the local community, in society, in the city."
Arriving is the most important thing for the Mayouma family. The mother is hoping for stability and peace. Their last day in Iraq she describes as pure horror. Terrorists stormed the family's home and broke their son's collarbone. "That was the reason we fled Iraq," she says.
The challenge of integration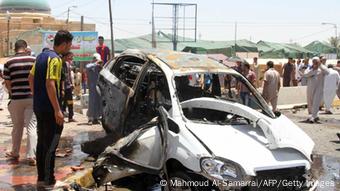 Iraq is still rocked by violence and instability
Families like the al-Samaris or Mayoumas are part of the German interior ministy's re-settlement program. They were chosen because they are in need of special protection, says Christoph Bergne, parliamentary secretary in the interior ministry. He was the one welcoming the Iraqis at the Hannover airport.
What was decisive in bringing the refugees to Germany was also whether they would have a good chance of integrating into German life, Bergner explains. Part of that is the question whether they have relatives already living in Germany that could help them find their feet in their new country.
The first refugees that came as part of the resettlement program arrived in Hannover in October 2012. Back then, there was even more media attention and the first refugees were welcomed by Interior Minister Hans-Peter Friedrich.