The German Police Trade Union (DPoIG) said knife carriage — involving "noticeably" young migrants — should be prosecuted under attempted murder provisions in Germany, and urged government to compile statistics nationwide on knife incidents.
"It requires only the smallest altercation and knives are pulled," said the DPoIG, adding they were cheap and easy to transport.
Knives were also used in two attacks — in 2015 and 2017 — survived by liberal mayors in western Germany.
Redefine law usage
If redefined as potential homicide, said the DPoIG, police could submit knifing suspects to a minimum of one year's investigative detention, or, in the case of refugees, press for their deportation.
Stabbings currently invoked no minimum period of detention because they were treated lesser in law as aggravated bodily injury, said the DPoIG, which is affiliated to Germany's Beamtenbund (DBB) civil service union.
'Apparent' but not proven
Germany's larger Trade Union of Police (GdP), affiliated to the center-left DGB trade union federation, reiterated only its past call for better data, saying an rise in stabbings seemed "apparent," but was not proven because of a lack of federal statistics.
"An authoritative situation report is needed urgently in view of the recent shocking acts, said GdP chief Oliver Malchow.
Lünen, Dortmund, Kandel
The appeals, directed at the new federal Justice Minister Katarina Barley and Interior Minister Horst Seehofer, follow a series of fatal teenage stabbings, such as a 14-year-old pupil's death at a school in Lünen in Lower Saxony state last January.
Anti- and pro-refugee protests ensued in Kandel in Rhineland-Palatinate from last December when a 15-year-old girl was stabbed to death in a cosmetic and household goods store, allegedly by her ex-boyfriend — a young Afghan refugee.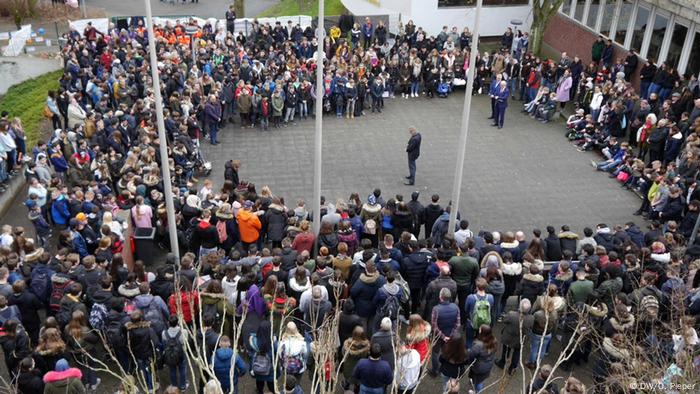 Lünen's Käthe-Kollwitz school grieves after January's fatal stabbing
And, Dortmund police — after the fatal stabbing of a 15-year-old by another girl in a parking building —urged parents and youth "there are no grounds to carry a weapon, either at school or during free time."
Attitudes drifting
The DPoLG claimed that migrants it termed "young Arabs" had brought with them the attitude that it was not unusual, nor bad to carry a knife.
"Other youths see this and then later they are all armed," warned the DPoIG.
Lünen's high school principal Reinhold Bauhus told the magazine Der Spiegel recently that in the past a school fight ended when somebody lay on the ground.
"Many youth no longer know where the borderline is, and what happens if it is transgressed," he warned.
They lacked inner inhibitions," Bauhus said, "and three, sometimes four teachers have to pull apart two [altercating] pupils before it ends up tragically,"
Survey: risk high
The alarm coincided Monday with results from a YouGov survey, commissioned by the national new agency DPA, indicating a higher perceived risk for younger residents in Germany.
Half of those questioned — aged 18 and over — believed that young residents faced a higher or very high risk of being attacked with a knife.
Those who put the risk at low or very low amounted to 41 percent.