Five years after Australia launched its controversial offshore detention policy, more than 1,000 adults and children are still languishing in the Australian-run detention center on the tiny Pacific island nation of Nauru.
In recent weeks, the health of many asylum-seeker children and teenagers — many of whom have been held on Nauru for much of their lives — has dramatically worsened, with the emergence of a serious and rare psychiatric disorder called "resignation syndrome."
Read more: Australia accused of 'deliberate' cruelty
Last week, an Australian court ruled that a 17-year-old girl in critical state be urgently transferred to Australia for treatment. Doctors had diagnosed her with "Traumatic Withdrawal Syndrome," also known as "resignation syndrome."
A 14-year-old boy suffering the same acute depression — one that has led to severe muscle wastage from immobility — was flown from Nauru to a hospital in Brisbane in Australia last Friday.
Another 12-year-old boy was transferred from the island via air ambulance after having refused food and fluids for 20 days. This was four days after doctors had recommended he be urgently evacuated.
The next day, a girl was taken to a Nauruan hospital after trying to set herself on fire in the detention facility. She had been assessed by a psychiatrist a week earlier, who recommended she be transferred to Australia for urgent medical attention.
About 1,100 asylum-seekers remain on Nauru, according to the Asylum Seeker Resource Center (ASRC). Of these, there are 117 minors, many of whom were born while in detention.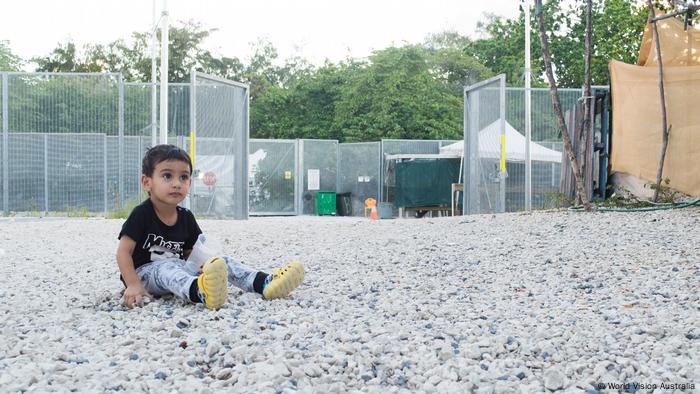 Two-year-old George was born in detention on Nauru
Children 'completely check out of life'
The ASRC estimates at least 30 children residing on Nauru are suffering from "resignation syndrome."
According to psychiatrist Louise Newman, the disorder is a "rare psychiatric condition" that "presents as progressive social withdrawal and reluctance to engage in usual activities." It has been widely documented among refugee children, notably among those living in Sweden.
The "most serious stage of the disorder," Newman said, occurs "when the child enters a state of profound withdrawal and is unconscious or in a comatose state." Effects can last between weeks and years.
Read more: Second suicide in two weeks as desperation mounts for asylum-seekers eying Australia
Former teacher on Nauru, Gabby Sutherland, who is still in regular contact with children on the island, told DW she has observed several of them descending into a state where they "completely check out of life."
"All they can do is sleep or stare into space," she said.
Sutherland described the detention environment as "seriously inconsistent" with healthy development in children.
"The older children tend to do things that are mindless — like just digging a stick into the ground all day because they're so frustrated and bored." The detention facilities people are living in — which range from camps to demountable-style buildings — were described by Sutherland as hot, cramped, unhygienic and strikingly inadequate.
Read more: Leak: widespread abuse on offshore detention centers
Although the Nauruan government announced in late 2015 that the camps would be "opened" and the asylum seekers would be free to move around the island, Sutherland says making a distinction between "camp and non-camp" on the 21-square-kilometer island is almost meaningless.
"The whole island is an open-air prison. It makes no difference if you can step a meter out or a mile out. There is nowhere to go and nothing to do. The island itself is poverty-stricken," she said.
'Unsafe living environment'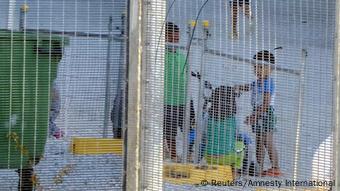 Children play near a fence at the detention center on Nauru
For some time now, medical experts have been outspoken about the severely detrimental health impacts that are being observed among people in prolonged detention.
Despite several Australian senate inquiry reports, the last of which acknowledged a "deeply troubled" asylum seeker and refugee population, and an unsafe living environment , "especially for children," nothing has been done to change their circumstances on the ground.
Although the Australian government's legal obligation concerning the well-being of those in offshore processing centers has never been definitively determined by a court, Julian Burnside, a prominent Australian refugee lawyer, said it "owes a duty of care to people held on Nauru or Manus, as it put them there."
"Part of that duty is to avoid harming them," he told DW.
In response to questions about Australia's duty of care in relation to the welfare of the asylum seekers, the Australian Department of Home Affairs referred DW to a statement that said: "a range of care, welfare and support arrangements are in place to provide for the needs of children and young people."
It also stated that "health professionals regularly engage with refugees and asylum seekers in regards to their mental health and individuals have access to counselling services as needed."
Read more: Migrant baby in Australia will be sent back to island of Nauru
Australian rally over 'unsafe conditions' for Manus refugees
They are 'stuck'
Only 250 people out of a promised 1,250 have been sent to the United States under a deal agreed between former Australian Prime Minister Malcolm Turnbull and ex-US President Barack Obama, which current President Donald Trump has described as a "dumb deal."
None of the asylum seekers on either Manus Island in Papua New Guinea or Nauru has been granted Australian asylum.
New Zealand Prime Minister Jacinda Ardern has made several offers to resettle 150 asylum seekers held in detention on Manus and Nauru. These have been met with what Burnside describes as "not very subtle" warnings from former Immigration Minister Peter Dutton about the "consequences such an arrangement would have on New Zealand's trade relations with Australia."
"Until the politics in Australia improve, the people held on Manus and Nauru — 80 percent who have been assessed locally as refugees — are stuck," Burnside said.