Fifteen-year-old Youssoufa Moukoko trained with Dortmund's senior squad on Monday.
Wearing the same number (18) that the club's academy coordinator Lars Ricken wore when he help Borussia Dortmund win the Champions League in 1997, Moukoko went toe-to-toe with the likes of Erling Haaland and Manuel Akanji.
"He should be introduced to senior football," Dortmund's sporting director Michael Zorc said of the forward who is already a household name having scored 157 goals in 97 games for Dortmund's under-17 and U19 teams.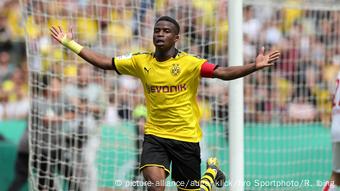 Youssoufa Moukoko has dazzled youth football with his remarkable goalscoring record
"He is an outstanding talent, but is very young. One should therefore not place too much expectations on his shoulders," Zorc added.
First-team captain Marco Reus told German magazine Sport Bild something similar. "He's a great kid, but I think we would all do him a big favor if we didn't talk about him so much."
With that in mind, Moukoko will continue playing with the U19 squad until his 16th birthday in late November. After that, thanks to a rule change regarding age requirements, Moukoko will be eligible to play for the first team.
Remarkable scoring record
Moukoko joined BVB's youth academy from Hamburg-based club St. Pauli in 2016 and made his debut for Dortmund's U17 side when he was 12.
Between 2017 and 2019, Moukoko bagged 90 goals and 16 assists in just 56 games. His scoring continued at the U19 level last season, where he racked up 38 goals and 10 assists in 28 games. Last August on debut for the U19s, aged just 14, Moukoko scored six.
His performances prompted Dortmund to request the DFL ― which operates Germany's top two divisions ― to reduce the minimum age for first-team players. The DFL obliged, lowering the age from 16 and a half to 16.
The rule change means that Moukoko, who turns sixteen on November 20, could make his Bundesliga debut before the end of the year.
His rampant goalscoring also attracted sponsors to his doorstep, and in May 2019, Moukoko signed a shoe deal with Nike worth €10 million ($11.7 million).
Ready for the show?
Last year Dortmund, who have developed several top stars over the past decade, hired Otto Addo as a top talent coach. Addo, who played for BVB from 1999 to 2005, is tasked with position-specific training, individual analysis and conducting off-the-field checkups on bright prospects in the club's youth system such as Moukoko.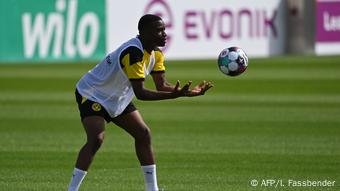 Youssoufa Moukoko has his eye on first-team appearances this season
"He has the potential to break into the first team," Addo said of Moukoko at a press conference. "But nobody knows how he will train in a professional environment. No one knows whether he can establish himself among adult players.
"He certainly has all the qualities. He is very disciplined and motivated and is a professional. I have rarely seen a player that also works on the deficiencies he still has. He is giving it his all and I hope it's enough."
It won't be long before both Moukoko and Borussia Dortmund find out.