Holstein Kiel 0-1 Wolfsburg (Aggregate: 4-1 Wolfsburg)
(Knoche 75')
Holstein Kiel huffed, puffed and had the ball in the net twice but they couldn't blow down Wolfsburg's door, leaving the visitors to snatch a 1-0 win that keeps them in the Bundesliga.
Bruno Labaddia's men were as short on inspiration as they had been for most of the top flight season but Robin Knoche's second half header, combined with their 3-1 first leg win, means no 2. Bundesliga club has won the relegation playoff since 2012. Indeed, only two of the 10 ties since the system's re-introduction have gone the way of the lower ranked side.
As they did last Thursday, Wolfsburg started proceedings on the front foot, Felix Uduokhai nodding wide early, before top scorer Marvin Duksch hooked Kiel's first sight of goal wide.
That effort seemed to spur the hosts on and the rangy Aaron Seydel, who made a significant impact from the bench in the first leg, dragged a shot just wide after 13 minutes. The top flight club thought they had the lead four minutes later when Yunus Malli swept home but the goal was overturned after a VAR review. Divock Origi was clearly offside and obstructing the goalkeeper's view.
Despite the absence of playmaker Dominick Drexler, Kiel's composure and confidence grew as the half went on and they created a series of half chances, but were unable to convert. The men in blue did at least put the ball in the net in the 37th minute but an earlier foul on Wolfsburg keeper Koen Casteels meant that one didn't count either.
The game lost some momentum as it edged towards the break, though Origi did produce a fizzing long range drive that stung the palms of Kenneth Kronholm in the home goal.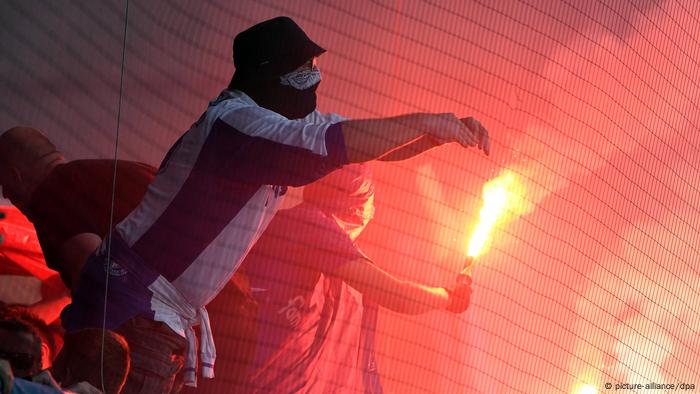 Holstein Kiel's fans whipped up a hostile atmposphere for their visitors
Buoyed by a vociferous home crowd, Kiel started the second period brightly, Ducksch testing Casteels before the Belgian keeper made a smart reflex save from Seydel's close-range flick. From the resulting corner, the ball struck Uduokhai's arm but Kiel's penalty pleas fell on deaf ears.
Though they often threatened, the home side failed to create a genuine clear cut chance and were made to pay for a lapse of concentration with 15 minutes remaining. Wolfsburg skipper Maxi Arnold swung in a corner and Knoche arrived late and unmarked to power a free header home and allow Labaddia a sigh of relief.
Though there were tears at the whistle, Kiel are unlikely to be too disheartened by missing out on a second successive promotion after an exceptional season, while the Wolves can lick their wounds before attempting to reclaim former glories again next term.
As it happened
90+6' — Full time! One last long ball over the top, Koen Casteels scoops it up, and the referee calls time on a failed fairytale in Kiel. The hosts gave Wolfsburg quite a game, despite the rather one-sided story showing on the score board.
90+4' — Kiel's supporters turn the volume up to 11, even in defeat, to close out the game. They're singing their side out in style after an improbable season: newly promoted to the second division, they very nearly jumped straight onto the top rung of the ladder at the first attempt.
90+2' — One last sub for the Wolves, Kuba Blaszczykowski replaces Brekalo for the last few seconds.
90' — Five minutes of stoppage time. Almost seems too few. Anyway, Kiel need three!
88' — GOAL DISALLOWED after VAR review. Handball given against Cichos in the kerfuffle on the goal line. Markus Anfang did not look amused. Fortunately we don't have an in-house lipreader!
87' — Another VAR review moment.... It may or may not be 1-1 on the night!
86' — GOAL! Kiel 1-1 Wolfsburg. It's Raphael Cichos, the captain and defender up from the back for a corner. Although, it might be chalked up as a William own goal?
84' — Wolfsburg swap strikers: Origi for Dimata. A few minutes ago, Yunus Malli made way for Ignacio Camacho.
82' — Origi should have nailed the Kiel coffin shut there. He was set through by Arnold, and his touch let him down, turning what should have been an easy one-on-one into an off-balance lunge to get a shot away.
80' — So, Kiel's "storks" now need three in 10 or so minutes to force extra time and perhaps penalties. The odds seem similar to the chance of a stork dropping by the wolves' den carrying triplets.
78' — Fun fact: that Maxi Arnold assist was a first for him in Bundesliga competition this season. The playmaker didn't lay any on at all during the league season.
75' — Maxi Arnold's shot won Wolfsburg the corner. The captain went to take it, and picked out the big defender Knoche in the box. Arriving all-but-unmarked, Knoche headed powerfully into the ground and ultimately into Kronholm's net.
75' — GOAL! Kiel 0-1 Wolfsburg. (Robin Knoche)
75' — Chance for Wolfsburg's Maxi Arnold. His left-footed shot is parried by Kronholm in goal.
74' — Kiel's first sub of the evening, Manuel Janzer, is warming up on the sidelines.
69' — Origi's wandering off again for some attention from the physio. Markus Anfang gesticulates animatedly at his watch, suggesting the Wolves might be playing for time already. Hard-fought from the get-go, the game has taken a turn towards the vicious in the last few minutes.
64' — Origi returns to the fray.
62' — Divock Origi has taken a knock and looks like he'll need treatment. Defender Cichos made a fair, but also visibly painful tackle on the Belgian.
60' — Maxi Arnold tripped as he runs for the corner flag. But the ref's just given Wolfsburg a corner, which comes to nothing.
58' — Seydel gets his head to a cross from the right flank, but doesn't get any real purchase on it. Kiel still looking for the truly iron-clad chance to open the scoring.
55' — Corner for Kiel after a prolonged period of pressure. You feel that if they're planning on the miracle, it's almost time to go to work.
47' — Kiel streaming forward. Herrmann finds Seydel in the box with a low cross, and the lanky lad tries to back-heel the ball home. Casteels was able to block the improvised shot.
47' — Early second-half chance falls to Marvin Ducksch, but he can't make contact properly.
46' — Second half begins. No subs on either side.
HT analysis: Both sides are playing with an intensity to match the occasion. Wolfsburg's attackers, in particular, are working hard without the ball to close down space as Kiel try to build from the back. Kiel have had a little more of the match, but have also looked vulnerable while taking the game to their visitors. Yunus Malli's disallowed goal stemmed from a Kiel error in their own half, and Markus Anfang's side will have to throw even more caution to the wind as time ticks by.
HALF TIME.
45+2' — Holding midfielder David Kinsombi shoots, it's deflected and Casteels hangs on to it. Kiel were slicing Wolfsburg up like a cake there with a series of swift one-two's. Markus Anfang's style of play, at least with his current club, is liable to make the odd Cologne fan smile.
45' — There will be two additional minutes in the first half.
42' — Liverpool loan Divock Origi, who's value estimate is just shy of that of the entire Holstein Kiel squad, tries to decide the tie all by himself, bounding into space and letting a shot fly from distance. Kronholm was equal to it in Kiel's goal, despite fumbling the fierce strike somewhat.
37' — Fans let out a roar as the ball goes into Wolfsburg's net, but play had been stopped some seconds earlier. Koen Casteels was impeded by the strikers while trying to claim a corner.
33' — Left winger Aaron Seydel is a frequent target for Kiel in the air or on the ground. Seydel's got a build better suited to the NBA, standing at 1.99 meters (6 foot 7 inches). He's been quite happy to run at Wolfsburg right-back William with the ball on the deck as well though.
31' — Kiel right-back Patrick Herrmann picks up a yellow card.
28' — Central defender Rafael Czichos took the set piece. Not quite clear whether it was meant as a shot or a pacy cross but it wasn't particularly serviceable as either, flying well over the bar.
27' — Free kick Kiel, right on the edge of the box. Uduokhai gets a yellow card. Kiel wanted a penalty, but the foul took place just outside the area.
22' — Defender Robin Knoche goes close after staying forward following a corner. Brekalo was very involved in carving out the opening; a strong passage of play from the Wolves, who are seeking to put the tie to bed.
18' — Goal disallowed after VAR review! Malli was in a fair position when he scored, but Divock Origi was stood offside, right in front of Kiel's keeper Kenneth Kronholm. Goal disallowed for Origi offside. Still nil nil.
17' — GOAL! Kiel 0-1 Wolfsburg. Yunus Malli nets, great work from Guilavogui to set it up. But it's going to a VAR review.....
16' — Wolfsburg captain Maxi Arnold fancied a direct shot from the free kick, forcing the goalie into a sharp save.
15' — Free kick to Wolfsburg in a dangerous position. Arnold beat Kinsombi and was then bundled over as the holding midfielder tried to recover.
14' — Aaron Seydel didn't miss that by much! The wide man made space for himself on the left and pulled the trigger, just wide of the post. Kiel are playing like the home team at the moment.
9' — A better chance for Kiel. Tom Weiland was highly involved in the build-up down the right, picking out Marvin Ducksch with his cross. The striker's first-time volley went wide of the far post.
8' — Speculative shot from range from David Kinsombi. It was on target, but not even worthy of catching practice for Koen Casteels in Wolfsburg's goal.
6' — The game's settled down somewhat but the fans are showing no sign of doing so. Every successful tackle is being cheered like a goal in what could be Kiel's biggest home game for years to come — unless they can complete the fairy tale, that is.
2' — A chance for Felix Uduokhai, heading Maximilian Arnold's free kick just wide of goal. It's been a bright start for the visitors.
1' — Kickoff! We're underway in the north of Germany; Kiel in blue and white.
— Players are in the tunnel, about to step out onto a rather different stage than is typical for the Bundesliga stars from Wolfsburg. It's a packed house in the Holstein stadium, some 13,500 fans are crammed in.
— "We need to be as good with the ball as we were in the fist leg," Wolfsburg coach Labbadia says. "There's a lot at stake, there's no question of that. The Kiel fans will try to do their part to make it a reality."
— Bruno Labbadia is talking to Eurosport ahead of the game: "We need a top performance today, just like in the first leg. Kiel can play really well and we will try to stop them playing their game."
— Holstein Kiel's team has one fairly familiar face in Marvin Ducksch, a youngster who tried to break into Borussia Dortmund's setup during Jürgen Klopp's time in charge. He'll lead the line alone tonight, but the midfield five typically aren't backwards in coming forwards. Coach Markus Anfang, who favors a high-risk, short-passing and attacking style of play, will be in charge at Cologne next season.
— There's an hour until kickoff and the team sheets are out. Wolfsburg start the same XI as they did on Thursday, when Yunus Malli and Divock Origi did the damage going forward. Maxi Arnold wears the armband in midfield.
Hello and welcome to our live coverage of the second leg of the Bundesliga relegation playoff.
The Bundesliga giants surely have the upper hand after their 3-1 win at home, but you underestimate Wolfsburg's potential to drop the ball at your peril.
DW's Matt Ford is on location at the seaside in sunny Kiel for the game. He's been hearing from fans of the tiny club who think back-to-back promotions might be a poisoned chalice — the stadium accommodates just 13,400, while football data website transfermarkt.de values Kiel's squad at one-tenth the value of Wolfsburg's (€14.5 million versus €143 million).
Keep an eye out for Matt's report from the Holstein stadium, soon after the final whistle on DW Sports.