The ruling, announced by the The Court of Arbitration for Sport (CAS) on Saturday, means that Nadezhda Sergeeva, who tested positive for Trimetazidine, and her Olympic Athlete from Russia (OAR) teammate, Anastasia Kocherzhova, have been disqualified from the two-women bobsleigh event in Pyeongchang - in which they had finished 12th.
"The athlete has accepted a provisional suspension beyond the period of the Games and reserved her 'rights to seek the elimination or reduction of the ineligibility period' following the conclusion of the Games," the CAS said a statement posted on its website on Saturday.
The Russian bobsleigh federation had already confirmed the second case affecting the OAR team on Friday.
"A doping test by the pilot of the Russian team, Nadezhda Sergeyeva, on February 18 gave a positive result for a heart medicine that is on the banned list," the federation said in a statement on its website, adding that a previous test on February 13 had been negative.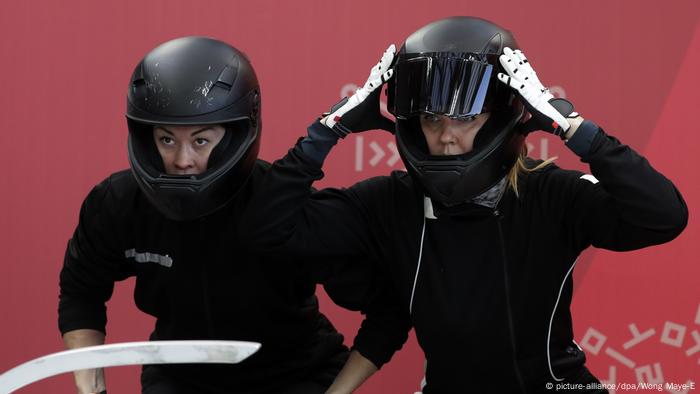 Anastasia Kocherzhova and Nadezhda Sergeeva finished 12th in the two-woman bobsleigh
This was the second positive test for a Russian Olympian, after Alexander Krushelnitsky, who won bronze in mixed doubles curling, tested positive for the heart medication meldonium. He and his wife and teammate, Anastasia Bryzgalova, were subsequently stripped of their bronze medals, which were then awarded to the Norwegians, who had finished fourth in the event.
Under a neutral flag
The International Olympic Committee (IOC) approved a total of 168 Russian athletes to compete in Pyeongchang under the OAR banner and a neutral flag. This came after the IOC suspended the Russian Olympic Committee late last year over evidence of state-sponsored doping, as outlined in a World Anti-Doping Agency-commissioned report.
The IOC has previously indicated that it could lift the suspension at the end of these Games, allowing the Russians to display their national flag at the closing ceremony. However, the IOC's position on the matter could change in light of the two positive OAR doping tests.