The Court of Administration for Sport (CAS) announced on Thursday that it had found Alexander Krushelnitsky, competing under a neutral flag as an Olympic Athlete from Russia (OAR), guilty of doping after both his 'A' and'B' tests came up positive for the banned substance meldonium.
"The athlete has admitted the anti-doping rule violation; he is disqualified from the mixed doubles curling event," a CAS statement said.
The statement added that "the results obtained by the team OAR at the same event are disqualified with all resulting consequences." This means that Krushelnitsky and his teammate, who also happens to be his wife, will be stripped of the bronze medals they won in the mixed curling event.
Read more: Winter Olympics: Day 13 Live
Denial of guilt
However, the CAS statement also touched on the fact that Krushelnitsky has denied knowingly taking a banned substance, noting that while he had "accepted a provisional suspension beyond the period of the Games," he had also "reserved his rights to seek the elimination or reduction of any period of ineligibility based on 'no fault or negligence.'"
In a statement posted on the Russian curling federation's website this week, Krushelnitsky insisted that he had no idea how the banned substance meldonium wound up in his system.
"I am ready to confirm that not once in the whole time that I have been in sport have I taken any banned substance or competed dishonestly in any way," he said.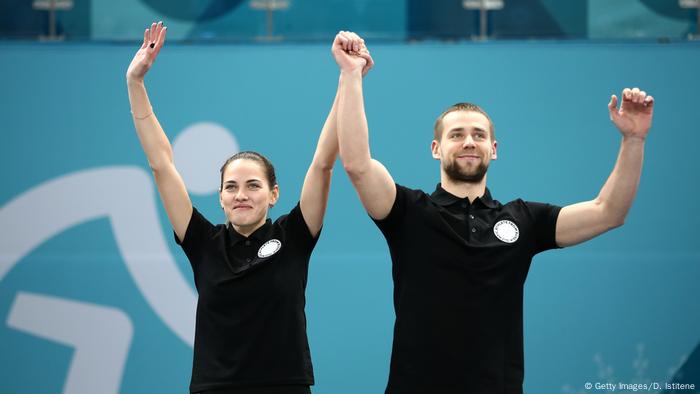 Krushelnitsky and Anastasia Bryzgalova won bronze
Competing under a neutral flag
Krushelnitsky is one of 168 athletes that the International Olympic Committee (IOC) approved to compete in Pyeongchang under the OAR banner. It suspended the Russian Olympic Committee late last year over evidence of state-sponsored doping, as outlined in a World Anti-Doping Agency-commissioned report.
Read more: Russian ice skaters baffled over Olympic ban
The IOC has previously said it would lift the suspension at the end of these Games, allowing the Russians to display their national flag at the closing ceremony. However, the IOC's position on the matter could change in light of Krushelnitsky's positive test. The IOC is to meet to discuss the matter on Saturday.