Kazakh theater director Bolat Atabayev, 60, had contact to the German language as a young man and co-founded a German theater in his country. Now he also runs his own theater and is known for his unconventional approach to the craft. Atabayev says what he thinks - and that has led to difficulties with the authorities. In August 2012, he is to be awarded the Goethe-Medaille from the German government for his involvement in international cultural exchange. DW spoke with the director of the Goethe-Institut in Kazakhstan, Barbara Fraenkel-Thonet, about the theater director's situation.
DW: Germany is dismayed over the arrest of Bolat Atabayev. Do you know what he has been accused of?
Barbara Fraenkel-Thonet: Paragraph 164 in the Kazakh law books prohibits "incitement of social unrest." That is what he has been accused of. But the whole thing is fairly unclear. Mr. Atabayev has always been an advocate of the oil workers in western Kazakhstan, which have been striking since May of last year. He went there twice and spoke with them, but didn't do anything that could have led to social unrest in any way. Nothing that we would consider incriminating. He has been under observation for a long time and has been interrogated six times, for hours, by the secret service, the KNB.
What do you know about his arrest?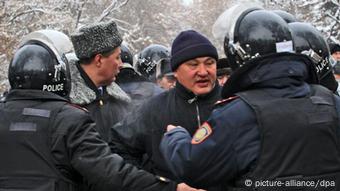 Kazakh oil workers have clashed with the authorities
He was arrested in Almaty. The neighbors saw him being hit and kicked. That angered me. He is a person with a lot of charisma. Here in Kazakhstan he is highly respected. My colleagues from the Goethe-Institut and other people who speak with him always use the word "Aga," which is a term of respect. It's absolutely shocking that they should beat a person like that.
Bolat Atabayev has not only expressed himself politically, but also artistically. Were his artistic projects - at his theater, for example - part of the accusations against him?
I don't know, but recently it was made impossible for him to work. We received a visit from Germany's former Minister of Justice Herta Däubler-Gmelin on invitation from the Friedrich Ebert Foundation and we wanted to organize a performance of Atabayev's last work, "Lavinia." But his theater wasn't granted permission to go ahead with the performance. Instead, we resorted to a theater for students. The last time I attended a performance of one of his works, he invited me sort of conspiratorially. He called me that very day and asked whether I could come; he couldn't hang up any posters or advertise or anything like that.
Atabayev is to receive Germany's Goethe Medallion in August - not just because he is politically active but also because he is an important artistic and cultural figure for Kazakhstan and Germany. How has he contributed to the relationship between the two countries?
Since childhood, he has had a strong connection to German culture - and not only because he has German roots. He grew up in a neighborhood where there were lots of families with German backgrounds. A German-speaking "Omi" looked after the children and cooked. He told me that his first love was a German girl.
Later, he co-founded the German Theater in Temirtau in northern Kazakhstan. He came to Leipzig as a student, was later in Munich, and worked with director Roberto Ciulli in Mühlheim an der Ruhr. As artistic director at the German Theater in Almaty, he brought German works and German directors to Kazakhstan, and absorbed himself in [the works of Bertolt] Brecht.
He also looked out for "his" German-speaking actors who had left Kazakhstan. He tried to keep up with what they were doing and stay involved. He wrote and produced a play based on these immigration situations and that was a way of building a bridge between the two worlds.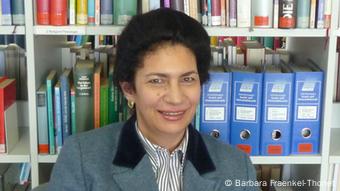 Barbara Fraenkel-Thonet heads the Goethe-Institut in Almaty, Kazakhstan
Will the Goethe Medallion have any impact on the Kazakh authorities?
It's hard to say. While the other candidates were arrested a while ago, his arrest occurred relatively late. Maybe it has to do with the fact that the German media have their eye on him. In February, we had organized a party at the theater to celebrate the announcement that Bolat would receive the Goethe Medallion. The secret service, KNB, stormed in with a summons for the following day, just to antagonize him. But that didn't work because Atabayev is totally fearless. He just held the paper up and said, "The KNB wants to mess up the evening, but I won't let them spoil it."
Do you think he will be able to come to Weimar in person on August 28 to receive the award?
I am completely convinced that he will be acquitted. We will do what we can to make sure he can travel. At the moment, his detainment is scheduled to last until July 23. But there have been other detainees in similar situations whose terms were extended. You can never be sure, but I'm convinced that the whole thing will blow over very soon. There is nothing he can be accused of - except for expressing his opinion openly and directly.
Interview: Aya Back / kjb
Editor: Helen Whittle