India has long been involved in several reconstruction projects in Afghanistan, including road construction and telecommunications and is the largest regional donor to the war-torn country. Now, according to India's official Press Information Bureau, Afghanistan has invited India to invest in its mining sector, particularly in mining iron ore, copper, gold and coal.
During a visit to India on Tuesday, Afghanistan's Mines Minister Wahidullah Shahrani also sought India's know-how in the field of mineral exploration. He also said that Afghanistan will launch a road show in London on June 25, in which about 200 companies from across the globe will be invited to showcase their mining and exploration potential.
Afghanistan's Mines Minister Wahidullah Shahrani
India needs minerals and metals
Experts say resource-hungry India is not likely to forgo any opportunity to extract Afghanistan's untapped valuable mineral deposits, which also include lithium, a key material used in a wide range of consumer products.
"India is an expanding economy and our requirements for different types of minerals will go up," says Santosh Kumar, a former Indian diplomat in New Delhi. "India is among the leading technological countries in the world. And in those technologies like for example aerospace and so on, there are new metals and new applications for these metals required. Since we don't have these metals and rare earths in India, some of them we import, so obviously any discoveries in our neighborhood would be of interest to us."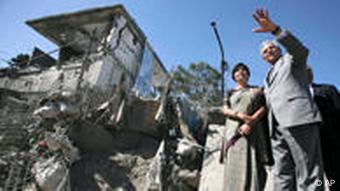 Indian Foreign Secretary Nirupama Rao visits the Indian embassy in Kabul following a suicide attack in 2009
Security is a challenge
But expert Kumar also points out that Indian companies working in the field have some serious concerns:
"For them, there are two problems. One is the security situation. The second is that these minerals are found in parts which are not well connected. So transport is a critical issue."
Following the attacks that killed seven Indians in Kabul earlier this year, New Delhi has often expressed worries over the security of its nationals in Afghanistan.
Many observers in the US also believe that security problems, weak infrastructure and corruption will be a hindrance for digging up the mineral riches. There are also concerns that the Taliban could intensify their campaign now that they know that Afghanistan is sitting on a goldmine.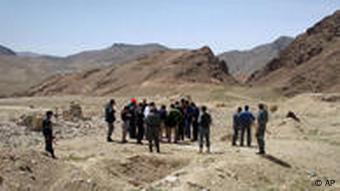 A Chinese delegation visiting the site of a copper mine in Aynak in 2007
China and Pakistan
But given the scale of Afghanistan's mineral wealth, many may not hesitate to take a risk. Be it the Americans themselves or the Chinese, who have already invested in the vast Aynak copper mine, south of Kabul. Ye Hailin, an expert from the Chinese Academy of Social Sciences, is cautious though. "Why would you connect this news with China? The US is the major player in Afghanistan. One should ask, what sort of new strategy can the United States plan now."
And what about Afghanistan's immediate neighbor Pakistan? Shahid Kardar, a Pakistani economist, believes that Pakistan would rather be interested in providing logistical support than going for full-fledged investment.
"I don't think we will ever be in a position to be a serious investor. But certainly in terms of being part of a value chain, in providing some low and middle level management, labor, transport and so on, we would be certainly better equipped than Chinese and Americans."
He also says that the mining of these valuable mineral deposits will lead to jobs for youth who otherwise join the Taliban, also in the areas close to the Pakistani-Afghan border.
Author: Disha Uppal
Editor: Thomas Baerthlein