The worst affected countries were Spain, France and Italy and most of the blazes in those nations are now under control, but firefighters continue to remain on alert.
As an example, a fire that was thought to be under control near the Spanish town of Las Hurdes flared up again due to strong winds and that forced the evacuation of more than 500 people. The blaze burned over 500 hectares.
As temperatures remain high, Spain's interior ministry has kept the country on high alert for more wildfires. The national weather office has issued an "orange" alert, the second highest level, for 24 provinces.
Spanish officials said that roughly 24,000 hectares have been burned and six people have lost their lives over the last week.
Islands scarred by flames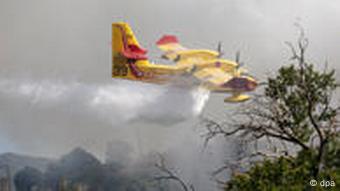 Planes drop water on fires on the island of Corsica
Elsewhere in the Mediterranean, wildfires on the islands of Corsica and Sardinia have caused considerable damage.
On Corsica some 4,000 hecatares of scrub and brush have burned in 12 different blazes. French police are holding at least five people suspected of starting those fires.
In Italy, firefighters were summoned to put out 17 fires on Sunday, compared to about 40 that were burning Saturday in Sicily, Sardinia and the southern Italian mainland regions of Calabria and Basilicata.
Fires in Sardinia have burned an estimated 15,000 to 25,000 hectares and caused about 80 million euros worth of damage.
In Portugal, which hasn't suffered any major forest fires in recent days, the weather office put six districts in the central and southern parts of the country on "maximum" alert for wildfires because of extremely hot and dry conditions.
More than 320 different wildfires have charred acres of forests in Greece but haven't damaged homes or buildings.
Coast guard officials had to evacuate 70 vacationers trapped on a beach on the island of Zakynthos on Sunday while a fire raged nearby.
On the island of Ciovo, off the coast of Split in Croatia, authorities said about 200 hectares of forests had burned. Firefighters suspected arson.
av/Reuters/AFP
Editor: Neil King