In light of the recent surge in violence in Kashmir, the Indian government has vowed to take tougher action against the separatists.
At least 31 people have died in the valley since the death of Burhan Wani, the young leader of Kashmir's largest rebel group, Hizbul Mujahideen, which has been fighting since the 1990s against Indian rule.
As the news of Wani's death spread, spontaneous protests erupted and crowds of angry youths gathered to throw rocks at Indian police and paramilitary soldiers, shouting "Go India, go back!"
Indian officials said that some police and paramilitary posts were attacked, and that some homes of pro-India politicians were burned. More than 1,500 people have been wounded in the worst violence in Kashmir since 2010.
Since 1989, Muslim insurgents have been fighting Indian forces in the Indian-administered part of Kashmir - a region of 12 million people, about 70 percent of whom are Muslim.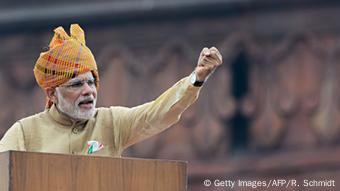 PM Modi said Monday the government would send at least 2,000 more law enforcement troops to the mountainous region
While the Indian civil society has called on Prime Minister Narendra Modi to engage in dialogue with Kashmiri separatists, the Indian government said it would use more force against what it says is a Pakistan-backed militancy.
Indian authorities, however, continue to struggle to contain protests by Kashmiris as youths defy a curfew to rally on the streets against Wani's killing by Indian troops on July 8.
"We were not expecting this huge public reaction," a top Indian security official told The Associated Press on condition of anonymity. "It is disturbing."
Separatist leader Mirwaiz Umar Farooq said the Indian government "cannot continue to deal with Kashmir with a clampdown."
Pakistan-backed militancy?
But New Delhi believes the crackdown is necessary as the secessionist movement in Kashmir is not indigenous and receives backing from Islamabad. Pakistani officials say their support to Kashmiri Muslim separatists is only diplomatic.
India accuses Pakistan of training and arming the rebels in the portion it controls and sending them to the Indian side, a claim its neighbor denies. The nuclear-armed neighbors have fought two of their three wars since independence in 1947 over Kashmir, which they both claim in full but rule in part.
Some observers say that a protest rally organized by Pakistan-based militants on Wednesday in the Pakistan-administered Kashmir capital Muzaffarabad is proof of Islamabad's pro-jihadist policies in the region.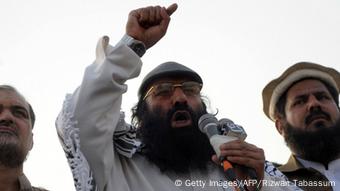 Hizbul Mujahideen leader Salahuddin called on his supporters to defy Indian rule
"Along with armed struggle we will also start a civil disobedience movement in 'occupied' Kashmir," said Hizbul Mujahideen chief Sayed Salahuddin.
"People on both sides will have to march and trample that bloody line that divides them," Salahuddin said, amid calls for jihad.
Meanwhile, Pakistani officials, too, ratcheted up their anti-India rhetoric and condemned the killings of Kashmiris. They called upon New Delhi to fulfill its human rights obligations as well as its commitments under the United Nations Security Council resolutions.
"It is deplorable that excessive and unlawful force was used against civilians who were protesting against the killing of Burhan Wani. Oppressive measures such as these cannot deter the valiant people of Jammu and Kashmir from their struggle for the right to self determination in accordance with the UN Security Council resolutions," Pakistani Prime Minister Nawaz Sharif said in a statement on July 11.
On Wednesday, July 13, Pakistan's military chief General Raheel Sharif also slammed the Indian government over Kashmir clashes. The general reiterated Islamabad's official policy that the Kashmiri people have the right to be free from Indian rule.
"It is known that the secessionist movement in Jammu and Kashmir is fueled by Pakistan. Islamabad has always termed Jammu and Kashmir as an unfinished business leftover from India's partition in 1947 even though the princely state acceded to India on October 26, 1947 when its ruler, Maharaja Hari Singh, signed the Instrument of Accession with the Union of India," said Varad Sharma, an Indian expert on Kashmir.
"Pakistan uses terror as a strategic policy despite facing several terror attacks itself and losing thousands of its people. The jihadist infrastructure continues to operate from Pakistani soil. History tells us that the militants who operate in Kashmir are, mostly, either local Kashmiri Muslims or Pakistanis," Sharma added.
The need for a political solution
Despite the Indian expert's claims of Pakistani interference, anti-India sentiment is strong throughout India's portion of Kashmir. Many resent the deployment of hundreds of thousands of Indian troops, and openly voice support for rebels who have been fighting since the 1990s to demand independence or a union with neighboring Pakistan.
Some Indian civil society members believe New Delhi cannot exonerate itself from the responsibility by accusing Islamabad of creating unrest in the valley. A number of rights organizations demand that the Modi government reduce the number of troops in Kashmir and let the people decide their fate.
"The Indian state survives in Kashmir only by using the might of its army, and the force of its guns. The people are no longer scared of the bullet," Sumati Panikkar, a left-wing activist in New Delhi, told DW.
Panikkar's views are echoed by Aditya Sinha, an Indian author and journalist: "Despite 69 years of opportunity, India has not earned Kashmiri trust," Sinha wrote in a column for the Mumbai-based Mid-Day newspaper, adding that India had "turned the valley into a part-garrison, part-open air prison."
Syed Ata Hasnain, a retired Indian army corps commander, who was deployed in Kashmir from 2010 to 2012, admits the situation in Kashmir is complex. "There is no denial in Delhi … that a problem exists," said Hasnain. "But no one seems to be clear on how to get into engagement with the people on ground," he added.
Toqeer Gilani, the president of Jammu and Kashmir Liberation Front in Pakistan-administered Kashmir, believes the best way to engage with Kashmiris is that both India and Pakistan must step aside.
"We demand a solution of the Kashmir conflict based on freely expressed wishes of the people. It is high time India and Pakistan announce the timetable for withdrawal of their forces from the portions they control and hold an internationally-supervised referendum," Gilani told DW.
But most Kashmir observers don't see it happening in the near future. They say that while the Indian strategy to deal strictly with militants and separatists in Kashmir has partly worked out, sooner or later New Delhi will have to find a political solution to the crisis. Secession, they say, does not stand a chance.