Hours after the head of the Pakistani military's public relations department, ISPR, announced that Kulbhushan Jadhav had been sentenced to death, Indian Foreign Secretary S. Jaishankar summoned Pakistan's high commissioner in New Delhi, Abdul Basit, and expressed anger over the verdict.
"If this sentence against an Indian citizen, awarded without observing basic norms of law and justice, is carried out, the government and people of India will regard it as a case of premeditated murder," the foreign office said.
Pakistan arrested Jadhav, a former Indian naval officer, in March last year. Islamabad claims that Jadhav confessed to a Pakistani military court that he was tasked by India's Research and Analysis Wing (RAW) intelligence agency to "plan, coordinate, and organize espionage/sabotage activities aiming to destabilize and wage war against Pakistan" in the southwestern province of Baluchistan and the southern port city of Karachi.
The Pakistani court's verdict has incensed Indian authorities who believe that if the ruling was carried out, it would substantially damage ties between the two nuclear-armed countries.
In retaliation to Jadhav's death sentence, India blocked the release of a dozen Pakistani prisoners, who were to be repatriated on Wednesday, April 12, on completion of their prison term.
Shashi Tharoor, an opposition member of parliament, dubbed the sentence "unacceptable" and "essentially a crime in the making."
"If the sentence is carried out, it will call for very serious escalation on our part too," Tharoor said.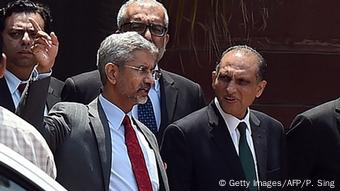 India warned Pakistan of 'consequences' for bilateral relations if it executed an alleged Indian spy
Controversial military courts
Human rights organizations, including Amnesty International's South Asia chapter, condemned Jadhav's capital punishment and described the Pakistani military court system as "inherently abusive."
"The death sentence given to Kulbhushan Jadhav shows yet again how Pakistan's military court system rides roughshod over international standards. Stripping defendants of their rights and operating in notorious secrecy, military courts do not dispense justice but a travesty of it," said Amnesty International's South Asia director, Biraj Patnaik, in a statement.
Pakistan's military courts, which received an extension from the country's parliament last month, are criticized by local rights groups too. The courts came into force after the deadly Taliban attack on a Peshawar school in December 2014 that killed more than 150 people, mostly children. The country's powerful military intensified its crackdown on extremists following the massacre, as the civilian government introduced a National Action Plan (NAP) that included the creation of the military courts.
But rights activists say the military courts are "extra-constitutional" and have failed to achieve the target they had set for themselves - the eradication of terror. In addition, they say, no efforts have been made to reform the civilian judicial system to speed up terror trials.
Under the secret military court system, civilian defendants are barred from hiring their own lawyers; media is not allowed to observe proceedings; there is no right to appeal; and the military tribunal judges - not necessarily possessing law degrees - are not required to provide reasons for their verdict.
"This (death sentence for Jadhav) is an absolute travesty of justice. It shows Pakistan's desperation. In this case, no proof had been presented to the court. The trial in the military court was held in secrecy. It is a violation of all principles of justice," India's former foreign secretary Lalit Mansingh told DW.
Indian foreign ministry officials told DW that their High Commission in Islamabad had repeatedly sought consular access to Jadhav, as demanded by international law, but was never granted by Pakistan.
"Requests to that effect were formally made 13 times between March 25, 2016 and March 31, 2017. This was not permitted by Pakistani authorities and no information was shared with us during Jadhav's trial," an Indian official told DW on condition of anonymity.
Jadhav's family was hopeful that he would be repatriated after Pakistan released Indian marine Chandu Chavan, who accidently crossed the Indo-Pakistani border in September last year, as well as granting consular access to Hamid Ansari, a Mumbai resident arrested on espionage charges.
"I feel sad. But what can we do? We were hoping that Jadhav would eventually be freed but didn't expect this (death sentence)," a family member told DW.
But Ajay Sahni, an Indian counter-terrorism expert, believes that diplomacy will follow Jadhav's sentence.
"I think Pakistan will use it as a bargaining chip," Sahni told DW. "India allowed Ajmal Kasab, who was involved in the deadly 2008 Mumbai attacks, a fair trial, after which he was hanged. Jadhav didn't get a chance," underlined Narender Yadav, a Delhi-based lawyer.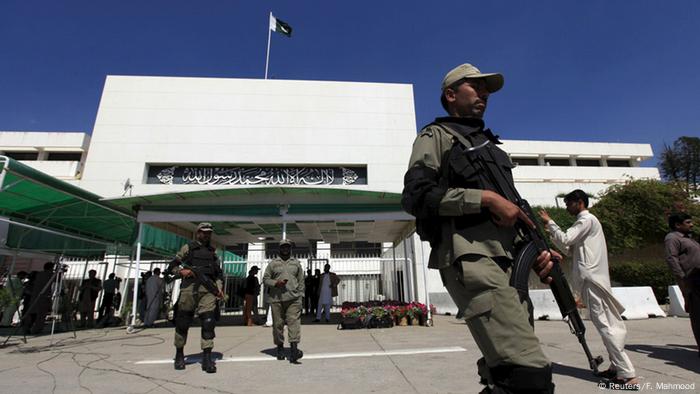 Pakistan's military courts came into force after the deadly Taliban attack on a Peshawar school in December 2014
A challenge for Modi and Sharif
In December, Sartaj Aziz, advisor to Pakistani Prime Minister Nawaz Sharif on foreign affairs, told a Senate committee that "insufficient evidence" was delaying the completion of a dossier on Jadhav. Pakistan's Foreign Ministry later claimed that Aziz was misquoted in the media.
But experts say that by handing down a death sentence to Jadhav, Pakistan's powerful military has sent a message to the civilian government that it should restrain from forging closer ties with India.
Almost three years ago, Indian Prime Minister Narendra Modi and his Pakistani counterpart Sharif wanted to bury the hatchet and steer their countries on a path of peace and prosperity. Modi made the first move - he invited Sharif to attend his oath-taking ceremony in New Delhi. Sharif reciprocated Modi's friendly gesture and went to the Indian capital in May 2014 with a "message of peace." Experts said it was an unprecedented step by a Pakistani leader to engage with a Hindu nationalist like Modi on such a high-level.
There were high hopes for the improvement of bilateral relations between the nuclear-armed South Asian countries. Like Modi, Sharif, too, had business interests in mind, and he believed that friendly ties with a country set to become an economic giant in the next ten years would also boost Pakistan's failing economy.
But the business communities in India and Pakistan, which want cordial ties between the two nations, are not as powerful as their military establishments and warmongers. And the hawks on both sides of the border thrive on sustaining hatred and conflicts.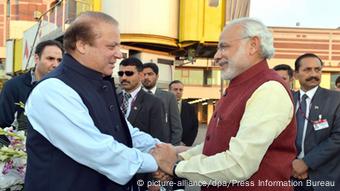 Pakistani PM Sharif (left) and Indian PM Modi got off to a good start
The major bone of contention between India and Pakistan has always been Kashmir, and India and Pakistan have fought two of their three wars since independence in 1947 over Kashmir, which they both claim in full but rule in part. Since 1989, Muslim insurgents have been fighting Indian forces in the Indian-administered part of Kashmir - a region of 12 million people, about 70 percent of whom are Muslim.
New Delhi and Islamabad have been engaged in a war of words since the killing of separatist Kashmiri leader Burhan Wani in July, 2016. Protests against Indian rule in Kashmir and clashes between separatists and soldiers have claimed hundreds of lives. But the militant attack on Indian soldiers in Kashmir's Uri area last year flared up the situation. On September 18, suspected militants killed at least 17 Indian troops and wounded 30 in India-administered Kashmir. Heavily armed militants launched an early morning raid on the Indian army's 12th brigade infantry base housing hundreds of soldiers in Uri, west of the region's main city of Srinagar, the Indian military said. All four gunmen were killed by Indian troops. The Indian army said the rebels had infiltrated the Indian part of Kashmir from Pakistan.
"There has never been a real peace process between India and Pakistan. It is only a 'cooling down' of emotions and tensions for a brief period of time. This has been happening since 1947, when India and Pakistan gained independence from British rule" Farooq Sulehria, a London-based journalist and researcher, told DW.
After Jadhav's death sentence, it will be more difficult than ever for Modi and Sharif to defuse tension and engage in peace talks again. But peace activists in both countries say the two premiers need to de-escalate tension and not let the Jadhav sentencing harm ties. If they fail, the hawkish elements in their countries would succeed.