The apple streusel cake was ready, hairdos freshly blow-dryed, ties sat neatly against button down shirts: Anticipation during afternoon coffee and cake at St. Johannis Nursing Home in Paderborn was high on Monday as two dozen of the facility's 110 residents awaited the arrival of the German chancellor.
Others who didn't make it to the dining room waved from onlooking windows, or sat patiently in the shade, hoping to catch a glimpse of Angela Merkel. Among them: 93-year-old Frau Schulter. A fall earlier this year left her unable to remain independent.
Read more: Germany to recruit more elderly care workers abroad
"I'd much rather be at home. The food's terrible here," she said. "But the staff? I can't say a bad word about them. Even when they're overworked they keep a smile on their face."
Nationwide staff shortages
Frau Schulter is just one of almost 3 million elderly people receiving care across Germany. By 2060, that figure is expected to reach 4.5 million.
With an aging population and a lack of carers for the elderly, Germany is fast approaching a care crisis. Across the care sector, some 36,000 positions are currently unfilled — 15,000 of them in elderly care alone.
One man hoping to change that is care worker Ferdi Cebi — and he's looking to Berlin for action.
"For me, it's a little sad that legislation is set out even though politicians have never really looked into the job," he told Merkel on a talk show during last September's election campaign. "Therefore, I'd like to invite you to visit us one time at the home."
Read more: When refugees want to work in Germany
Ten months later, on Monday afternoon, the chancellor did just that, shadowing Cebi as he went about his daily duties.
"We need to change the image of this job," Cebi said. "Only negative aspects are reported. No one talks about how rewarding it is."
"This is about give and take, and these people have done so much for us. They deserve to be well-cared for," he said.
Attracting new workers
But enticing young people to become carers is proving difficult — leaving thousands of care homes understaffed. According to the study "Deutsches Pflegethermometer 2018" only one-third of old age care facilities even announce when job openings come up, as the chances of finding an applicant are so slim. Last year, on average, it took 171 days to fill a position in elderly care. Only train drivers are more sought after in Germany.
The situation varies dramatically across the country. On average, for every 100 open job positions in elderly care, there are only 21 job-seekers. In the states of Saxony and Rhineland-Palatinate, however, it can be as few as just 13.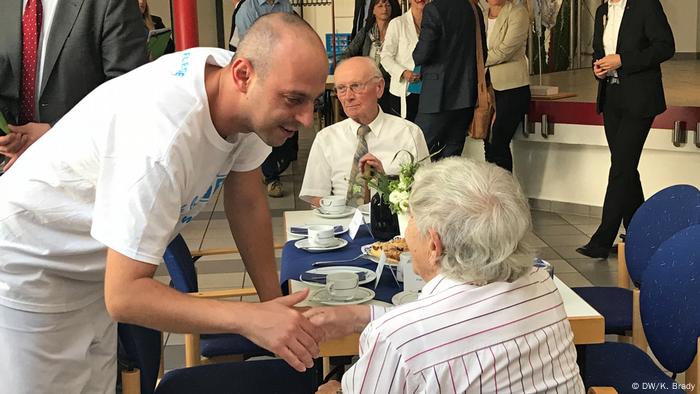 Cebi believes it is important for people to understand how rewarding elderly care can be
With 99 carers for 110 residents, the situation at St. Johannis Foundation nursing home is by no means the worst case in Germany's care facilities, but overworked carers is just one of several problems.
Low wages in relation to carers' workload has also pushed applicants away. According to Destatis, Germany's Federal Office for Statistics, carers with three years of training earn, on average, €18 ($21) per hour (gross, full-time). On average, workers in Germany earn €22 per hour. The regional differences are also big.
Read more: German Cabinet moves to reduce healthcare costs for publicly insured
Addressing residents and carers on Monday, Merkel asked: "If someone works with people every day, why shouldn't they earn just as much as — if not more than — someone working in a bank or operating a machine?"
Reforms in the works
In response to growing concerns over care, a joint effort by Germany's health, family and labor ministers is now in the pipeline, with the hope of filling 13,000 posts in the first push. Presented by the trio earlier this month, the "Konziertre Aktion Pflege" (Concerted Action Care) focuses on five main aspects:
- Improved training programs: Family Minister Fanziska Giffey wants trainees to earn more so they aren't as reliant on their parents.
- Working conditions: The plan intends to give carers more free time in the hope of also winning back former carers.
- Digitalization: To improve and modernize care.
- Recruitment from abroad. Health Minister Jens Spahn has Kosovo and Albania in mind. But the plan also wants to avoid poaching anyone who's needed in their home country.
- Salaries: Spahn and Heil are keen to implement tariff commitments across Germany's care homes, with salaries of up €3,000 per month.
How exactly Health Minister Spahn intends to fund the reforms, however, has already raised concerns that those in need of the care will be the ones footing the bill.
Read more: Why one Bulgarian medical student is shunning Western Europe
"Merkel and Spahn must make a binding statement that the money needed for decent wages is financed by long-term care insurance and tax revenue," Eugen Brysch, Chairperson of the German Patient Protection Foundation told the German Press Agency Monday.
Carer Cebi is convinced, however, that Merkel's visit to the nursing home was a "positive first step."
"She kept her promise to come and visit. I think she'll keep this one too," he said. "This isn't just a question of who looks after the elderly now. We're all getting older. Who's going to look after us?"