On Wednesday, Germany's Cabinet approved Health Minister Jens Spahn's proposed new legislation designed to provide relief to citizens who have public health insurance. The bill, known as the GKV-Versichertenentlastungsgesetz – which translates roughly to the public healthcare relief bill – would require employers to cover 50 percent of employees' insurance premiums beginning January 1, 2019. Some 56 million Germans are publicly insured.
German businesses decried the proposal, saying it would immediately cost them some €5 billion ($5.9 million). Steffen Kampeter, managing director of the Confederation of German Employers' Associations, called the proposal "the administration's biggest socio-political sin." Kampeter added that the proposal would deliver a "tough blow to competitiveness, growth and hiring."
Reestablishing parity
Politicians such as Christian Democratic Union politician Spahn, and his colleague Andrea Nahles, chairwoman of the Social Democratic Party, lauded the bill's sense of fairness. Nahles emphasized the justness of the bill's "half/half" principle, which would reestablish parity between contributions made by employees and employers.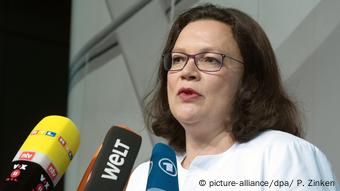 SPD Chairwoman Andrea Nahles says the bill restores fairness for workers, retirees and small busines owners
It has been 13 years since that was last the case. Publicly insured citizens have been paying higher premiums than their employers since 2005 to provide relief to German businesses. During that time, many of Germany's insurers amassed large sums of cash which lawmakers say must now be used to provide relief to the insured.
Spending the savings
The bill will require such insurers to liquidate surpluses within three years beginning in 2020. Spahn claims this will provide for more competition in the sector as well as reducing and stabilizing costs for consumers.
Germany's Health Ministry estimates total savings from the bill will be as high as €8 billion annually. That means employees and retirees will save roughly €38 per month, while the average earner will see a €20 reduction in monthly premiums. Small business owners are projected to see savings as well, with minimum premiums sinking by €180 monthly, meaning monthly payments will soon be just €171.
Making good on a promise
The initiative played an important role in coalition talks when Germany's current government was formed earlier this year. During those negotiations, Chancellor Angela Merkel's Christian Democratic Union (CDU), its Bavarian sister party Christian Social Union (CSU) and the Social Democrats agreed that incidental wage costs for employees would not be allowed to exceed 40 percent.
While German businesses have enjoyed great financial success over the last several years, the cost of living has continued to rise while workers' wages have remained stagnant.
The proposal will now move on to Germany's lower house of parliament, the Bundestag, for a vote. It does not require approval by the upper house, the Bundesrat.
js/kms (dpa, Reuters)