Spahn sought to implement a key promise of Chancellor Angela Merkel's new fourth-term coalition agenda on Saturday by suggesting care workers should be recruited abroad.
"Inviting nursing care personnel from our neighboring countries is the nearest option," Spahn told Dusseldorf's Rheinische Post newspaper. This proposal would accompany incentives to attract back qualified persons who had switched to other jobs.
Read more: Germany's new health minister: Young, conservative, ambitious
The leftist Tageszeitung newspaper pointed out Saturday that Germany had recently recruited nine trained nurses from Tunisia via a German-Tunisian labor advisory agency opened in Tunis in 2017.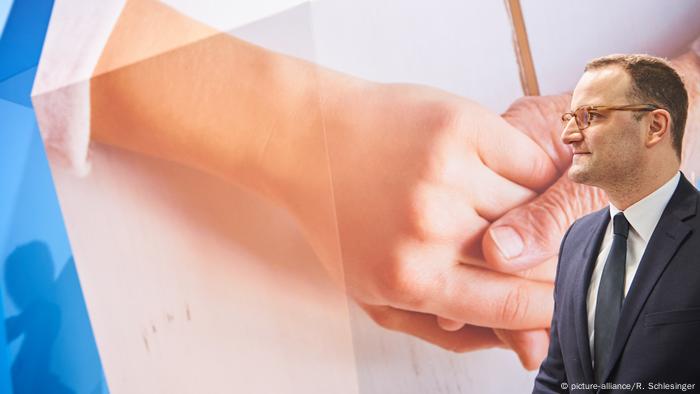 Spahn wants more foreign nurses to be approved to work in Germany
Need far greater, say charities
Spahn said he has planned a draft law to recruit 8,000 extra staff, but Germany's leading charities estimate that an extra 100,000 are needed to cover immediate needs as the nation's population ages.
Spahn also proposed better pay practices and accelerated recognition of qualifications held by foreign nursing care personnel and doctors, saying some applicants waited years before being allowed to administer care.
Care workers 'burnt out'
In February, as negotiations proceeded towards the formation of Merkel's new coalition, comprising her conservatives and center-left Social Democrats (SPD), charities also warned that many trainees and care workers had become disenchanted.
Read more: Polish nurse suspected of killing patients in Germany
"A lot of care workers leave the job after about 10 years because they are burnt out, or because they have an ambition to do good care work, but can't do it under these conditions," an advisor of the German Foundation for Patient Rights' (DSP) told DW at the time.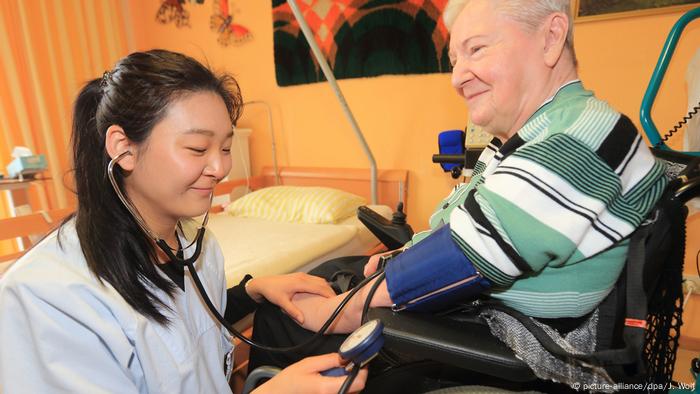 A nursing assistant in Magdeburg, Germany
On Saturday, its chairman, Eugen Brysch, warned Spahn that German language tests, which were toughened in 2015 and which up to 50 percent of applicants failed, had to stay because being able to communicate clearly is crucial for medical staff.
Low pay also a factor
In February, the German Nurses Association (DBfK) also attributed Germany's chronic nursing care shortage to the role of private operators who kept salaries low.
"They are not tied to certain tariffs [employer-union agreed pay rates]," said DBfK spokeswoman Johanna Knüppel.
"Private investors pay what they want to pay," she said, adding that the number of trainees who persisted through three years of tuition was "just a fraction."
ipj/ng (KNA, AFP)