President of the European Commission Jean-Claude Juncker accused British Prime Minister Theresa May of being "delusional" over her demands for Brexit, German newspaper "Frankfurter Allgemeine Sonntagszeitung" reported on Sunday.
May dined with key European Union figures at 10 Downing Street on Wednesday, but details of just how poorly the meeting went were only now revealed by the paper, which was briefed by a senior Commission source.
"I leave Downing Street 10 times more skeptical than I was before," Juncker reportedly told May at the end of the meeting.
May made no compromises over the two hour meeting, insisting that a free trade agreement be negotiated from the start, "Frankfurter Allgemeine" reported. The EU has repeatedly said a free trade agreement could only be negotiated once the terms of separation are agreed upon.
EU not a golf club
Brexit secretary David Davis reportedly denied claims during the meeting that the UK would owe upwards of 60 billion euros (US$65 billion) to the EU, saying it could not force them to pay up. Juncker reportedly responded the EU was not a golf club and a refusal to pay would mean no trade agreement.
May suggested issues surrounding EU and British expats could be cleared up at a June meeting of the EU Council, prompting surprise from the EU side, who said that timetable was far too optimistic.
May asked Juncker and his colleagues for Brexit negotiations to take place in confidential four-day sessions each month. But she was told confidentiality would be impossible given the need to keep member states and the European Parliament informed.
May was optimistic in the meeting, saying "Let us make Brexit a success." Juncker countered that "Brexit cannot be a success," given its position as a third state.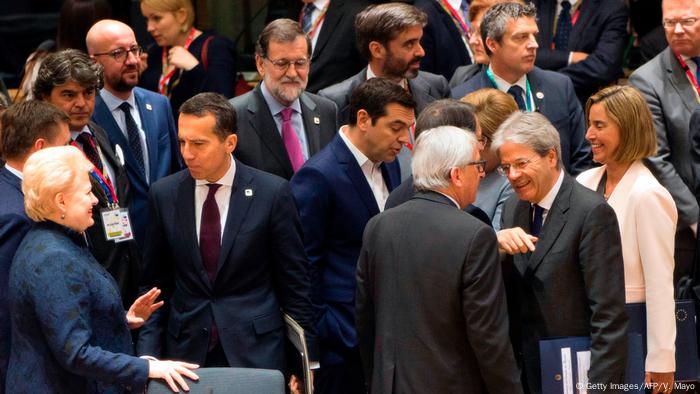 EU leaders took just 15 minutes to agree upon a Brexit negotiating position at a meeting in Brussels on Saturday
Living in a different galaxy
Juncker called German Chancellor Angela Merkel early the following morning, telling her that May was "living in a different galaxy", prompting Merkel to warn May against her illusions.
Read: Merkel warns against British 'illusions' as Brexit talks begin
"A third-party state cannot enjoy the same advantages or be better positioned than an EU member. I have the feeling that some people in Britain maintain illusions in this regard. They're wasting their time," Merkel told the German parliament on Thursday.
'Brussels gossip'
A UK government spokesman said in a statement on Monday: "We do not recognise this account. As the prime minister and Jean-Claude Juncker made clear, this was a constructive meeting ahead of the negotiations formally getting under way."
May spoke with the BBC on Sunday, adopting a tough stance and repeating her insistence that no deal would be better than a bad deal.
"No, look, I'm not in a different galaxy," May told the BBC's Andrew Marr Show. "But I think what this shows and what some of the other comments we've seen coming from European leaders shows is that there are going to be times when these negotiations are going to be tough."
During a campaign stop Monday in north-west England ahead of the general election she called for June, May told supporters she thought the account of the tense dinner was "Brussels gossip."
The Labour Party's shadow Brexit Minister Keir Starmer accused May of overplaying her hand.
"By refusing to acknowledge the complexity and magnitude of the task ahead the prime minister increases the risk that there will be no deal, which is the worst of all possible outcomes," Starmer said in a statement.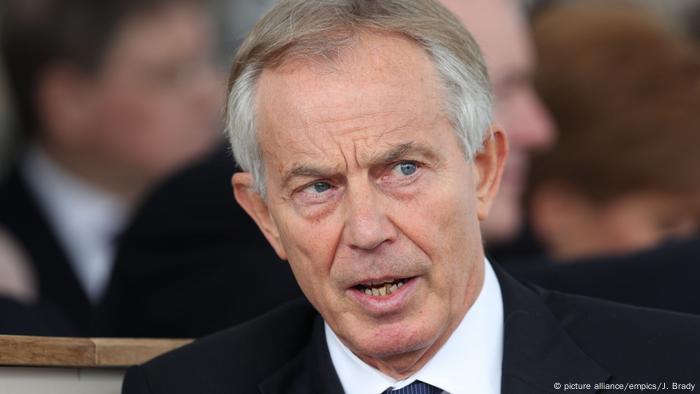 Tony Blair says he is not running for Prime Minister but wanted to help shape the discourse on Brexit in the UK
Tony Blair reenters politics
Meanwhile former British Prime Minister Tony Blair announced on Monday that he was reentering domestic politics to fight against Brexit.
Blair, who led the Labour Party from 1994 to 2007, said he would not stand in the June 8 election, but said he wanted to build a political movement to shape the policy debate ahead of Brexit.
"I don't want to be in the situation where we pass through this moment of history and I hadn't said anything because that would mean I didn't care about this country. I do," he told the "Daily Mirror" newspaper.
On Saturday leaders from the 27 remaining EU states unanimously agreed on guidelines for negotiations on the UK's divorce from the bloc.