As Minsk is seeking to rebuild its ties with the West, Belarus has introduced a visa-free entry for foreigners taking effect on Sunday, February 12. Citizens of 80 countries, including the EU members and the United States, arriving at the National airport of Minsk will be able to stay in Belarus without a visa for five days. The visa waiver is aimed at boosting inbound business and individual tourism, says a decree signed by Belarus President Alexander Lukashenko on January 9.
Shortly after Minsk announced its plans to allow visa-free entry for short trips, Russia vowed to set up border zones in the three regions on the Belarus frontier, spurring harsh criticism from its one-time Soviet peer. During his seven-hour meeting with journalists and civil society activists last week, Lukashenko accused his neighbor country of violating their bilateral border treaty, calling the Russian move "a purely political attack." The two countries share a nearly 1,000 kilometer frontier.
Russia setting up checkpoints on the border
Russia and Belarus together form the so-called Union State, which was established in 1999. Since then, the two countries have had no controls along their common border. But, in late January, Russia's Federal Security Service (FSB) published a decree ordering the creation of border zones and setting up checkpoints along the common boundary, starting February 7.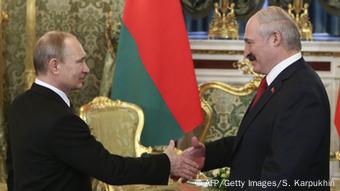 Presidents Putin (l.) and Lukashenko in happier days
This measure is aimed at preventing third-country nationals from illegally entering Russian territory, officials explained. But the Belarus foreign ministry claims that Moscow's decision is "contrary to all existing agreements" and that it might "lead to reinstating the full controls on the Belarus-Russia border that had been abolished more than 20 years ago."
The longest crisis in 25 years
The move by Moscow has resulted in a serious political outcry and "intensified the impression of a complex crisis in the relations between Russia and Belarus," said Denis Melyantsov, a senior analyst with the Belarusian Institute for Strategic Studies. He also pointed out that the current situation doesn't facilitate resolving numerous problems in relations between Minsk and Moscow.
Creating the border zones at the Belarus frontier appeared to be the latest in a series of mutual political blows that the two countries have been exchanging, as their relations are facing the longest crisis in 25 years. Deputy Director of the Institute of CIS countriesVladimirZharikhin suggested that the dispute between Russia and Belarus over waiving entry visas and setting up border zones is closely tied to the gas conflict between the two countries that flared up last year when Russia refused to almost halve the price for the gas it sells to its western neighbor.
Minsk insisted that Moscow should use a different formula to calculate the gas price for Belarus which would allow to reduce it from $132 to $76 per 1,000 cubic meters of gas. Based on these calculations Belarus has been paying the price it considers fair since the beginning of 2016. In a reciprocal move Russia has cut oil supplies to the country, demanding that Minsk pay off its gas debt, which according to estimates by Moscow stood at $550 million as of late January.
Crimea annexation a 'game changer'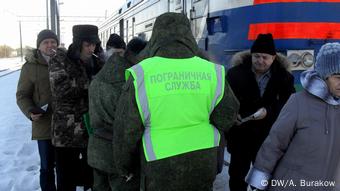 Passport and transport controls in Krasnoe at the Russian border
However, relations between the two countries soured long before the gas clash. The ongoing standoff dates back to 2015 when Lukashenko denied the Kremlin permission to build a military base on Belarusian territory. Analysts contacted by DW at that time pointed out that this project, if implemented, could result in Minsk being dragged into Russia's conflict with Ukraine, or facing a threat to its sovereignty by Moscow.
In 2014, Lukashenko openly criticized the annexation of Crimea by Russia. In his interview with the Euronews TV channel, the Belarusian leader said that "it is not allowed to reshape borders" in what highlighted his later turn to the West. "Russia's annexation of Crimea and the war against Ukraine served as a game changer for Lukashenko," explained a spokesman for the Belarusian American Association, Valery Kovalevsky, in his guest column for Forbes magazine last month. He also suggested that "Vladimir Putin sees Belarus in the very same light as Ukraine."
In 2015, Lukashenko released six jailed opposition figures acknowledged by human rights organizations as political prisoners. This marked a clear shift toward a warming of relations between Belarus and the West, which had repeatedly accused Minsk of violating human rights. In recognition of Lukashenko's efforts, the European Union in February 2016 lifted most of the sanctions against Belarus that had been in place for the last five years.
'The ball is in Russia's court'
The current cooling in ties between Russia and Belarus is a "test" for the two countries' union, said head of the supervisory board at the Institute of Demography, Migration and Regional Development in Moscow, Yury Krupnov. "The ball is now in Russia's court. It is time for President Putin to decide what his priority is - to collect the debt from Belarus, or build Eurasian integration," he told DW.