An era is quietly coming to an end at No. 19 Molnar Street, Budapest. This is where US-Hungarian stock exchange billionaire George Soros' Open Society Foundations (OSF) had its European headquarters. Now, in the rooms of the inconspicuous office building, files are being packed and computers are being taken offline. The society is moving. In conversations, employees try to sound matter-of-fact. But everyone is aware that this move marks the beginning of a major shift.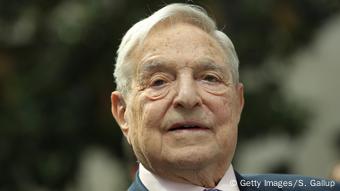 Orban's alleged enemy: American-Hungarian businessman and philanthropist George Soros
The organization will be moving its headquarters to Berlin on August 31. As the OSF leadership announced in May, the reason for this is the "repressive political and legal climate in Hungary." This concludes what began here 35 years ago. Soros has had a presence in the Hungarian capital since 1984, first supporting anti-Communist opposition activists and, after the fall of the Berlin Wall in 1989, financially supporting civil society activities in the entire Central and Southeastern European region.
"It is important to emphasize that although we will be based in Berlin, we will not be abolishing our support for the region," says Peter Nizak, who has been a member of the foundation for many years and is head of the OSF Central Eastern Europe Program. "But it's true that, in fact, a chapter is drawing to a close."
NGOs allegedly promoting 'illegal migration'
The OSF move to Berlin is symptomatic of the pressure being exerted on civil society organizations in Hungary and elsewhere in the region. They are one of the last and most important pillars of independent state and power control, and thus pose a considerable obstacle for leaders like Hungarian Prime Minister Viktor Orban, whose remodeling of the state has authoritarian features and is accompanied by corruption and a lack of transparency.
At the end of June, Orban had a package of legislative and constitutional amendments passed in parliament, bearing the name "Stop Soros," which provide a means of criminalizing civil society organizations should they "promote illegal migration." At the same time, restrictions on asylum law, freedom of assembly and a new branch of the judiciary were introduced. Ten days ago, the Hungarian parliament also passed a special immigration tax, a 25-percent penalty tax on all NGO revenues that "promote illegal migration."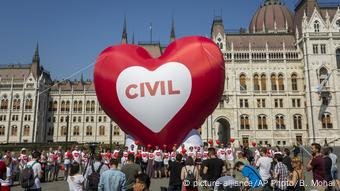 Opponents came out to protest the 'Stop Soros' laws in June
These are only the latest measures taken against civil society organizations by the Orban government. Four years ago, in July 2014, Orban announced in his now famous Bad Tusnad speech on the establishment of an illiberal state in Hungary that he would introduce harsh measures against civil activists.
At the same time, Hungarian authorities had been harassing civil society organizations for months over alleged tax offenses. This culminated in September 2014, with a spectacular police raid against the NGO Okotars and the arrest of its director, Veronika Mora. Since 2017, nongovernmental organizations in Hungary that receive more than €23,000 ($26,600) annually from foreign donors must declare themselves as being "financed from abroad."
Psychological pressure
Parallel to such legal actions, civil society organizations are also increasingly being put under psychological pressure. Before the parliamentary election in early April, the government newspaper Magyar Idok published alleged investigative reports that claimed "Soros activists" wanted to provoke subversive unrest in Hungary. After the election, Figyelo, a magazine with close government ties, published a list of 200 "Soros mercenaries," including the entire staff of several NGOs.
For the last several weeks, activists from the Fidelitas Youth Association of Orban's ruling party Fidesz have been gathering in front of offices of organizations such as Amnesty International or the Hungarian Helsinki Committee and vandalizing their entrances with red stickers bearing a warning: "This organization supports immigration."
Read more: Hungary joins US in refusing UN's safe global migration compact
The Budapest-based organization Menedek (Shelter), which helps recognized refugees with integration in Hungary, was also covered with such stickers in mid-June. Menedek's director, Andras Kovats, says the Hungarian government consciously creates a "permanent state of conflict and struggle" in the public sphere.
Menedek has felt the effects directly. His association offers pedagogical training courses for kindergartens with foreign children, on the subject of assisting with integration. After an inflammatory article about the course appeared in the government-related portal Pesti Sracok in early June, kindergarten teachers were asking whether they would be prosecuted if they attended. The organization has also faced several cancellations in recent weeks when trying to rent event spaces. Landlords are afraid they'll be charged with "promoting illegal migration."
Read more: Orban submits bill to criminalize aiding undocumented immigrants
'We are slowly being brought to our knees'
An example of the absurd situations in which civil organizations in Hungary find themselves can also be seen with the foundation Az emberseg erejevel (With the Power of Humanity), in the southern city of Pecs. It runs projects for disadvantaged people in the region, including an educational center for children from socially disadvantaged families.
Due to the fact that the association is financially supported by the Open Society Foundations, government media launched a campaign last year in which they claimed that Soros, with the help of the Pecs Foundation, wanted to resettle migrants to southern Hungary and Islamize the region.
Pecs City Council passed a resolution calling on all Pecs citizens, businesses and organizations not to make any space available to the Soros Campaign Center. As a result, the foundation, which was looking for new office space, saw its lease canceled shortly before it was to be signed.
Although the local foundation finally found new offices a few weeks ago, Zoltan Mester, its spokesperson, described the alarming change of mood in recent months. People are afraid to make a donation to the foundation, and there is an informal ban on inviting the foundation to events at state schools. As the government continues turning up the heat on civil society, says Mester, "I have the impression that we are slowly being brought to our knees."
Every evening at 1830 UTC, DW's editors send out a selection of the day's hard news and quality feature journalism. You can sign up to receive it directly here.