Venice was inundated by exceptionally high water levels again on Friday, hours after the government declared a state of emergency for the stricken UNESCO city.
Mayor Luigi Brugnaro ordered the iconic St Mark's square to be closed as the latest sea surge hit around 1.54 meters (5ft) just before noon.
DW's correspondent Giulia Saudelli said the decision was made to keep tourists away as they were impeding the repair work being carried out by shopkeepers.
Earlier, sirens sounded in the square to warn of the latest sea surge, which was lower than the peak earlier this week, but still dangerous for residents and visitors.
On Tuesday, the water level reached 1.87 meters — the second highest tide ever recorded and enough to leave more than 80% of the city underwater.
Read more: Mont Blanc glacier could melt, collapse, experts warn
Extensive damage
The Italian government declared a state of emergency for Venice on Thursday, after the high water devastated shops, churches, monuments and other areas of the historic tourist destination.
Several cultural treasures, including St Mark's Basilica where water invaded the crypt, have suffered severe damage.
Ministers allocated €20 million ($22 million) to address the immediate damage. But Brugnaro on Friday predicted the costs would be vastly higher.
"We've destroyed Venice, we're talking about €1 billion in damage and that's just from the other day, not today," he said.
Brugnaro said he would open a bank account for the public to send donations for the repair effort.
Venice's buildings sit on many thousands of wooden stilts that raise them just a short distance above the water at normal levels. This construction has meant the city has always been prone to flooding.
Authorities have blamed climate change for the ever-increasing flood waters that the city has had to deal with in recent years, with the mean sea level estimated to be more than 20 centimeters higher than it was a century ago and set to rise much further.
Read more: Italy's top court rules assisted suicide not always a crime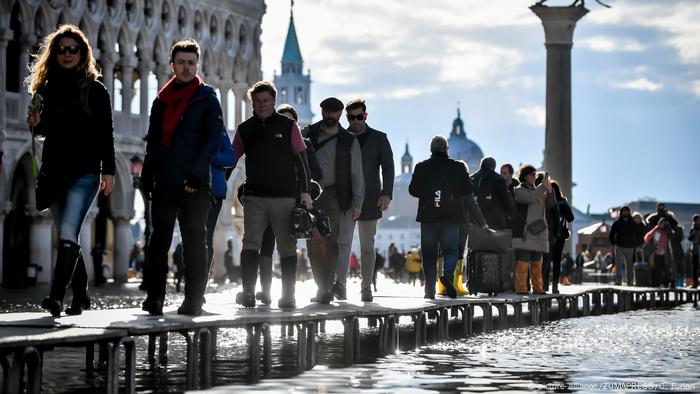 Raised platforms were installed in St Mark's Square so tourists wouldn't have to wade through water, but these have been removed
Flood barrier two years off
The Italian government has invested in a controversial anti-flooding system, but the so-called MOSE dam is not yet operational.
The flood barrier project has been plagued by corruption and cost overruns and is not expected to start working until the end of 2021.
Prime Minister Giuseppe Conte, who has called the flooding "a blow to the heart of our country", visited the city on Thursday, at one point jumping in a speed boat to examine the damage for himself.
Far-right leader Matteo Salvini arrived on Friday and urged for a renewed effort to complete the MOSE project.
"We can't waste time, this city is crying for help," he said, adding that similar incidents must be avoided.
mm/ng (AFP, AP, dpa, Reuters)
Each evening at 1830 UTC, DW's editors send out a selection of the day's hard news and quality feature journalism. You can sign up to receive it directly here.