A live speech by Venezuelan President Nicolas Maduro at a military event on Saturday was abruptly cut short after an apparent explosion.
Drones loaded with explosives detonated close to the event, Venezuelan Information Minister Jorge Rodriguez said, describing it as an "attack" against the leftist leader.
Maduro and the rest of the government escaped unharmed, he said, adding that seven National Guard soldiers were injured.
Russia, Turkey and Spain issued statements condemning the apparent attack, saying they stood in support of Maduro and the people of Venezuela.
The Russian Foreign Ministry said "the use of terrorist methods is categorically unacceptable as instruments of political struggle."
Read more: 5 things to understand about oil-rich, cash-poor Venezuela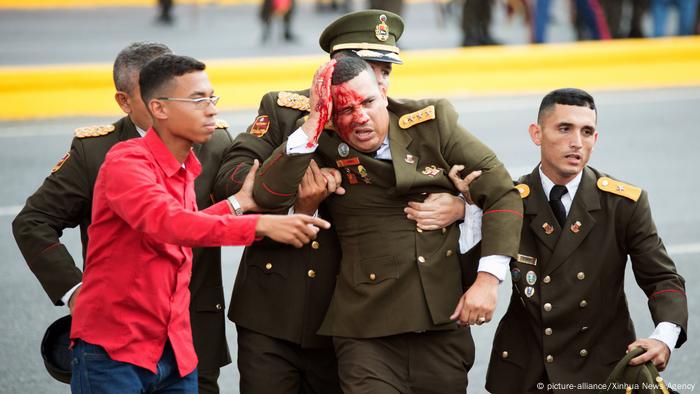 Several security members were injured in the apparent attack
Far-right plot claim
Addressing Venezuelans after the incident, Maduro blamed far-right factions for the incident.
"This was an attempt to kill me. Today they attempted to assassinate me," he said, adding that evidence gathered so far "points to the far right."
Maduro said he believed far-right wing factions within Venezuela, working in collaboration with conspirators in Miami and Bogota, were also responsible — including Colombian President Juan Manuel Santos.
Colombia's foreign ministry denied the government was involved, saying such allegations were "absurd" and "lacked any foundations."
Likewise, John Bolton, the US national security adviser, maintained there was "no US government involvement." He even suggested that the blasts may have been "a pretext set up by the regime itself."
On Sunday, Venezuela's interior minister said that six individuals had been detained in relation to the attack. Nestor Luis Reverol described those arrested as "terrorists" and said more arrests were likely to follow.
Read more: Can Germany be a new home for young Venezuelans?
Firefighters cast doubt
But the Associated Press news agency has reported that firefighters at the scene of the explosion have disputed the government's version of events.
The incident was actually a gas tank explosion inside an apartment, the news agency reported, citing three officials who spoke on condition of anonymity.
A mysterious rebel group calling itself the "National Movement of Soldiers in T-Shirts" later claimed responsibility for the attack. In a statement passed to US-based opposition journalist Patricia Poleo, the group criticized the government for making "public office an obscene way to get rich."
Its claim could not be verified.
Critics warn that the government is exploiting the blast to crackdown on political opponents.
"We warn that the government is taking advantage of this incident ... to criminalize those who legitimately and democratically oppose it and deepen the repression and systematic human rights violations," wrote the Broad Front opposition coalition in a statement published on Twitter.
Troubled times
Venezuela is suffering from a severe recession that has sparked malnutrition, hyperinflation and mass emigration. Opponents blame Maduro for destroying a once-wealthy economy and accuse him of authoritarianism.
Last year, police officer Oscar Perez hijacked a helicopter and fired at government buildings in what he said was an action against a dictator. Perez was killed by Venezuelan forces after more thansix months on the run.
cmb, bik,tj,ap/cmk (AP, Reuters, AFP, dpa)
Each evening at 1830 UTC, DW's editors send out a selection of the day's hard news and quality feature journalism. You can sign up to receive it directly here.