Max Coloma, 33, shares a little apartment in the district of San Martín de Porres. It's one of the poorer suburbs of Lima where crime thrives after the sun has gone down. But for the Venezuelan former lawyer this doesn't matter; compared to Venezuela, where hunger and violence has pushed the country to the edge of collapse, the streets of Lima are a paradise. At least it's possible to walk around in Peru without having to fear for your life.
Read more: Several killed in anti-government demos in Venezuela
When he came to Peru about two years ago, Coloma started out by making arepas - a type of corn flour bread, sold everywhere in Venezuela. Waiting at bus stops and other busy places, he sold these Venezuelan traditional delicacies to passersby. Now his venture has evolved into a delivery service. In his apartment kitchen, this Venezuelan bends over his small stove to cook his meals. Simple sandwiches have turned into a unique kind of fusion food, mixing the Peruvian kitchen with recipes from his home country Venezuela.
"At first, Peruvians were a bit suspicious of my food. I guess they are a bit of food snobs, very proud of their traditional dishes," says Coloma laughing. "But once they started to try it, they actually really liked it. So now my deliveries are advertised mainly by word of mouth," he told DW.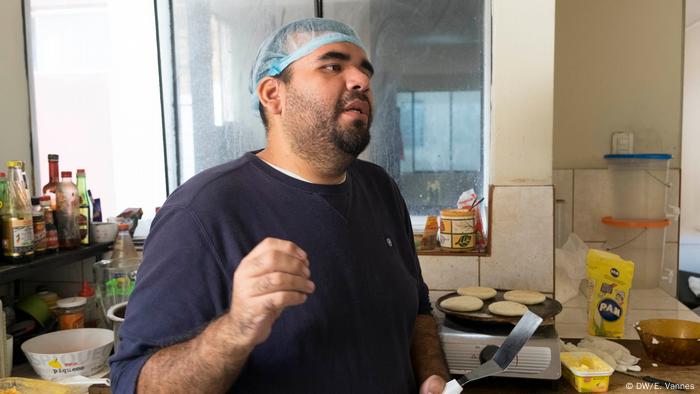 Max Coloma hopes to build a new life in Peru and says it will take years for Venezuela to recover
Coloma's story is just one of many examples of the entrepreneurial skills of the thousands of recently arrived Venezuelans who are try to make a living in the bustling capital of Peru. Having fled repression and hardships back home, the Venezuelans are welcome in this Andean country. In February of this year, Peru gave out a first set of temporary working permits for all Venezuelans who were residing in the country at that time, thus, giving them the opportunity to set up a company or start a job. These Permisos Temporal de Permanencia (PTP), gave Venezuelans the possibility to work legally for a year, after which they can apply for an extension.
Read more: Venezuela: United in poverty
Venezuelans who have no criminal record and entered the country legally can apply for the permits. Initially, 5,000 PTP's were to be issued, but according to government statistics, already more than 11,000 Venezuelans have received the permit after the period was extended the first time.
Political preferences do not count
"It's interesting to realize that many Venezuelans who come to Peru now, actually have Peruvian ancestors who fled the civil war in the 1980s," says Oscar Pérez Torres, a former politician who has been living in exile in Peru since 2009 (no relation to Oscar Pérez, a police officer who stole a helicopter and fired at the supreme court in Caracas in June). Pérez, who has become the spokesman for the Venezuelan diaspora in Peru, has been in direct contact with Peruvian President Pedro Pablo Kuczynski to vouch for his fellow Venezuelans.
Pérez came out on a Sunday to visit a Venezuelan food festival in Lima, where some 20 Venezuelan entrepreneurs like Coloma shared with others their food, drinks or Venezuelan artefacts. A young couple had a fruit punch called Tizana, which they normally sell on the streets of the low-class Peruvian neighborhood of Los Olivos; another couple started their own line of ponche crema, a typical creamy rum drink.
A recurring theme is that all the Venezuelan entrepreneurs have their workshops in their own living rooms, starting life from scratch in this new country. "Political preferences don't count among the Venezuelan diaspora in Peru," says Pérez, referring to the strong schism in his home country between a shrinking group of chavistas who still support the government and the protesters in the streets. "In the end, everyone agrees that it's important to make a living like a normal person, and that's not possible anymore in Venezuela."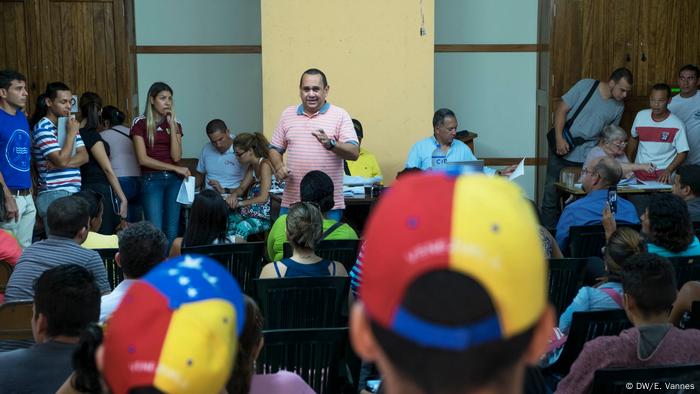 Oscar Pérez represents the Venezuelan diaspora in Peru
The capacity and the willingness
According to Pérez there is a huge need for extra working permits because of the increased number of Venezuelans arriving in Peru over the past few weeks and the many more expected to come due to the surge in violence in Venezuela. "The good thing is," says Pérez, "Peru does indeed have the capacity to take them in. And they have the willingness to do so too."
Read more: Brazil braced for influx of Venezuelan refugees
Meanwhile Max Coloma says he will stay in Peru and try to move from delivery services to opening a fusion food restaurant. Even if the Venezuelan government were to fall today paving the way for political stability, Coloma believes so much damage has been done to the society that it will take at least 10 years to restore.
"I have to be realistic," he says. "These are the productive years of my life. Now I'm building up something of a life here in Lima, and if I would have to leave that behind to start all over again from scratch for a second time, that would be a problem."