Speaking at a news conference in the Ethiopian capital, Addis Ababa, on Thursday, Tillerson said that the US recognized concerns over incidents of violence but "we do firmly believe that the answer is greater freedom."
"While we appreciate the government's responsibility to maintain control … it is important that country moves on past the state of emergency as quickly as possible," he said.
Ethiopia declared a state of emergency in February to restore "law and order" after the prime minister, Hailemariam Desalegn, resigned suddenly. Although Ethiopia had looked like it was slowly opening up to allow more freedom for people who hold different opinions to the government, the resignation and emergency decree have triggered further political uncertainty and fueled strikes and shutdowns.
Tillerson critical of China's policy in Africa
During the press conference, the US Secretary of State also repeated comments he made earlier in the week for African countries to ensure they don't forfeit their sovereignty when they accept loans from China.
China surpassed the US in 2009 to become Africa's biggest trading partner - and its share of trade continues to grow compared to the United States. China also pumps billions into infrastructure projects around the continent, although these have attracted criticism for using Chinese labor and firms, and low-quality materials.
Ethiopia is home to some of China's biggest investments in Africa, from a railway to Djibouti that opened last year to factories and industrial parks - as well as the African Union headquarters, which Tillerson visited on Thursday.
"We are not in any way attempting to keep Chinese dollars from Africa," said Tillerson, whose visit to Africa is his first time since becoming secretary of state more than a year ago. "It is important that African countries carefully consider the terms of those agreements and not forfeit their sovereignty."
The chairperson of the African Union Commission, Moussa Faki, stressed at the same press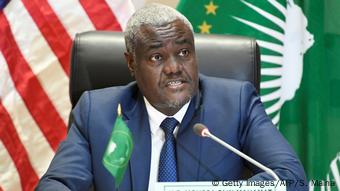 Moussa Faki had previously described Trump's comments as "conveying contempt, hate, and desire to marginalize and exclude Africans"
conference that Africans "are mature enough to engage in partnerships of their own volition which will be useful for the countries and the continent,".
Tillerson was also asked (twice) during the press conference about the derogatory 's***hole' remark that US President Donald Trump made about Africa in January. He refused to comment. For his part, Faki said Trump's Africa remark was "of the past."
"The incident is behind us, the visit by the secretary of state today is proof of the importance of relations between the different parties," he said.
Read also: Donald Trump denies slur against migrants from 's***hole' countries
Others focus on business, US pushes security
Tillerson's five-nation, week-long tour of the continent is primarily focused on security issues. He is due to fly to Djibouti, host to military bases owned by the U.S., China, Japan, France, and Italy. Tillerson will then visit Kenya, a US ally in the fight against al Shabab Islamist militants in Somalia, before traveling to Chad and Nigeria, which are also battling to contain Islamist insurgents.
At the press conference, Tillerson said he had "a very good exchange" with Ethiopian officials about counterterrorism efforts.
The US currently has some 6,000 military personnel spread across Africa. Many of these are supporting African troops as well as other allies, such as France.
kh (Reuters)