US President Donald Trump's administration slapped sanctions on 13 senior Venezuelan officials on Wednesday as the country's opposition called a two-day nationwide strike ahead of President Nicolas Maduro's plan to hold an election over the weekend for a special congress to rewrite the constitution.
Millions of people heeded the opposition's call to join the strike, the second in a week, with highways and streets mostly empty and businesses shuttered across the country as protesters threw up makeshift barricades in some areas.
There were also clashes between protesters and police in some areas, with the death of a protester in western Merida state bringing the total death toll from four months of protests to at least 102 people.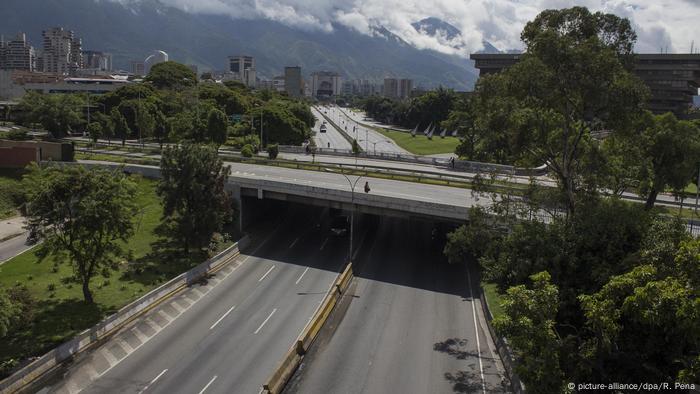 The Francisco Fajardo highway in Caracas was largely empty on Wednesday
The US sanctions targeted former and current Venezuelan officials, including top police and military figures, the country's interior minister, the national director of elections and a vice president of the state oil company PDVSA, among others. The sanctions freeze their US assets and prohibit American individuals or businesses from doing business with them.
US officials said the sanctions were a warning not to follow through with Sunday's planned election for a Constituent Assembly tasked with rewriting the constitution without the opposition-controlled Congress.
Maduro defiant
The opposition, emboldened by an unofficial referendum against Maduro last week, is boycotting the election, which they say is rigged in Maduro's favor. They warn the new constitution will formalize a Maduro dictatorship and undermine democracy.
The opposition is also planning a major a demonstration Friday dubbed as a "takeover of Caracas."
The sanctions announcement did not appear to faze Maduro, who praised those placed under US sanctions at a rally for Sunday's vote broadcast on state TV late on Wednesday.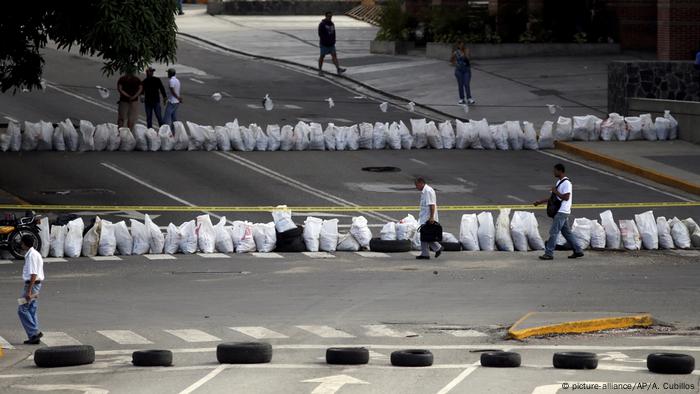 Makeshift barricades block streets in the capital, Caracas, as part of a 48-hour strike.
"We don't recognize any sanction," he said. "For us, it's recognition of morality, loyalty to the nation, and civic honesty."
"Congratulations for these imperialist sanctions," Maduro said. "What makes the imperialists of the United States think they are the world government?"
Tougher sanctions to come
In Washington, US officials said sanctions could be expanded to include a potentially devastating halt of dollar payments for the country's oil or a total ban on oil imports to the United States. Such punishment would send Venezuela's already nosediving economy careening into further turmoil.
US Treasury Secretary Steven Mnuchin said anyone elected to the Constituent Assembly could be targeted with sanctions for undermining democracy.
The US has already imposed sanctions on numerous Venezuelan officials, including the chief judge and seven other members of Venezuela's pro-Maduro Supreme Court after they ruled to annul the opposition-led Congress earlier this year.
The most senior figure targeted by sanctions is Vice President Tareck El Aissami, whom the US accuses of being a major drug trafficker. The US says "hundreds of millions of dollars" of his assets have been frozen in the United States.
cw/bk (AFP, AP, Reuters)