North Korea's Kim Jong Un and 10 other top officials named on the list of sanctions are involved in widespread, serious abuses, including killings and torture of political prisoners, according to US officials.
"Under Kim Jong Un, North Korea continues to inflict intolerable cruelty and hardship on millions of its own people, including extrajudicial killings, forced labor and torture," said Adam Szubin, acting treasury under secretary for terrorism and financial intelligence, on Wednesday.
The US official said that Kim was responsible for abuses in his role as head of the communist country's Ministry of State Security and Ministry of People's Security.
Many of the people on the list are not known, said treasury official Tom Malinowski.
"This won't bring any sort of dramatic change, but lifting anonymity of these functionaries will make them think twice when they consider to act cruelly and oppressively," Malinowski said.
Other than Kim, US authorities sanctioned Choe Pu Il, the minister of people's security; Ri Song Chol, a senior official in the Ministry of People's Security; and Kang Song Nam, a bureau director with the Ministry of State Security.
'Systematic rights violations'
In March, the UN Human Rights Council adopted a resolution condemning human rights abuses by North Korea. UN officials are even considering ways to bring Pyongyang to justice through the International Criminal Court.
The move came after the council adopted a resolution brought forth by the EU and Japan condemning the "long-standing and ongoing systematic, widespread and gross human rights violations committed in the Democratic People's Republic of Korea."
Among those violations were "acts of extermination, murder, enslavement, torture, imprisonment, rape and other grave forms of sexual violence and persecution on political, religious and gender grounds in political prison camps and ordinary prisons."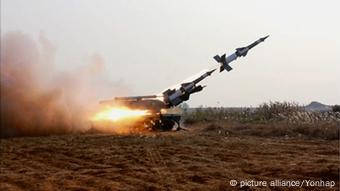 North Korea boasts of missile that can reach US bases
How effective are sanctions?
There are already a number of sanctions in place against North Korea, mostly against its missile tests. But Marzuki Darusman, the UN's top official in charge of human rights in North Korea since 2010, believes the sanctions are affecting the North Korean public more than government officials.
"Sanctions have a way of also affecting the people, making their livelihood even harder. So you have to question the effectiveness of sanctions, because, if they take effect, they will lead to a humanitarian condition which would require the international community to step in again," Darusman told DW.
"I would say sanctions works initially, but it will have to be coupled with other actions," he added.