Kim personally monitored Wednesday's Musudan missile test, calling it a "great event."
"We have the sure capability to attack in an overall and practical way the Americans in the Pacific operation theater," Kim was quoted as saying by North Korea's official KCNA news agency.
The Musudan
The Musudan has a theoretical range of anywhere between 2,500 and 4,000 kilometers (1,550 to 2,500 miles), the upper estimate covering US military bases as far as Guam.
North Korea tested two Musudans, one of which flew 400 kilometers into the Sea of Japan (East Sea).
KCNA reported that the missile was fired at a high angle to simulate its full range and had reached a maximum height of over 1,400 kilometers.
The success of the test "marks an important occasion in further strengthening the nuclear attack capacity of our state," Kim said.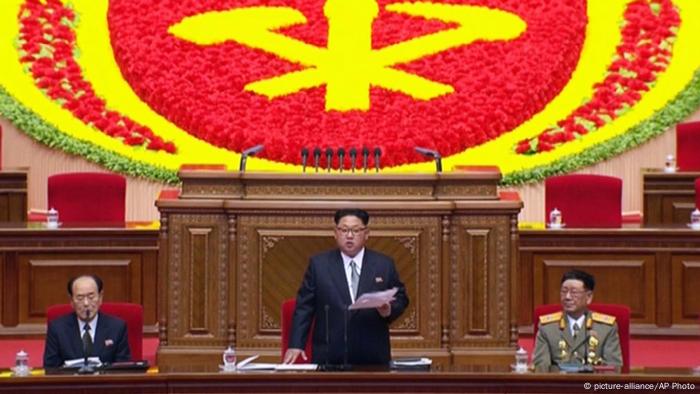 Kim Jong Un described the test as a "great event"
International responses
The United States, NATO and Japan denounced the test, and South Korea vowed to push for tighter sanctions on Pyongyang.
Responding to Wednesday's launch, China's foreign ministry had cautioned against "any action that may escalate tension" and called for a resumed dialogue on Pyongyang's nuclear drive.
US Defense Secretary Ashton Carter, meanwhile, stressed the importance of strengthening US missile defense systems, including those deployed by regional allies South Korea and Japan - a strategy strongly opposed by China.
The US and Japan, after consulting South Korea, requested a closed-door briefing from the UN Secretariat on North Korea's reported firing of the two midrange missiles.
UN replies
The Security Council - which has imposed five rounds of sanctions on North Korea - condemned three previous launches on June 1, calling them "a grave violation" of a ban on all ballistic missile activity that contributed to the country's nuclear weapons program.
The Council members were united in "deep concern and opposition" to the test, which was a clear violation of UN resolutions, France's deputy UN ambassador Alexis Lamek said. Existing UN measures prohibit North Korea from using ballistic missile technology.
jbh/bk (AFP, AP)