The US on Wednesday announced that Turkey would no longer participate in its F-35 fighter jet program, citing the Turkish government's decision to purchase the Russian-made S-400 missile defense system.
"Unfortunately, Turkey's decision to purchase Russian S-400 air defense systems render its continued involvement with the F-35 impossible," said White House spokeswoman Stephanie Grisham.
The F-35 "cannot coexist with a Russian intelligence collection platform that will be used to learn about its advanced capabilities," Grisham added.
Turkey's removal from the program is expected to happen by next year, said Ellen Lord, the US undersecretary of defense for acquisition and sustainment.
"We are proceeding with a very orderly wind-down by March 2020," said Lord. "This is a specific response to a specific action."
Turkey calls US move a 'mistake'
On Thursday, the Turkish Foreign Ministry said that Washington's decisions lacked "legitimate justification" and was breaking the "spirit of alliance" between the two countries.
"We call on the United States to come back from this mistake that will cause irreparable damage to our strategic ties," the ministry said in a statement.
Read more: Russia encroaches on US war industry in Middle East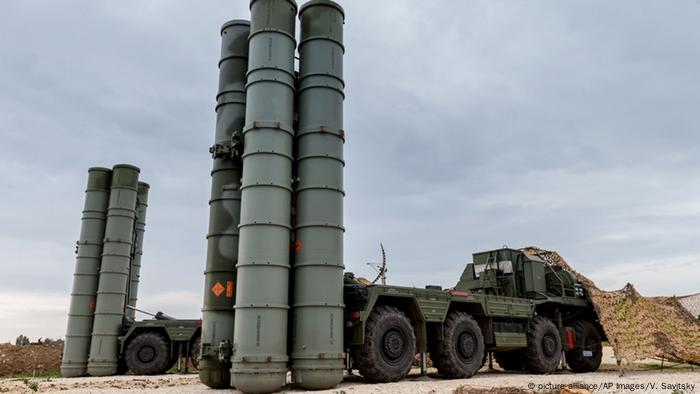 Russia has deployed the S-400 system in Syria, with observers describing it as one of the most successful missile defense systems on the planet
Divided allies
Earlier this year, the US halted deliveries of F-35-related equipment in a bid to pressure Turkey to drop its deal to buy Russian military hardware. But Turkey, a NATO ally, has taken additional steps to bolster defense ties with Moscow.
In May, Turkish President Recep Tayyip Erdogan announced that his country would help develop Russia's next generation missile defense system, the S-500.
Army Secretary Mark Esper, who US President Donald Trump nominated for the defense secretary portfolio, told Congress earlier this week that "it is very disheartening to see how they have drifted over the past several years."
Read more: Is NATO's future at risk over US-Turkey rift?
Every evening, DW's editors send out a selection of the day's hard news and quality feature journalism. You can sign up to receive it directly here.
ls,es/bw (Reuters, AFP, AP)