American television network CBS has fired Charlie Rose from its popular "CBS This Morning" show after eight women accused the respected TV interviewer of sexual harassment.
"I've often heard that things used to be different," CBS president David Rhodes wrote in a memo to employees. "And no one may be able to correct the past. But what may once have been accepted should not ever have been acceptable."
The Washington Post published a report on Monday in which the women accused the 75-year-old of sexual misconduct, the latest in a string of harassment allegations against prominent American men.
The newspaper said the women, whose ages ranged from 21 to 37 at the time of the allegations, were employees or aspired to work for Rose from the 1990s to as recently as 2011.
'Lewd conduct'
Five of them said Rose had put his hands on their legs, one alleged he groped her buttocks at a party, while two described how he had walked naked in front of them after emerging from the shower.
Read more: Almost a quarter of women experience online abuse and harassment
The Washington Post said five of the women only agreed to be interviewed on condition of anonymity for fear of damage to their careers.
Rose was immediately suspended as co-host of "CBS This Morning" and as a contributing correspondent for CBS' "60 Minutes" show. US public broadcaster PBS and Bloomberg also halted nationwide distribution of his renowned interview show.
"These allegations are extremely disturbing and we take them very seriously," CBS News said in a statement, which was also posted to Twitter.
Read more: Democratic Senator Al Franken apologizes for groping radio host
A spokesperson said PBS was shocked by the "deeply disturbing allegations."
The show aired by PBS is produced independently, but "we expect our producers to provide a workplace where people feel safe and are treated with dignity and respect," the spokesperson added.
Rose: 'Greatly embarrassed'
In response, Rose said he was "greatly embarrassed" at his "inappropriate behavior" and admitted that he had "acted "insensitively at times."
"I always felt that I was pursuing shared feelings, even though I now realize I was mistaken," he added.
He went on to say that he didn't believe all the allegations were true.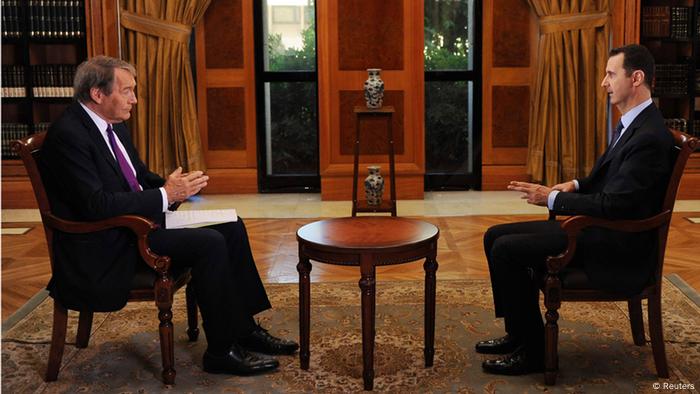 Rose has interviewed a long line of newsmakers, including Syrian President Bashar Assad
Rose, whose reputation helped to attract the biggest names in politics, entertainment and academia to his interview show, is the latest public figure to face sexual harassment accusations in the US.
The first revelations emerged two months ago against Hollywood producer Harvey Weinstein , and since then similar claims have come out against high-profile men in the entertainment world and other industries.
Read more: The Harvey Weinstein effect
The accusations have led to street protests and the #MeToo social media campaign by women and men who have also faced sexual harassment.
mm,es/cmk (AFP, AP, Reuters)