Fatima now needs three times longer to reach the market in Agadez. She lives with her family outside this city of 180,000 in sub-Saharan Niger, traveling there every day to sell camel milk. A nearby US drone base has added 90 minutes to her trek. "We often have to stay in Agadez overnight, whether we want to or not. The children then have to stay home alone," she told DW. Her family could not survive without the market, she said.
"I come from Agadez and every morning at 7 see the large aircraft," said Ibrahim Manzo. "They land here, then fly onwards. No one knows what they're transporting."
It remains unclear how far along base construction is, said Adam Moore, a researcher from the University of California, Los Angeles, who specializes in US military engagement in Africa. "Satellite imagery of Agadez reveals a complex south of the runways that covers roughly 62 acres. That is fairly large,", he notes.
A multimillion-dollar project
An investigation by the online magazine, The Intercept, puts the cost of the base at $100 million. That is twice as much as the US Defense Department's official estimate.
For the US and its allies, Niger has strategic importance in their fight against international terrorism. Mali, Nigeria and Libya are, in particular, places of refuge for Al-Qaeda in the Islamic Maghreb (AQIM), Boko Haram or the so-called "Islamic State." Moore suspects that the US is using the Agadez drone base to conduct reconnaissance missions over northern Niger and southern Libya.
"These regions can be monitored better from Agadez. That is the biggest advantage over the capital, Niamey," Moore said, referring to the long-time US spying presence there. An additional drone base is planned for Tunisia, according to the Washington Post. The two bases combined would provide the US a near-complete picture of the entire Sahara region, Moore said.
Niger ground zero in terror fight
Niger's President Mahamadou Issoufou gave approval for the Agadez base in 2014 for surveillance purposes. An additional US base in Arlit, about 250 kilometers (155 miles) north of Agadez, has been operating for about a year, but little is known about it, Moore said, except that special forces are presumably stationed there.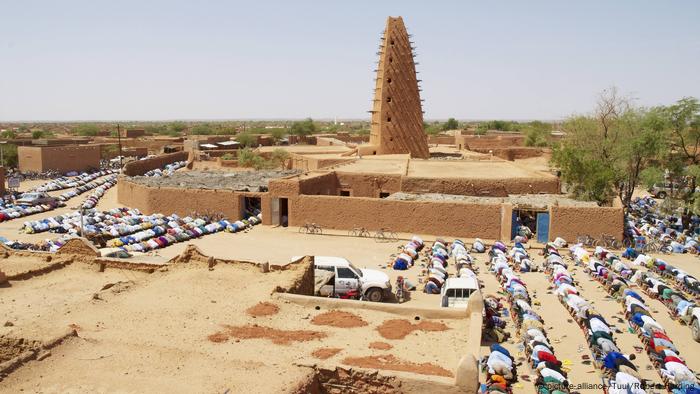 Niger's famous 'mud mosque' in Agadez
The US carries out a number of operations by way of special forces or defense subcontractors, Moore said. Washington has been hesitant to be directly involved on the African continent for at least a decade. "Yet they are building this large base in Agadez, which is hardly out of sight," Moore added. "This is an indication of the good relations with the Niger government, and that Niger is on board to become the center of the fight against terrorism in North and West Africa."
After Djibouti, home to Camp Lemonnier, the largest US base on the continent, Niger could well become America's next most important military partner in Africa, Moore said.
German base in Niamey
The French are also present in Niger with anti-terror operations, sharing the US base in Niamey as well as operating two others of its own in the country. The German military has had a presence in Niger since April. It runs an airbase from the capital's international airport to transport troops supporting the UN Minusma mission in neighboring Mali. There are about 40 German soldiers stationed in Niamey, according to Germany's Defense Ministry.
Tilla Amadou helped with reporting.