The United States is sending 3,000 troops to the Baltic states to partake in joint military exercises with NATO partners in Estonia, Latvia, and Lithuania over the next three months, US defense officials announced Monday.
The mission, part of "Operation Atlantic Resolve" is designed to reassure NATO allies concerned over renewed Russian aggression amid the ongoing crisis in Ukraine.
Around 750 US Army tanks, fighting vehicles and other military equipment arrived in Latvia Monday, and US ground troops are expected to begin arriving next week, US Army Col. Steve Warren told reporters.
According to a US military source speaking on condition of anonymity, the military equipment will remain in the Baltics even after the US troops return to base.
The deployment is designed to "demonstrate resolve to President (Vladimir) Putin and Russia that collectively we can come together," US General John O'Connor said.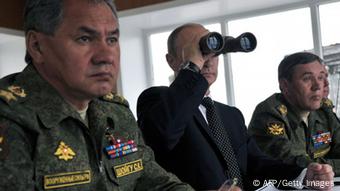 Vladimir Putin's actions in Ukraine have raised concerns the Russian President could act against other eastern European countries.
The military equipment, including the tanks and fighting vehicles will stay "for as long as required to deter Russian aggression," O'Connor said.
Russia's recent annexation of Crimea and its support of anti-government rebels in Ukraine has sparked fears that Moscow might pursue similar actions against the Baltic nations, which have little military equipment of their own.
British Defense Secretary Michael Fallon recently said Putin represented a "real and present danger" to the Baltic nations, warning that the Russian leader could launch an undercover campaign to destabilize Estonia, Latvia and Lithuania
Putin was quoted in September as saying, "if I wanted, Russian troops could not only be in Kyiv in two days, but in Riga, Vilnius, Tallinn, Warsaw or Bucharest, too."
The US deployment also comes amid reports Putin made the decision to annex Crimea after a night-long meeting at the Kremlin following the ouster of Ukrainian president Viktor Yanukovych.
The Baltic nations have been members of NATO since 2004, and the military alliance is seeking to counter potential Russian aggression by developing a rapid reaction force of 5,000 troops, to be stationed in the Baltic states as well as Bulgaria, Poland, and Romania.
bw/jr (Reuters, AFP, dpa, AP)