Estonians were voting on Sunday in parliamentary elections that opinion polls suggest are likely to see the current center-left coalition under Prime Minister Taavi Roivas (pictured above) returned to power.
A TNS Emor opinion poll released on Saturday showed Roivas' pro-market Reform Party in the lead with a predicted 26 percent of the vote, ahead of the Center Party of Edgar Savisaar on 22 percent.
Roivas' coalition partners, the Social Democrats, were on 19 percent. Seven other parties are also in the running at Sunday's vote, including the conservative IRL, which commanded 16 percent in the pre-election survey
The main parties have all campaigned on social issues, with promises to increase the minimum wage, reducing taxes for low earners and improving family benefits figuring largely in their platforms.
Russia's long shadow
However, the vote is also being overshadowed by fears over ex-Soviet master Russia's actions in Ukraine, following Moscow's annexation of Crimea earlier last year amid widespread allegations that it is fomenting and militarily supporting a separatist insurgency in the east of the country.
Many in Estonia are concerned that the Kremlin could attempt to destabilize other nations that were formerly part of the Soviet Union.
Savisaar, 64, a former Communist Party member and current mayor of the capital city Tallinn, alienated many Estonians last year by supporting the Crimean annexation, but still enjoys considerable backing among the ethnic Russians who make up a quarter of the Baltic country's population of 1.3 million.
It is unlikely, however, that his party, which in some earlier polls scored better than the government coaltion, would find partners with which to govern in case of victory.
'New Nordic nation'
Roivas - who at 35 is the youngest head of government in the European Union - has promised to turn Estonia into a "new Nordic country" by boosting economic growth in the eurozone state.
He has also emphasized that Estonia's NATO membership gives it security against any threat emanating from Russia, a view publicly shared by his defense minister, Sven Mikser of the Social Democrats.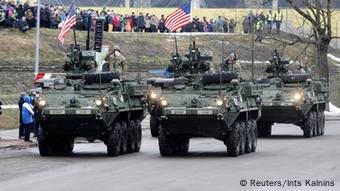 NATO put on a display of power in Narva
To mark Estonia's Independence Day, the US and other NATO troops paraded on Tuesday through the city of Narva on the Russian border in what was seen as a demonstration of solidarity within the military alliance.
Ninety percent of the 60,000 people living in Narva, one of the poorest cities in the EU, are ethnic Russians.
tj/kms (AFP, dpa)