Those who are unemployed in Germany face a much bigger risk of falling into poverty than in any other European Union country, according to figures released by European statistics office Eurostat on Monday.
After analyzing data from 2016, Eurostat found that the risk of poverty for those on unemployment benefit in Germany is at 70.8 percent - significantly higher than the average of 48.7 percent across Europe.
Read more: Poverty, homelessness on the rise despite German affluence
Lithuania was a distant second at 60.5 percent, followed by Latvia with a poverty risk of 55.8 percent.
The countries with the lowest risk poverty for the unemployed — all under 40 percent — were France, Cyprus and Finland.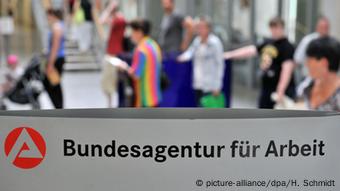 There around 2.57 million unemployed people in Germany
Eurostat defines people as being at risk of poverty if their income is less than 60 percent of the national median. That means, in effect, that incomes of poorer people in Germany are growing at a slower rate than those above the median.
Read more: The ticking timebomb of German poverty
Forcing people into poorly-paid work
Germans who have lost their jobs can at first claim 60 percent of their salaries as unemployment benefit (or 67 percent if they have children) - provided they have been paying social insurance contributions for at least 12 months.
After a certain period, which depends on how long they were in work, unemployed people then must claim a standard benefit known colloquially as "Hartz IV," - currently set at €416 ($512) a month. Housing benefits have to be claimed separately.
"The new numbers don't surprise me," said Ulrich Schneider, head of the Paritätische Gesamtverband, an umbrella organization for a number of charities and social equality organizations. "This is the fruit of German social security policies. In 2005 we abolished a benefit for the unemployed that ensured that many unemployed people got something beyond Hartz IV - the result is that there is a bigger gap between the employed and the unemployed than elsewhere."
Schneider also said he was baffled that Germany's welfare system has a reputation for generosity abroad. "These were conscious political decisions, because it was hoped that this would force more people into low income jobs," he told DW. "Germany's social state has been deliberately pared down since 2002. Look at health insurance: nowadays you can't get eyeglass prescriptions anymore, and waiting times for doctors have grown."
The fallout, Schneider argued, is growing social fragmentation - even if Germany's poor are still better off than their counterparts in Bulgaria, say, they end up more cut off from their own society. "If I can't keep up with the average income, I get marginalized. That means many things that are natural for others are impossible for me - being a member of a sports club, for example, or allowing my child to learn a musical instrument."
Opposition outrage
Chancellor Angela Merkel's conservative Christian Democrats (CDU) and their Bavarian sister party, the Christian Social Union (CSU), have been presiding over Germany's welfare state in coalition with the center-left Social Democrats (SPD) since 2013.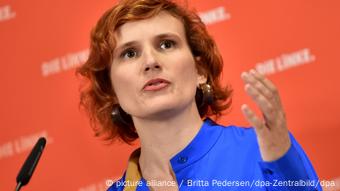 The Left party leader called the figures a slap in the face for the German government
The opposition did not waste the opportunity to attack the government. Left party leader Katja Kipping called the Eurostat figures a "resounding smack in the face for the CDU, CSU and SPD."
Kipping said the coalition government "has to answer for the catastrophic situation," but has "apparently no desire to change anything."
The Green party's labor market spokesmen Wolfgang Strengmann-Kuhn and Sven Lehmann were equally outraged, describing the figures as "sorry proof of the inadequacies of our social welfare system." "We have to improve the access to unemployment insurance for everyone, including short-term contractors, the self-employed, and others without security," they said in a joint statement.
But Christoph Schröder, senior researcher at the Cologne Institute for Economic Research (IW), pointed out that the total unemployment rate had dropped significantly in the past decade. Calculated as the percentage of unemployed people of all those available to the job market, the rate is currently at 5.8 percent, down from 11.7 percent in 2005. That equates to a total of 2.57 million people, down from 4.86 million in 2005.
"I think that shows that the people that are still unemployed now are likely to be long-term unemployed," Schröder told DW. "But we have also criticized that less money is being spent on helping the long-term unemployed than previously."
"We did have increasing inequality, and increasing poverty risk rates, since the end of the 1990s until around 2005, though since then there hasn't been a particular increase," he added. "There has been an increase because of the relatively high immigration rate - but if you take that out you have only a slight increase in inequality."
Read more: Rich vs. poor: How fair and equal is Germany?